IFP has taken a look at the front pages of newspapers on Monday and picked headlines from 13 of them. IFP has simply translated the headlines and does not vouch for their accuracy.
The comments of the judiciary spokesman about cases involving the former director of the Social Security Organization and Babak Zanjani and allegations against the chief of staff of the former president dominated the front pages of Iranian newspapers on Monday.
Ettela'at: Supporters of the Iran nuclear deal hold rallies in 100 cities around the world.
Thousands of ralliers in Washington DC, New York, Berlin, Paris and London called on US hawks and the Zionists to stop their efforts to sabotage the deal.
---
Aftab-e Yazd: The spokesman of the judiciary has said that the reason why some MPs want to meet with Babak Zanjani [a young billionaire who stands accused of massive corruption when Ahmadinejad was in office] should be made clear.
Aftab-e Yazd: The director of the Atomic Energy Organization has said that some act as if nuclear negotiators have backed off in a traitorous way in talks with P5+1.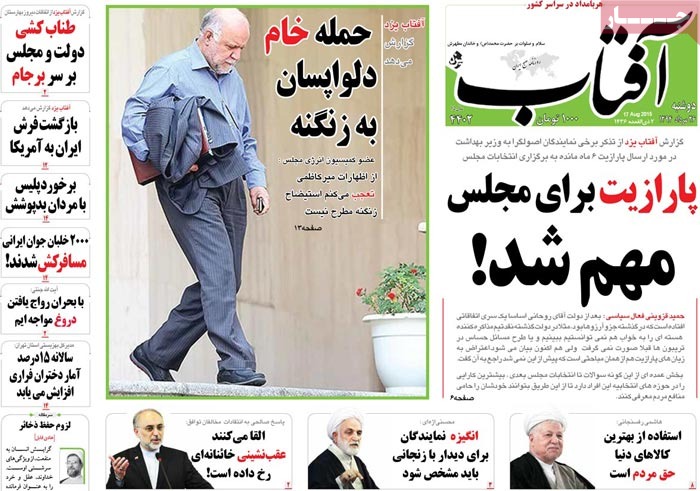 ---
Amin: "The anti-IS coalition is a fabrication," said the speaker of the Iranian parliament.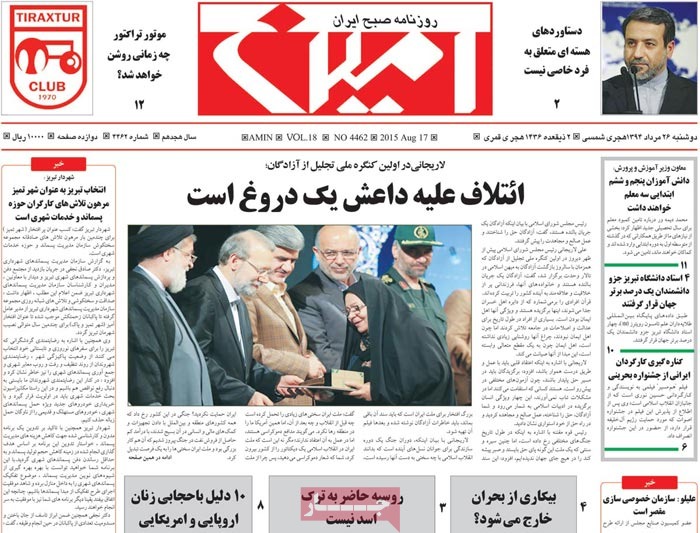 ---
Arman-e Emrooz: The former director of the Social Security Organization has been sentenced to jail term and fine. He has been cleared on certain count(s).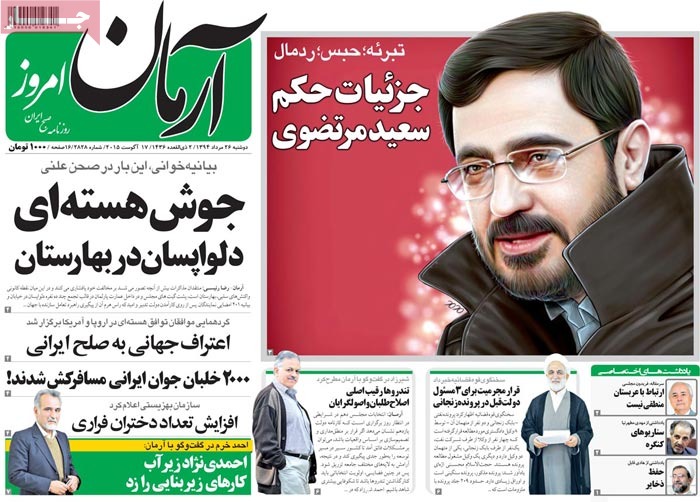 ---
Asr-e Azadi: "Foreign presence in Iranian market improves medical service standards," said the Iranian health minister.
---
Asr-e Iranian: Germans are to build a power plant in Iran.
---
Asr-e Rasaneh: "The decisions of the previous government poured Iran's national interests down the drain," said Mehdi Asali, a senior Oil Ministry official.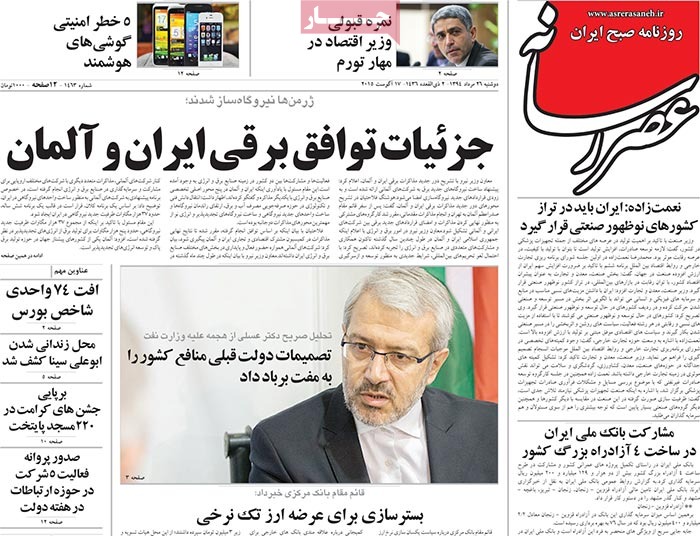 ---
Asrar: American businessmen will visit Iran, said the director of the National Carpet Center.
Asrar:Iran's Farzan Ashurzadeh has won a gold medal in the World Taekwondo Grand Prix.
---
Ebtekar: "A vote for the Joint Comprehensive Plan of Action in parliament will add to our obligations," said Deputy Foreign Minister Abbas Araghchi.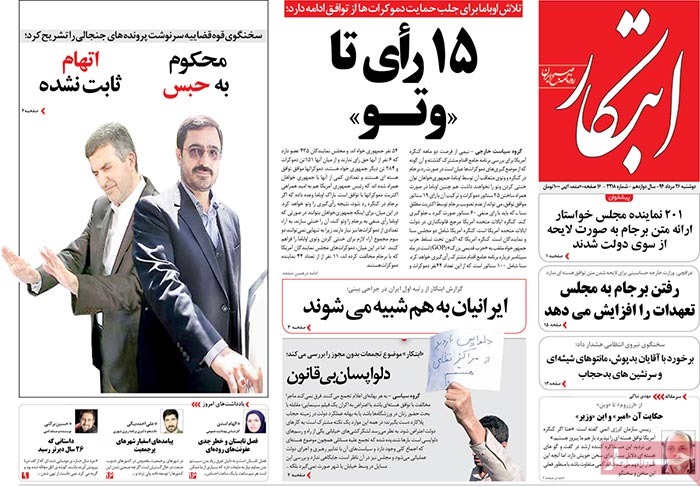 ---
Emtiaz: Migrant villagers account for 60 percent of the homeless in Tehran.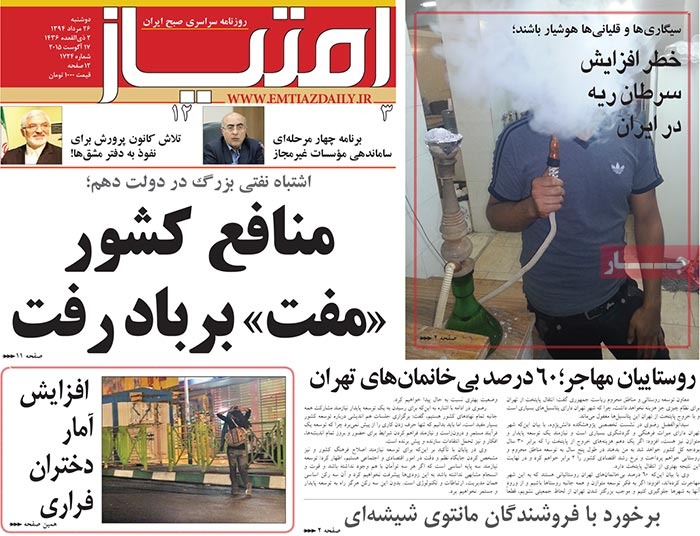 ---
Hambastegi: "A commission is formed to implement the Free Access to Information Law," said Hossein Entezami, a deputy minister of culture and Islamic Guidance.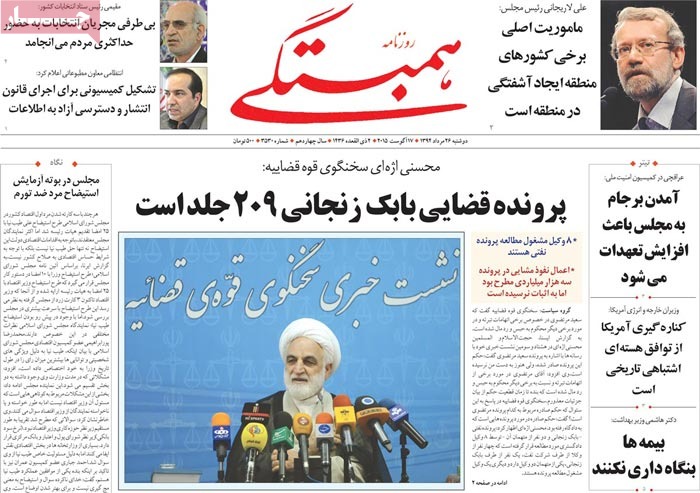 ---
Hemayat: "Allegations of land grab in Heyran Village in the north are being investigated," said the judiciary spokesman.
Gholamhossein Mohseni Ejei further said that the case involving Washington Post correspondent Jason Rezaian has nothing to do with his journalistic activity.
The spokesman went on to say that the role of [Esfandiar Rahim Mashaei] the chief of staff of the former president in the embezzlement case involving $1 billion has not been proven.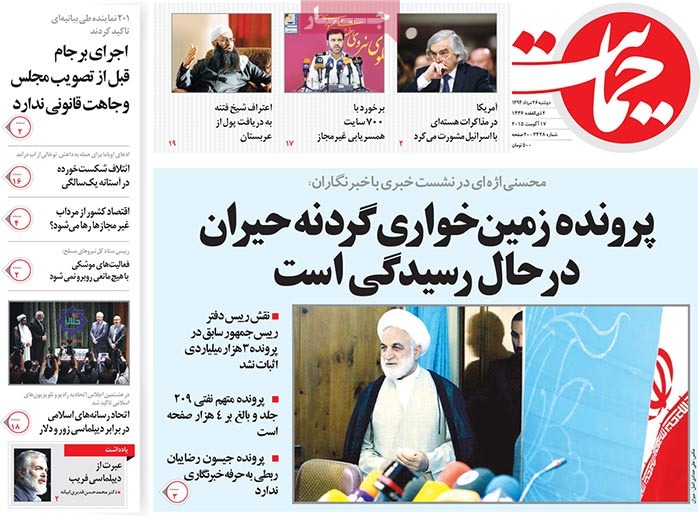 ---
Sharq: "The Joint Comprehensive Plan of Action has no confidential section," said Iranian nuclear negotiator Abbas Araghchi.