Weekly Report: 3-9 August, 2015
August 3, 2015:
Iran's FM underscores closer ties with Iraq, Benin, Sri Lanka
Iranian Foreign Minister Mohammad Javad Zarif in separate meetings with incoming envoys of Iraq, Benin and Sri Lanka, voiced Tehran's willingness to further boost ties with the three countries.
Iran's Foreign Ministry official denies US media's claims about Zarif's son
An official at Iran's Foreign Ministry categorically denied media reports about alleged participation of the country's Foreign Minister Mohammad Javad Zarif's son at wedding ceremony of US Secretary of State John Kerry's daughter.
Resolution 2231 unique in terminating sanctions: Rouhani
President Hassan Rouhani said the UN Security Council 2231 last July was unique in the history of the world body in the case of overriding its previous sanctions.
Iran-Russia provincial committee to meet in Shiraz
According to officials of Fars Province, the 3rd meeting of Iran-Russia provincial committee is to be held in Shiraz.
Iran's Zarif highlights ties with Iraq in all fields
Iranian Foreign Minister Mohammad Javad Zarif says Tehran attaches great importance to its relations with neighboring Iraq in all arenas.
Iran's Rafsanjani to nominate for the Assembly of Experts elections
Chairman of Iran's Expediency Council says he will run for the Assembly of Experts elections.
Iran rules out joint work with US in ISIL fight
A senior Iranian diplomat has ruled out any joint cooperation with the United States to fight against ISIL Takfiri terrorists.
Persian Gulf Arab states welcome outcome of Iran talks
Persian Gulf Arab states have welcomed the nuclear agreement between Iran and six global powers, saying they are glad that a solution was reached on the issue.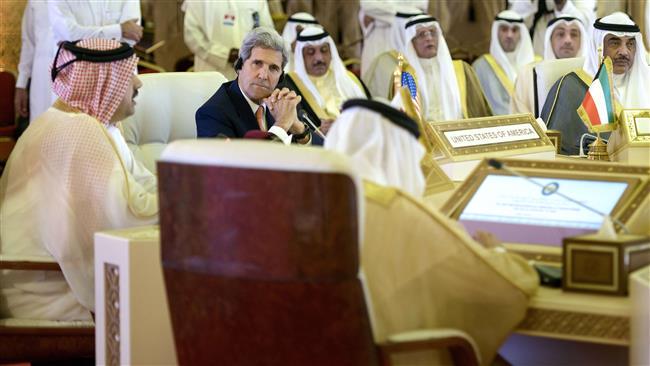 August 4, 2015:
Iranian, Serbian FMs discuss ways to improve bilateral ties
Iranian Foreign Minister Mohammad Javad Zarif and the visiting Serbian Foreign Minister, Ivica Dacic, explored avenues for strengthening the ties between Tehran and the East European country.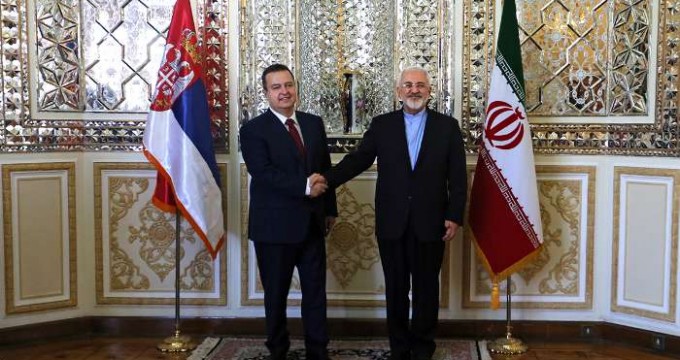 Iran criticizes West's instrumental use of human rights
Foreign Minister Mohammad Javad Zarif in a meeting with his Serbian counterpart Ivica Dačić criticized the western countries' instrumental use of human rights issues.
Senior Iranian cleric writes letter to al-Azhar's grand imam
Senior Iranian cleric Ayatollah Nasser Makarem Shirazi has welcomed a call by the Grand Imam of the al-Azhar Mosque, Egypt's top Muslim authority, for a unity meeting of leading Sunni and Shia scholars.
US preparing joint commerce chamber with Iran: Official
Head of Iran's Chamber of Commerce, Industries, Mines and Agriculture Mohsen Jalalpour said the US has started preliminary measures to form a joint chamber with Iran.
Rouhani: Neighbors at top priority for Iran investment plans
Presdient Hassan Rouhani said Iran is giving the highest priority to its neighboring countries in its investment projects.
n a meeting with the visiting Azeri Minister of Economy and Industry Shahin Aliyev here on Tuesday, the President noted that companies from all over the world are presently seeking investments in Iran after the nuclear deal with six world powers but Tehran is certainly focusing on its neighbors, including Azerbaijan, in the first place.
Official: Iran to partially allow BBC to report for a week
An Iranian government official says the Islamic Republic will allow some BBC journalists to report there for a week's time. The BBC had no immediate comment in London.
Iranian schools to enroll undocumented Afghan students
Iran's Interior Ministry has given a five-day chance to undocumented Afghan students to enroll in Iranian schools.
Tehran, Baku discuss expansion of energy ties
Azerbaijan's Minister of Economic Development Shahin Mustafayev has met with Iranian Minister of Petroleum Bijan Zangeneh to confer with the Iranian minister expansion of energy ties between the two neighboring Asian states.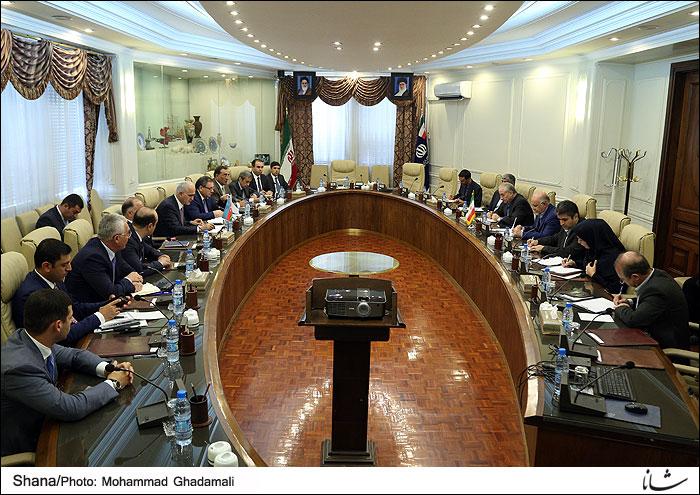 August 5, 2015:
Level of trade relations with Italy above normal: Iran's Zarif
Iran's Foreign Minister Mohammad Javad Zarif says the level of Iran's trade with Italy is "above normal" and the two countries are planning balanced and long-term bilateral economic relations.
Obama warns of dangers to Israel if Iran deal blocked: U.S. Jewish leader
President Barack Obama told U.S. Jewish leaders it was likely rockets would fall on Tel Aviv if a nuclear deal with Iran was blocked and military action ensued, one of them said on Wednesday.
Italy keen to invest in Iranian projects: Italian FM
Italian Foreign Minister Paolo Gentiloni said on Wednesday that his country is keen to invest in Iranian projects.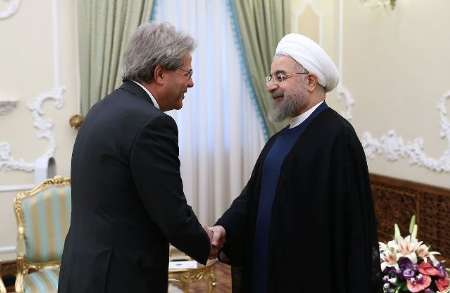 Italian PM invites Iranian president for official visit
Italian Premier Matteo Renzi extended an invitation to Iranian President Hassan Rouhani to pay an official visit to Rome, as other European countries are already in a race to boost political and economic ties with Tehran.
Iran blasts West's opposition to Islamic human rights declaration
Secretary of Iran's Human Rights Council Mohammad Javad Larijani lashed out at the western states for their opposition to the Declaration on Human Rights in Islam (CDHRI), stressing that Muslims would never accept to be bullied or ruled by foreign values.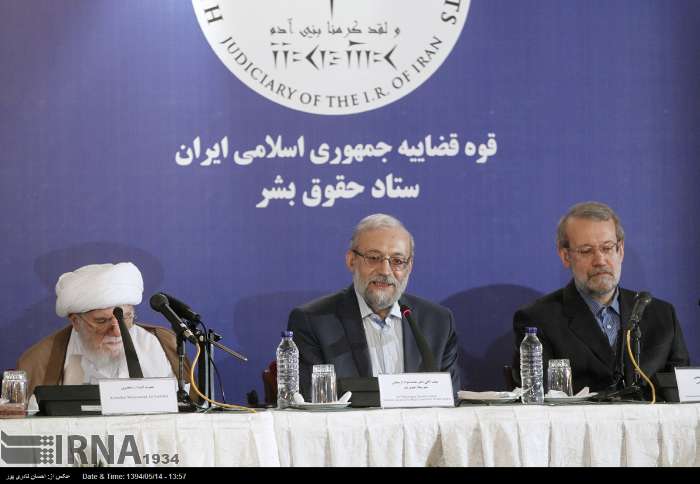 August 6, 2015:
Zarif, Moallem discuss bilateral ties, Syrian crisis
Foreign Minister Mohammad Javad Zarif and his Syrian counterpart Walid al-Moallem in a meeting in Tehran on Wednesday discussed bilateral ties and the latest regional developments, specially Syria.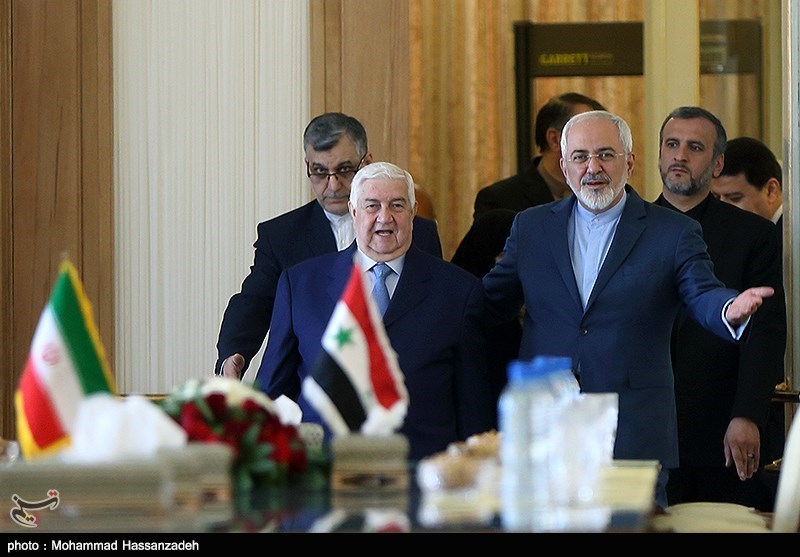 President Rouhani calls for collective efforts to fight terrorism
Iranian President has called on all world countries to engage in the fight against the common threat of terrorism, stressing that the terror groups will "show no mercy" to anyone.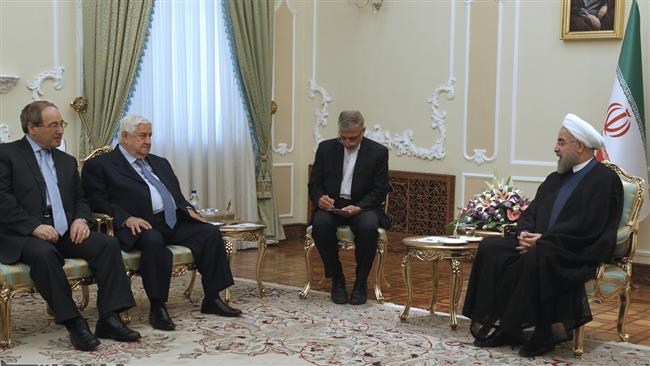 Larijani: Syria in frontline of resistance against arrogant powers
Majlis (Iranian parliament) Speaker Ali Larijani underlined that Syria is in the frontline of resistance against the arrogant powers.
IAEA access to Iran's parchin military site to remain confidential
IAEA Director General Yukiya Amano said that information about access to Iran's Parchin military complex is confidential.
Rouhani urges Iran-Turkey cooperation on anti-terrorism fight
Iranian President Hassan Rouhani says more cooperation is needed between Iran and Turkey to counter the threat of terrorist groups in the Middle East region.
Iranian, Russian diplomats confer on regional developments
Iran's Deputy Foreign Minister for Arab and African Affairs Hossein Amir Abdollahian and his Russian counterpart Mikhail Bogdanov on Thursday exchanged views on the most recent developments in Syria, Yemen, and Libya.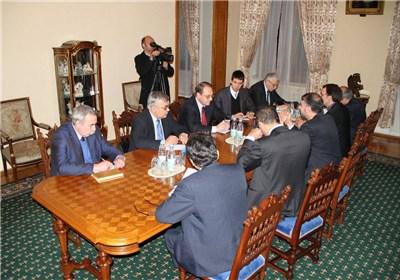 August 7, 2015:
Iranian female athletes win 2 silver medals of Asian Junior Wushu Championships
Iranian girl wushu practitioners have won two silver medals of the 8th Asian Junior Wushu Championships, that are underway in Xilin Gol League, Inner Mongolia, China, from August 6-9, 2015.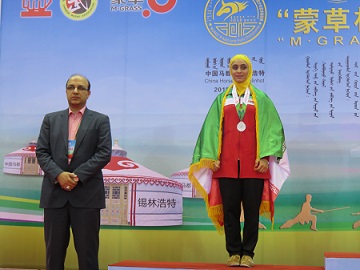 World's No. 3 container group sails back to Iran
France's CMA CGM, the world's third largest container shipping group, has resumed services to Iran amid international maritime traffic scampering again along the country's southern coasts after years of sanctions.
Australian FM: Nuclear deal will pave way for promoting ties
Australian Foreign Minister Julie Bishop said on Friday that removal of sanctions following the nuclear deal between Iran and the 5+1 will prepare the ground for boosting mutual ties.
Cleric: Allegations raised against Iran signify Washington's continued hostility
A senior Iranian cleric censured US officials for their repeated allegations against Tehran, saying that accusing Tehran of seeking a nuclear weapon or supporting terrorism demonstrates the continuation of previous hostilities toward the Islamic Republic.
President Rouhani felicitates National Reporter's Day
President Hassan Rouhani issued a statement on Friday congratulating the National Reporter's Day.
August 8, 2015:
Iran to unveil new oil contracts in London: Zangeneh
Iran will present new oil contracts at a London conference planned for December to increase recovery from its fields with the help of foreign companies, Oil Minister Bijan Namdar Zangeneh said.
Free flow of information renders fight against corruption genuine
Culture Minister Ali Jannati has said that it is government's duty to respect people's right to access to information, adding the eleventh government insists on implementing the Law on the Free Access to Information.
After nuke deal: Japan sends top-ranked delegation to Iran for trade talks
Japan is sending a top trade and industry official to Iran with executives from multiple industries now that a recently reached nuclear deal has paved the way for Tehran's economy to rejoin the global market.
Iranian tourists should avoid land travel to Turkey: Foreign ministry
Foreign Ministry on Saturday warned tourists against land trip to Turkey, advising them to opt for air flights.
August 9, 2015:
Iran's foreign minister dismisses US media claim on Parchin site
Iranian Foreign Minister Mohammad Javad Zarif has dismissed recent reports in the US media about nuclear-related activities at the Parchin military site, located near the capital, Tehran.
France's ADPI to invest in Iran airport projects
Iran says a leading French company specializing in airport architecture and engineering has voiced interest in the development of three key airport projects in the country.
Iran invites Japan banks to open branches
Delegates from Japanese banks that arrived in Iran on Saturday as part of a major trade delegation were given a proposal to open branches in the country.
Iran ex-president's son begins 10-year jail term
The son of Iran's former president Akbar Hashemi Rafsanjani began a 10-year prison term for financial and security crimes on Sunday, insisting his conviction was politically motivated.
Iran: Paragraph in JCPOA prevents next US president from discarding N. agreement
Iranian Deputy Foreign Minister Majid Takht Ravanchi stressed that the Joint Comprehensive Plan Of Action (JCPOA) agreed between Tehran and the world powers contains a paragraph which guarantees that the next US presidents will not abort the agreement.
Georgia eager to boost ties with Iran
Vice Speaker of Georgia's parliament Gubaz Sanikidze voiced his country's keenness to expand cooperation with Iran in various fields.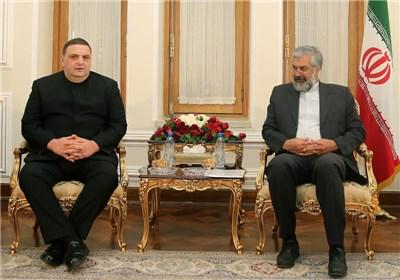 Minister: BBC not permitted to establish office in Iran
Minister of Culture and Islamic Guidance Ali Jannati on Sunday explained about activities of British Broadcasting Corporation (BBC) in Iran.
Iran eying commercial nuclear activities: AEOI chief
The conclusion of nuclear talks between Iran and the Group 5+1 (Russia, China, the US, Britain, France and Germany) has opened up new vistas for Tehran to think of nuclear activities for commercial purposes.
Deputy FM: Nuclear issue ended in favor of Iran
Iran's Deputy Foreign Minister Seyed Abbas Araqchi hailed the finalized text of a lasting accord between Tehran and six world powers over its nuclear program as a success, saying that the Islamic Republic emerged victorious in "the battle of wills".
Zarif stresses Iran's continued arms aid to regional allies
Iranian Foreign Minister Mohammad Javad Zarif underlined the country's firm decision to continue development of its defense program as well as its arms aid to those regional states that are fighting terrorism.