Tehran, August 2, The Iran Project – During the past week, Tehran hosted a various range of guests From EU foreign policy chief to French FM Fabius following reaching the nuclear accord between Iran and the world powers.
Weekly Report: July 27-August 2, 2015
July 27, 2015:
Deputy FMs brief MPs on final nuclear deal
Deputy foreign ministers Seyed Abbas Araqchi and Majid Takht-Ravanchi attended the Majlis (Iranian parliament) National Security and Foreign Policy Commission to brief the parliamentarians on the process of inspections and upcoming visits of Europeans.
Iran FM arrives in Iraq on final leg of Mideast tour
Iran's Foreign Minister Mohammad Javad Zarif has arrived in the holy Iraqi city of Najaf on the final leg of his three-nation tour of the Middle East.
'Iran's state banks to join SWIFT once JCPOA comes into effect'
An official at the Central Bank of Iran (CBI) says the country's state-run banks will soon rejoin the Society for Worldwide Interbank Financial Telecommunication (SWIFT) once Iran's nuclear agreement with the world powers enters into effect.
Official: Iran's enrichment capacity to reach 190k SWUs 15 years after JCPOA
Head of the Atomic Energy Organization of Iran (AEOI) declared that the country's uranium enrichment capacity will reach 190,000 Separative Work Units (SWUs) at most 15 years after a final nuclear deal between Tehran and world powers comes into force.
Iran's Central Bank names envoy to World Bank
Farhad Nili, director of the Monetary and Banking Research Institute (MBRI), was appointed as the official representative of the Central Bank of Iran (CBI) in the World Bank.
Iran fully prepared for regional cooperation: Zarif
Iranian Foreign Minister Mohammad Javad Zarif expressed the country's determination to work with regional countries to resolve common problems in the Middle East.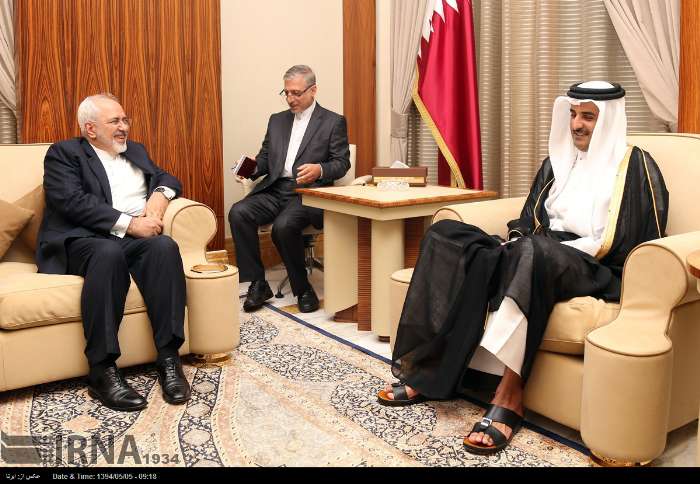 "Swift" to lift all but arms-related embargoes on Iran: Deputy FM
An Iranian deputy foreign minister said Swift will lift embargoes on the Iranian individuals and financial institutions it had sanctioned in the past, except those who are on the banking network's sanctions list in connection with the country's arms and missile programs.
Zarif meets with four senior religious leaders in Najaf
Foreign Minister Mohammad Javad Zarif on Monday met with four senior religious leaders in Iraqi city of Najaf.
July 28, 2015:
Explosion hits Iran-Turkey gas pipeline: Report
An explosion has hit the Iran-Turkey natural gas pipeline in the eastern Turkish province of Ağrı, the Turkish Energy and Natural Resources Ministry reports.
Iran's Bushehr home to 2 new nuclear power plants: Salehi
Iran is planning to build two nuclear power plants in the southern province of Bushehr, says Head of the Atomic Energy Organization of Iran Ali Akbar Salehi.
French foreign minister launches charm offensive ahead of Iran visit
French Foreign Minister Laurent Fabius has struck a friendly note toward Iran ahead of a planned visit to the Islamic Republic, where economic and political opportunities are perceived to abound following a diplomatic breakthrough in nuclear negotiations between Iran and the P5+1.
Araqchi clarifies "reversibility" of JCPOA commitments for Iran
Iran's Deputy Foreign Minister Abbas Araqchi said the country will be able to "immediately" reverse its commitments under a final nuclear deal with world powers if it finds out that the other side has breached commitments under the Joint Comprehensive Plan of Actions (JCPOA).
European Union (EU) Foreign Policy Chief Federica Mogherini arrived in Tehran on Tuesday.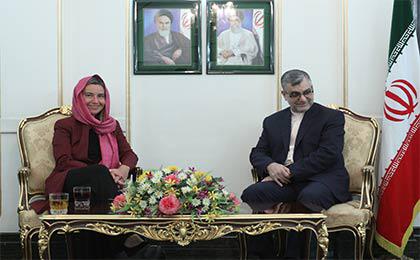 Iran, EU agree to resume stalled high-level talks
Iran's Foreign Minister Mohammad Javad Zarif says the Islamic Republic and the European Union have agreed to revive stalled talks.
Mogherini: Nuclear agreement is good for region, entire world
EU foreign policy chief Federica Mogherini said in joint press conference with Iranian foreign minister on Tuesday that the comprehensive nuclear deal between Iran and six world powers was good for the region and the entire world.
Detained Post reporter's lawyer in Iran asks for his release
The lawyer of detained Washington Post reporter Jason Rezaian said Tuesday her client should be freed in the wake of the nuclear deal between Iran and world powers, Iranian media reported.
EU's Mogherini: JCPOA to open new chapters for Iran, Int'l community
European Union Foreign Policy Chief Federica Mogherini said implementation of a final nuclear deal between Tehran and six world powers will have far-reaching effects on Iran, its ties with Europe and the international community and also on the Middle East region.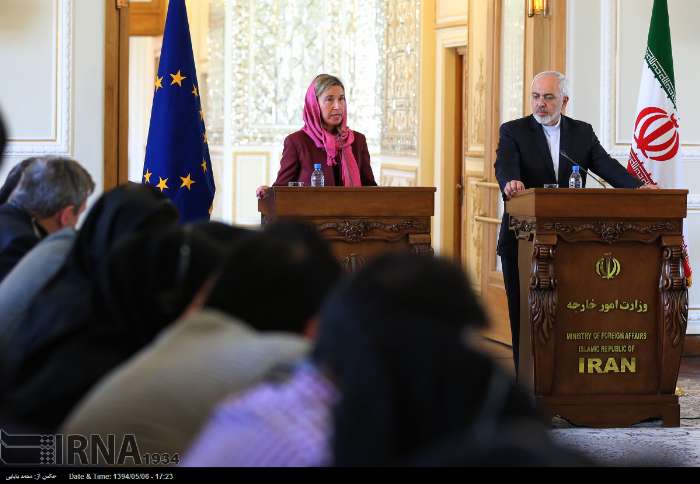 Kerry warns Congress against scrapping Iran deal
Secretary of State John Kerry told U.S. lawmakers on Tuesday he wanted to set the record straight on the Iran nuclear deal and equated walking away from the agreement to giving Tehran a fast track to a nuclear weapon.
JCPOA shows diplomacy can settle disputes: Iran president
Iranian President Hassan Rouhani says a recent agreement reached between Iran and six world powers displayed the power of diplomacy in resolving international issues and disputes.
July 29, 2015:
French Foreign Minister Laurent Fabius arrived in Tehran on Wednesday.
A group of students gather to protest against Fabius visit to Iran
A group of Iranian university students gathered at Tehran's Mehrabad airport on Wednesday morning to protest against the visit of French Foreign Minister Laurent Fabius to Iran.
Iran an influential country in the region: Fabius
Visiting French Foreign Minister Laurent Fabius said here on Wednesday that Iran is an influential country in the region.
French economic delegation due in Tehran in Sept.: Fabius
Visiting French Foreign Minister Laurent Fabius said here Wednesday that an economic French delegation, including several companies, visit Iran in September.
President Rouhani receives French FM
President Hassan Rouhani said here on Wednesday that the nuclear agreement should lead to a better cooperation between Iran and Europe.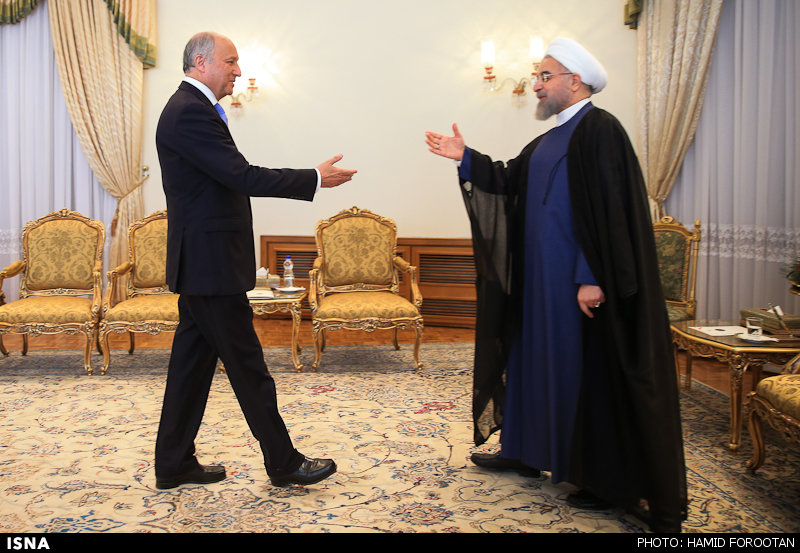 Hollande invites Rouhani to France
French Foreign Minister Laurent Fabius Wednesday extended an invitation to President Hassan Rouhani on behalf of his French counterpart Francois Hollande to visit France.
Iran, UK to reopen embassies soon, says Iran Deputy FM
Iran and America will have "opportunities" for cooperation in tackling terrorism if the nuclear agreement is implemented successfully, according to the Islamic Republic's deputy foreign minister.
Iran, France discuss environmental cooperation
Vice-President and head of Department of Environment Ma'soumeh Ebtekar met with visiting French Foreign Minister Laurent Fabius here on Wednesday.
Nuclear deal being examined by SNSC: Spokesman
The text of the Joint Comprehensive Plan of Action (JCPOA) recently reached between Iran and the six powers is being scrutinized in regular and extraordinary sessions of the Supreme National Security Council (SNSC), according to SNSC Spokesman Keyvan Khosravi.
July 30, 2015:
Iran, France discuss industry, trade ties
Minister of Industry, Mine and Trade Mohammad Reza Nematzadeh and visiting French Foreign Minister Laurent Fabius discussed mutually-interested issues here on Wednesday.
Diplomat rejects Bahraini FM's anti-Iran accusations
A top Iranian diplomat dismissed the allegations made by Bahrain's foreign minister that Iran supports extremist militants, following a deadly bombing killed several people in the Persian Gulf state's village of Sitra on Tuesday.
Iran sees 'new chapter' in ties with Total
Minister of Petroleum Bijan Zangeneh says Iran welcomes French energy giant Total's return to the resource-rich country amid Tehran's drive to step up oil and gas development projects after the removal of sanctions.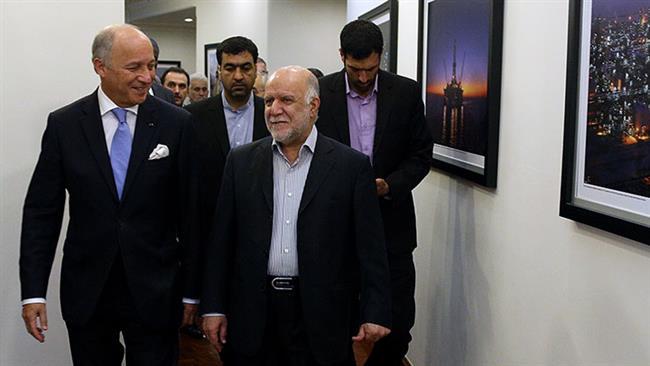 Iran, France in talks over purchase of Airbus planes: Minister
Minister of Road and Urban Development Abbas Akhundi said on Wednesday that Iran and France have started direct negotiations over purchase of new Airbus planes and their spare parts.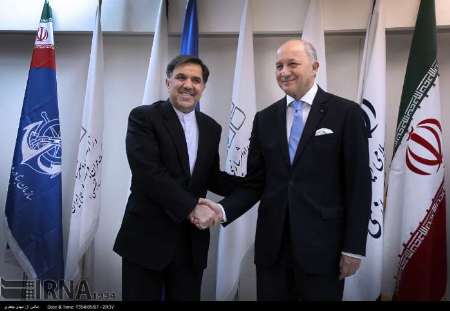 Ankara-Tehran train attacked, no casualties
Ankara-Tehran train was subjected to a terrorist attack on Thursday, but fortunately the attack left no casualties.
Guardian Council presiding board reinstated
The Guardian Council met on Wednesday and reinstated its presiding board with Ayatollah Ahmad Jannati staying on the job as secretary of the council.
Iranian, French FMs to meet at least once a year: Fabius
French Foreign Minister Laurent Fabius said on Thursday that in a meeting with his Iranian counterpart Mohammad Javad Zarif, they agreed to hold regular talks and meet at least once a year.
US has vowed to remove barriers to imports of Persian carpets, pistachio
Trade, economic and financial sanctions against Iran will be lifted once the Joint Comprehensive Plan of Action (JCPOA) takes effect, the Iranian deputy foreign minister told a meeting held at the initiative of Iran Chamber of Commerce to look into the country's economic prospects in the post-sanctions era.
European foreign ministers queueing up to visit Iran: Araqchi
Iran's Deputy Foreign Minister Abbas Araqchi said conclusion of talks with world powers over the country's nuclear program has given Tehran the option to take its pick from the many parties seeking economic cooperation with Iran, including impatient Western countries.
Russia to deliver modernized version of S-300 air defense system to Iran
Russia will deliver to Tehran a modernized version of the S-300 air defense system that is currently being updated for the Iranian customers, Russian Presidential Aide Vladimir Kozhin said Thursday.
July 31, 2015:
Iranian firms taken off UK sanctions list
Britain has removed two Iranian companies operating in the oil, gas and petrochemical sectors from its list of entities subject to asset freeze.
White House warns Congress once again not to kill Iran nuclear deal
The White House has warned Congress that rejecting President Barack Obama's nuclear agreement with Iran would isolate the United States and trigger another war.
Obama urges supporters to lobby for Iran deal
U.S. President Barack Obama on Thursday told groups that support the Iran nuclear deal to make their voices heard to Congress to counter the millions of dollars in lobbying by those who want to derail the agreement.
Iran denies sourcing Russian airliners
Iran's Civil Aviation Organization (CAO) has denied reports that the country planned to furnish its fleet with passenger planes from Russia after the removal of sanctions.
Cleric appreciates nuclear negotiating team
Tehran interim Friday Prayers Leader Ayatollah Seyyed Ahmad Khatami appreciated Iran's President Hassad Rouhani and nuclear negotiating team for their efforts in the marathon talks with world powers.
5.5-magnitude quake hits southeastern Iran
A 5.5-magnitude earthquake jolted an area near the town of Sirch in Iran's southeastern province of Kerman on Friday.
Iran says will ban US experts from UN nuclear inspections
Iran will not allow American or Canadian inspectors working for the U.N. nuclear watchdog to visit its nuclear facilities, an official said in remarks broadcast by state TV on Thursday.
IAEA chief 'positively' mulling U.S. Senate invite to speak on Iran
The U.N. nuclear watchdog chief is "positively considering" a U.S. Senate invitation to speak about his agency's monitoring role in Iran following the country's deal with world powers on curbing its atomic activity, a diplomatic source said.
Iran condemns killing of Palestinian infant by Israeli settlers
Iran has strongly condemned the arson attack by Israeli settlers in the occupied West Bank that claimed the life of a Palestinian toddler.
August 1, 2015: 
Italy returns large haul of Iran's stolen artifacts
Italy has returned to Iran some 30 stolen artifacts that had been smuggled to the European country during the past 10 years.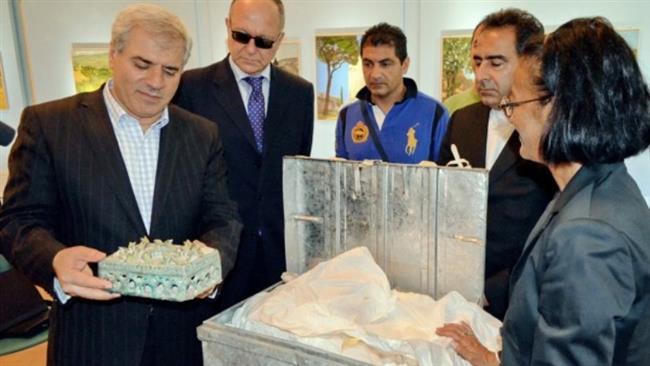 Nuclear deal does not require Majlis approval
Head of the Atomic Energy Organization of Iran (AEOI) Ali-Akbar Salehi said on Friday that since the nuclear deal between Tehran and P5+1 group of world powers in not an international agreement, it does not need to secure approval of Majlis (Parliament).
Nuclear deal goes into effect unless there are too many closed minds: Moniz
US Energy Secretary Ernest Moniz said Friday the Iranian nuclear deal will go forward, and he disagreed with President Obama's view that Democratic lawmakers are getting "squishy" on the accord.
Iran to buy 90 aircraft annually to renovate air fleet: Official
An Iranian aviation official announced that the country plans to purchase 80 to 90 Boeing and Airbus airplanes every year to renovate its commercial air fleet.
Deputy FM: Speaking of change in relations with US still soon
Deputy Foreign Minister for Europe-America Majid Takhteravanchi Saturday said, since the very beginning, President Rouhani put constructive interaction with the world as one of the main lines of foreign policy of his government.
Iranian athletes honor Zarif and Salehi
The National Day of Heroism and Zoorkhane was commemorated by awarding the symbol of heroism to Iranian FM Mohammad Javad Zarif and Head of Iran's Atomic Energy Organization Ali Akbar Salehi during a ceremony in the University of Tehran.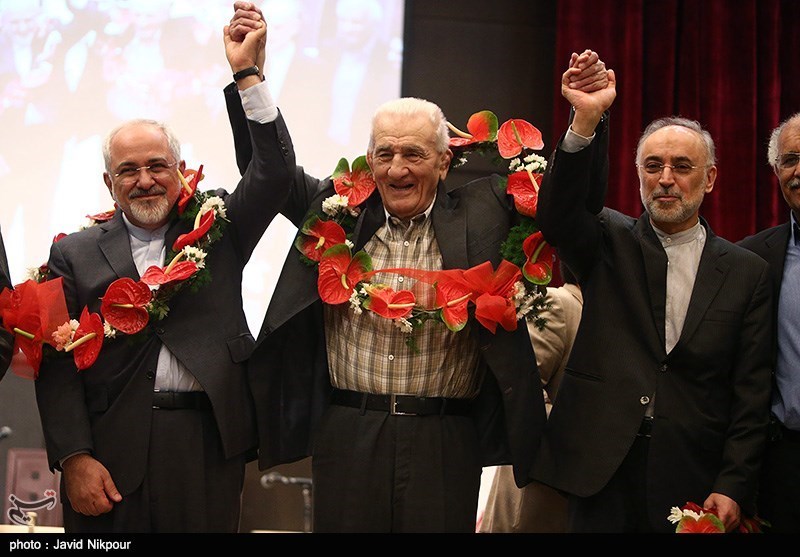 Single women and families with children can adopt child: official
Deputy Minister for Social Welfare of the Ministry of Labour, Cooperatives and Social Welfare says that the conditions for adoption have been facilitated and from now on families having children and single women can also adopt a child.
Iran warns IAEA against leakage of confidential data to US Senate
Iran has warned the International Atomic Energy Agency (IAEA) of the repercussions of disclosing to the US Senate the confidential data on the recently signed roadmap between Tehran and the UN nuclear agency.
August 2, 2015:
Iran claims title at 2015 World Archery Championships
Iran men's national compound team has displayed its superiority at the 2015 World Archery Championships in Denmark to win the title of the prestigious sports event.
Iranian official calls on IAEA to remain independent, impartial
An Iranian official has called on the International Atomic Energy Agency (IAEA) to maintain its independence and impartiality on Iran's nuclear case and respect Tehran's security concerns.
Iran vows 500k bpd rise in oil output by January
Oil Minister Bijan Namdar Zangeneh says Iran can increase its oil production by 500,000 barrels per day (bpd) within a week immediately after the removal of sanctions against the country.