Weekly Report: 13-19 July, 2015
July 13, 2015: 
Chinese FM welcomes settlement of nuclear dispute
Chinese Foreign Minister Wang Yi on Monday held talks with Iranian Foreign Minister Mohammad Javad Zarif on settlement of the nuclear dispute dating back to 13 years ago.
With Iran deal looming, Kerry, Zarif and Mogherini meet in Vienna
Top Iranian negotiator says he's hopeful but there is no guarantee that the deal is to be announced Monday. Rohani office on reports he will speak at 5:30 P.M. GMT: He will address the nation when talks are over.
Israeli PM launches Twitter account for Iranians
Israel's prime minister opened a Twitter account in Farsi on Monday, seeking to reach out to the Iranian public as world powers were getting closer to a nuclear deal with the Islamic Republic.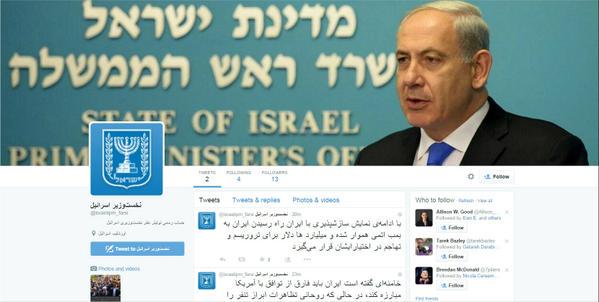 5 sentenced to prison over 2009 Iran post-election unrest
Prison sentences have been handed down to five people for their involvement in the unrest that followed Iran's 2009 presidential election, says a judicial source.
July 14, 2015:
World powers have reached a landmark nuclear deal with Iran
A senior diplomat says a landmark Iran nuclear agreement was reached Tuesday after clearing final obstacles. The diplomat says it includes a compromise between Washington and Tehran that would allow U.N. inspectors to press for visits to Iranian military sites as part of their monitoring duties.
Amano: Agreement with Iran focuses on road map for probable military aspects
Director General of the International Atomic Energy Agency Yukia Amano said he has signed an agreement with Iran on a roadmap for probable military aspects of Iran's nuclear activities.
Iran's Zarif, EU say nuclear deal is new chapter of hope
Iran's foreign minister and the European Union's foreign policy chief said a nuclear deal between Iran and six powers sealed on Tuesday heralded a new chapter of hope and was a historic moment.
Verification, not trust behind nuclear deal – Obama
The deal with Iran is based on verification mechanism and not trust, US President Barack Obama said speaking from the White House after the Vienna talks' success, in an apparent deflection of criticisms his administration faces over the agreement.
Leader thanks Iranian nuclear negotiating team
Leader of the Islamic Revolution Ayatollah Seyyed Ali Khamenei has expressed gratitude to the Iranian nuclear negotiating team for their efforts following the conclusion of Iran-P5+1 talks.
Iranians take to Tehran streets to hail nuclear deal
Iranians poured onto the streets of Tehran after the Ramadan fast ended at sundown Tuesday to celebrate the historic nuclear deal agreed earlier with world powers in Vienna.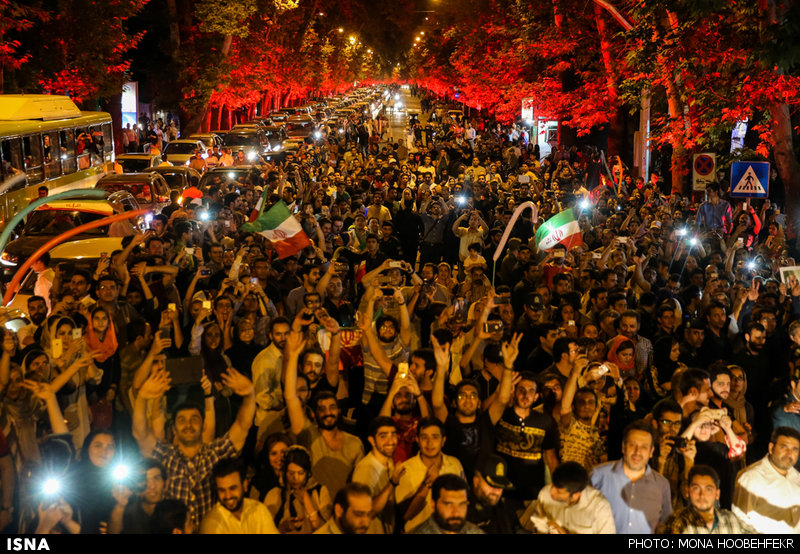 July 15, 2015:
Nuclear negotiation team arrives in Iran
Iran's nuclear negotiation team arrived in Tehran Wednesday morning.
The team, led by Foreign Minister Mohammad Javad Zarif, was warmly welcomed in Tehran's Mehrabad International Airport.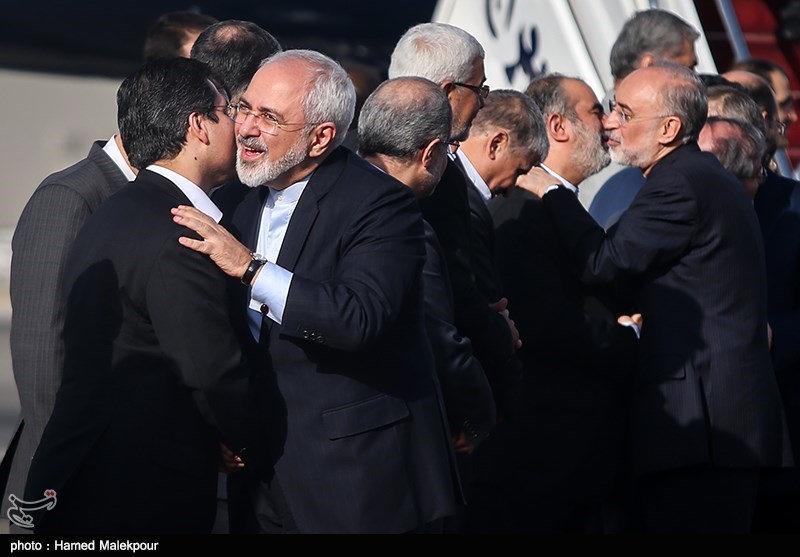 Iran to step into nucelar trade: Zarif
Iranian Foreign Minister Mohammad Javad Zarif says Iran is to step into trade on peaceful nuclear technology following years of research and development in the nuclear industry.
Iran agreement helps battle against ISIL: Russian FM
The Iranian nuclear accord has opened the way for a "broad" coalition to battle the ISIL Takfiri terrorist group, says Russian Foreign Minister Sergei Lavrov.
"It removes the barriers – largely artificial – on the way to a broad coalition to fight" ISIL and other terrorist groups, said Lavrov in a ministry statement issued on Tuesday.
French foreign minister says he will visit Iran in wake of nuclear talks
French Foreign Minister Laurent Fabius says he will pay a visit to Iran upon an invitation by his Iranian counterpart Mohammad Javad Zarif, following the conclusion of nuclear talks between Tehran and the P5+1.
UNSC to recognzie Iran's right for enrichment activities: Zarif
Foreign Minister Mohammad Javad Zarif said the United Nations Security Council is to recognize Iran's right for nuclear enrichment.
He made the remark here on Wednesday morning while talking to reporters upon arrival from the Holy city of Mashhad where the shrine of the eighth Shiite Imam Reza lies. The Iranian nuclear negotiators left Vienna Tuesday night for Mashhad and then flew to Tehran on Wednesday morning after visiting the shrine.
Peace endangers existence of Israel: Iran foreign minister
Iranian Foreign Minister Mohammad Javad Zarif says that Israel benefits from conflict and that peace threatens the Israeli regime's existence.
Zarif thanks Supreme Leader, President, nation for supporting team
Head of Iranian negotiating team in a message on Wednesday thanked the Supreme Leader, the President and the nation, and various concerned organization, for constant support for the Iranian team.
Iran deal not aimed at normalizing US relations with Tehran – Obama
The Iran deal reached in Vienna on Tuesday is not aimed at normalizing relations between Washington and Tehran, US President Barack Obama told reporters on Wednesday.
Putin, Obama discuss Iran nuclear deal
Vladimir Putin and his US counterpart Barack Obama discussed Tuesday's Iran nuclear deal over the phone.
Obama: Iran deal is only alternative to more Mideast war
President Barack Obama, seeking to sell the Iran nuclear deal to skeptical U.S. lawmakers and nervous allies, insisted on Wednesday the landmark agreement was the only alternative to a nuclear arms race and more war in the Middle East.
July 16, 2015:
Some P5+1 members cannot be trusted: Ayatollah Khamenei
Leader of the Islamic Republic Revolution Ayatollah Seyyed Ali Khamenei says some members of the P5+1 group are not reliable, calling on Iranian authorities to exercise vigilance in the face of possible violation of the recent conclusion of nuclear talks.
US presents resolution to UN Security Council on Iran sanctions
The United States has presented a draft resolution to the United Nations Security Council that would endorse the Iran nuclear agreement and remove all international sanctions against Tehran related to its nuclear energy program.
Iran must be part of Syria solution: Obama
US President Barack Obama says the crisis in Syria will not be resolved without support from Iran, Russia, Turkey and other regional countries.
Israel wants permanent standoff with Iran: British foreign secretary
Britain's Foreign Secretary Philip Hammond says Israel seeks a "permanent standoff" with Iran, noting that the Tel Aviv regime would not have welcomed any kind of conclusion to the nuclear talks between Iran and the P5+1 group.
Leader pardons, commutes sentences of 930 convicts
Leader of the Islamic Revolution Ayatollah Seyyed Ali Khamenei has pardoned or commuted the sentences of a number of Iranian prisoners.
Iran N-talks offered new approach to diplomacy: Oman
The Omani foreign minister has hailed the recent conclusion of negotiations between Iran and the P5+1 group of countries over Tehran's nuclear program, saying the talks marked a turning point in global diplomacy.
Mogherini: Agreement with Iran to help stability, security in Middle East
European Union foreign policy chief Federica Mogherini says EU is optimistic with nuclear deal between Iran and the world major powers.
FM Zarif to leave for Oman, Qatar
Iranian Foreign Minister Mohammad Javad Zarif is to leave Tehran for Oman and Qatar later on Thursday.
July 17, 2015:
Iran talks conclusion to help regional ties: Zarif
Iranian Foreign Minister Mohammad Javad Zarif says the conclusion of Iran's nuclear talks with world powers can help promote cooperation among regional countries.
UN security council to vote Monday morning on Iran deal
The U.N. Security Council scheduled a vote for first thing Monday morning on a resolution endorsing the Iran nuclear deal.
Nuclear conclusion to serve Iran-Turkey ties: Rouhani
Iranian President Hassan Rouhani says the conclusion of Iran's nuclear talks with world powers would contribute to the promotion of Tehran-Ankara ties.
Cameron willing to reopen embassy in Tehran
UK's Cameron welcomed the Iran Deal and expressed willingness to reopen embassy in Tehran in phone conversation with Iran's President Rouhani.
Pres. Rouhani appreciates Oman's constructive role in region
In a phone talk with Oman's Sultan Qaboos bin Said Al Said on Friday, President Hassan Rouhani appreciated his country's constructive role aimed at crisis resolving in the region.
Iran faces 'excessive' demands in nuclear deal: prayer leader
Iran will accept a nuclear deal with global powers only if sanctions are lifted immediately, frozen revenues are returned and the Islamic Republic's revolutionary ideals are preserved, a senior cleric told worshippers at Friday prayers in Tehran.
President Rouhani felicitates Eid al-Fitr to Islamic World
President Hassan Rouhani in seperate messages to heads of state and government of Islamic countries congratulated them and their Muslim nations on the auspicious advent of Eid al-Fitr
July 18, 2015:
Iranian Muslims on Saturday celebrated the religious festivity of Eid al-Fitr, marking an end to the holy month of Ramadan by taking part in nationwide prayers.
Iran leader withholds verdict on nuclear deal, vows anti-U.S. policies
Supreme Leader Ayatollah Ali Khamenei withheld his verdict on Iran's nuclear deal on Saturday but in a fiery address vowed enduring opposition to the United States and its Middle East policies, saying Washington sought Iran's 'surrender'.
President Rouhani says Iran nuclear conclusion benefits entire region
Iranian President Hassan Rouhani says the conclusion of nuclear talks between Iran and the P5+1 group of countries will benefit the entire region.
Rouhani: Nuclear deal a prelude to next stages
President Hassan Rouhani said on Saturday that the nuclear deal reached with world major powers is a prelude to the incoming phases.
Congressional vote on Iran would be 'devastating' for US: White House
If Congress goes ahead with Iran vote, and lawmakers reject the successful conclusion of nuclear talks, it will be "devastating" for the United States' global standing, the White House says.
July 19, 2015:
Ayatollah Khamenei: Unity sole remedy for Muslim woes
Supreme Leader of the Islamic Revolution Ayatollah Seyed Ali Khamenei described unity as the only solution to the problems the Muslims are facing, saying the "arrogant powers" have created religious wars in the Islamic countries to divert attention from the fight against Israel.
Iran to build most specialized nuclear hospital in Western Asia
Head of the Atomic Energy Organization of Iran (AEOI) Ali Akbar Salehi announced that Iran plans to construct the most specialized nuclear hospital of Western Asia in Tehran.
Apple is reportedly in talks with Iranian distributors to start selling products there
Apple is talks with Iranian distributors to potentially sell products in the country, The Wall Street Journal reports, citing people familiar with the matter.