TEHRAN, Jun. 14 (MNA) – The recent visit of MEP Marietje Schaake on an EU delegation to Iran has set off criticism over her rather questionable choice of clothing. On June 6, a European Parliament delegation, headed by Chairman of the European Parliament's Committee on Foreign Affairs Elmar Brok, arrived in Tehran on a two-day visit to hold talks with the country's authorities.
Their earliest visit to Iran was in December 2013, followed by another visit in June 2014. Ms. Marietje Schaake, a member of the European Parliament for the Dutch Democratic Party, accompanied the delegation on all three accounts.
While the delegation's meeting with an Iranian convict in their previous visits, which was made without regular coordination with Iranian authorities and was described by Ms. Schaake as a 'great, great honor and pleasure,' caused a lot of political controversies, yet the EU 2015 visit stirred up quite a bit of different controversy that although may seem irrelevant to the actual purposes of the visit, has opened up a door to some quite relevant discussions on Iran's contemporary state of affairs; namely, the dressing etiquette.
But the dressing etiquette is not only restricted to Iran, or diplomatic meetings. Every institution in every country has its own dress code on what they describe as 'proper' and 'legal' behavior. Some of these rules, if unheeded, may be tolerated to some extent; some may have you charged with fines or even landed in jail. That is why the most important step before deciding to visit another country is to learn about the customs, practices and laws of the host country.
The cultural etiquette in some countries is demanded to be observed more closely and seriously than in others. Japan and other Asian countries with thousands of years of civilization, may come across as quite a 'cultural shock' to visiting westerners. That's why the United States has released several guidelines or cultural field guides for its troops in regard to any country they are deployed to. During Afghanistan war, numerous misbehaviors by American troops made commanders provide their forces with basic instructions about cultural difference. Learning cultural faux pas and avoiding them would save you from embarrassing situations if you were an ordinary visiting tourist. If you are a foreign diplomat on a high-ranking delegation, however, it definitely holds much more significance to obtain a general knowledge of the host country's customs and regulations.
When Marietje Schaake appeared in an official meeting with Iran's Parliament Speaker Ali Larijani on June 6 in 'unconventional' clothes, it led to some heated discussion as it was dubbed as the Dutch diplomat's controversial 'disrespect' for the dressing etiquette and law in Iran. A pair of leggings, a form-fitting dress with a zip-up front topped with a head scarf that leaves her neck bare, as well as a handbag so out of context in such a formal meeting [more on the spot given that another member of the delegation was carrying a backpack!], while still a far-cry from what the Islamic Iran would consider 'conservative' clothing, were not, in my opinion, the real issue of the controversy.
It appears that the attention to the 'unconventional' clothing of MEP Schaake was first drawn by Iranian MP Mehdi Kouchakzadeh who called it a "ridicule of Islamic and human values."
A number of state news agencies were also on the same page, dubbing the event as one of the "European diplomats' mischief."
Advisor to Iran Parliament Speaker for International Affairs, Hossein Sheikholeslam, however, maintained that MEP Schaake's outfit had not been chosen as a deliberate act of opposition and that the blame rested on the part of Iranian officials who had failed to properly explain to the Dutch diplomat the sensitive issue of hijab and conservative clothing in Iran.
In a rare occasion, MP Ali Motahari had similar critical views to those of Kouchakzadeh, saying visiting foreign women must observe the Islamic dressing etiquette as a law in the country and the Iranian officials must not feel shy in demanding the foreign diplomats to respect said law.
With photos going viral on Iranian and some international social networks, Ms. Schaake's first reaction was in response to a twitter post mentioning her. She further wrote a report on the visit and responded to the criticism leveled at her choice of clothing during the official meeting, saying "it would be a shame to let this 'controversy' overshadow the rest of the visit. But it would have been better for critics to notify me personally when they were in the same room with me, instead of via the media."
But perhaps we should take a step back and recount the story from a different perspective that in my opinion, is much more objective and as such closer to the 'heart' of the matter.
The fact is that Iran, even as a country with Islamic rules and regulations, is not extremely strict with dressing codes when it comes to foreign female officials visiting the country. While it is compulsory to cover your head with a scarf and wear modest clothing, the regulations do not dictate much beyond that so as to make sure the visiting officials are not too uncomfortable within a culture so different from their own.
Nevertheless, no matter how different that culture is, no matter how 'difficult' the regulations, respecting them as they are is a sign of good will and amicability.
Given that it was her third visit to Iran, MEP Schaake has not been a stranger to the dressing etiquette in Iran and covering her head appropriately as the country's law indicates must not have come to her as a surprise as the photos of her previous visits shows her in an acceptable way of dressing for a foreign diplomat according to the protocols. In another tweet asking her if she would "have dressed like this in any other formal meeting in the world?" Schaake admits that she would not wear "leggings while 40 degrees Celsius outside, but a black dress, sure!" The color of her dress, however, has never been the case.
Quite interestingly, in a 2014 visit to Washington on another EU delegation, Ms. Schaake attended an Atlantic Council panel to discuss her 2013 trip to Iran, where she has been wearing the same black dress, yet it is noteworthy that she has been wearing a coat on it and with only one handbag.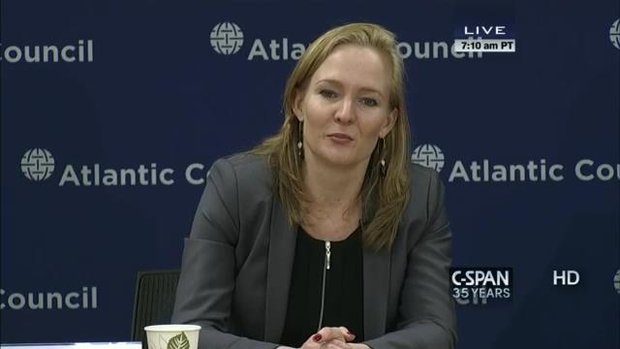 Since etiquettes and protocols is a basic principle to follow and the MEP has shown she is familiar with it, taking inspiration for her outfit from the streets of Iran, as she has said in an interview, does not exactly sound like a professional way of going about choosing what to wear in an official meeting.
This observation gains more credibility as we take into account Schaake's own comparison between her chosen outfit and that of South African Minister Maite Nkoana-Mashabane who visited Iran earlier last May.
Schaake has put a cropped image of Mashabane's official meeting and writes in her blog that "as far as I can see not much fall-out from the way in which South African Foreign Minister Maite Nkoana-Mashabane dressed. It was actually quite similar to the way I covered my head, but please judge for yourself."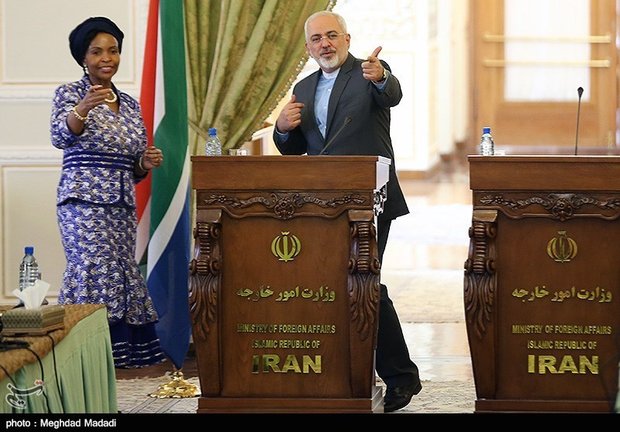 The comparison Ms. Schaake is drawing doesn't seem fitting as FM Nkoana-Mashabane's outfit, conforms both to the dressing etiquette in her own country as well as the one in Iran. Her clothes look formal, professional and respectful, and as such they did not raise any controversy among Iranian officials and media.
What is being stressed here, therefore, moves beyond Islamic customs and ventures into 'diplomatic etiquette.' The western media easily downplay this aspect by saying the cause of the controversy was 'a scarf wrapped around her head that revealed a few of her blond tresses.' But the underlying issue is that any country – irrespective of its ruling system – defines a set of laws which it expects to be followed and abided by.
During the last visit of the Italian Foreign Minister Emma Benino in Tehran, she insisted on traveling in Iran without a hijab. When told that she had to put on a hijab in accordance with the protocol, the FM claimed "Just as Iranian officials do not participate in our meals due to the alcohol being served, I too am unwilling to submit to this limitation."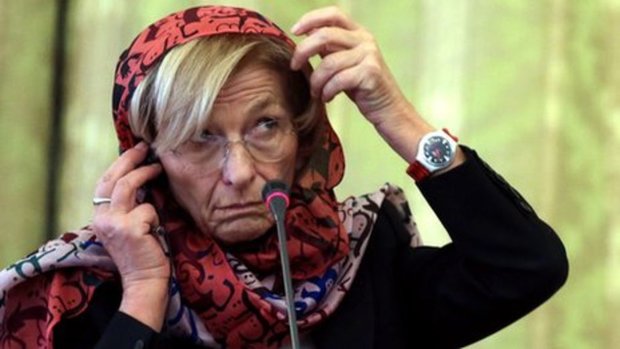 This is a rather weak argument. While wearing hijab is a 'rule' in Iran and as such observing it is compulsory, drinking alcoholic beverages during diplomatic meetings is not. When it comes to Iran, everything becomes politically-charged through the Western media, even generally-accepted, normal observations such as respecting the laws of the host country and avoiding cultural faux pas.
The curious case of Ms. Marietje Schaake is not that curious after all. Even if such inattention towards respecting law in Iran is not interpreted as Eurocentric, MEP Schaake should have exercised more tact and consideration in choosing an outfit befitting a diplomatic meeting and also an Islamic nation.
By Mehr News Agency