TEHRAN, May 17 (MNA) – Enjoying over a quarter-century experience, Tehran International Book Fair (TIBF) has become a cultural landmark which attracts a healthy audience every year. Now in its 28th year, it is encouraging that Tehran International Book Fair (TIBF) – held May 6-16 – still attracts a healthy audience.
Last year, the fair attracted 500,000 visitors a day, in over 10 days, and as the largest book fair in the Middle East, TIBF draws more than five million visitors every year; a number 5 times more than the visitors to Paris Book Fair.
Looking all the way back at 1987 when the first edition of TIBF was launched with some 400 publishers from 32 participating countries presenting some 32,000 titles, and then considering this year's edition with 6,000 publishers from 65 participating countries, one can easily see how this landmark cultural event is acclaimed worldwide as a credible international book fair.
Tehran's annual Book Fair is certainly cause for celebration. Over the years, it has moved beyond a simple place for buying books to a social gathering of thousands of book lovers who enjoy the feeling of being surrounded by millions of titles to choose from, stands that offer considerable discounts that make buying books much more affordable for the students, and the general thrill of getting lost for hours in a labyrinth of stalls occupied by publishers exhibiting their latest titles, and barely feeling the pass of time.
But apart from the physical books, which will always hold a tight and secure place in the hearts of millions of book lovers in Iran, electronic books are also gaining rapid attention from the literary sphere.
As of May 16, an inclusive system of electronic books was unveiled at the TIBF with the attendance of Minister of Culture and Islamic Guidance Ali Jannati, who emphasized the significant impact of the digital age on Iranian lives today, saying "virtual space has provided a broad sphere to introduce our knowledge to the world; I remember a time when we faced serious problems at the borders trying to export books to Saudi Arabia. Nowadays, however, it has become much easier to digitally publish books and reach a wider audience."
Easier access to e-books on the one hand, and placating environmental worries on the other further intensifies the appeal of digital books and a need for more investment in the field.
Fidibo, Iran's biggest digital library, for example, has published nearly 3,500 books online and has more than 150,000 users. Last year alone, books had been downloaded from Fidibo more than 200,000 times. It has its own smartphone application available on Apple's AppStore and Google Playstore, as well. According to its director, Majid Ghasemi, the website has been a hugely successful experience so far, and they estimate to have saved 2,000 trees last year.
But TIBF comes with its own particular vices. Under the hot glare of sun beating down on thousands of visitors milling around a vast expanse of ground looking for that particular stand that sells their intended books, sometimes it becomes quite a chore trying to read the map and finding the right place.
A man in charge of an Iranian stall that specialized in books on history was particularly upset about the lack of proper information panels that could guide the visitors through the labyrinth of hundreds of book stalls; "I have been giving visitors directions more often than actually selling books to them," he jokes.
Although TIBF has a mobile app that makes finding directions so much easier than having to ask people around for the stall you are looking for, the app needs the internet to work, and if the event could provide visitors with free wifi connections, then everyone would have been much more content while visiting the fair.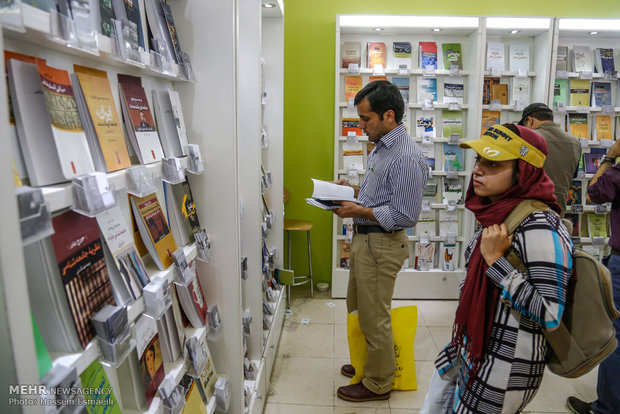 Another stall manager was actually quite pleased with this year's book fair and how much more organized the whole event was as compared to previous years; "this year, the fair is more organized, the cleaning and maintenance services are better provided, and we're receiving much warmer reception altogether."
With Iran not being part of any of the International Copyright Treaties, any book fair inevitably becomes similar to a giant bookstore serving mainly as an opportunity to purchase books than exchange publishing business and collaborative ideas.
Yet, the event each year schedules hundreds of cultural projects as sidelines activities, including book review sessions, face-to-face meetings with Iranian authors, lecture sessions, and writing workshops. In the latest edition of the TIBF event, over 250 sessions of the kind were staged in a center in the fairground called House of Authors.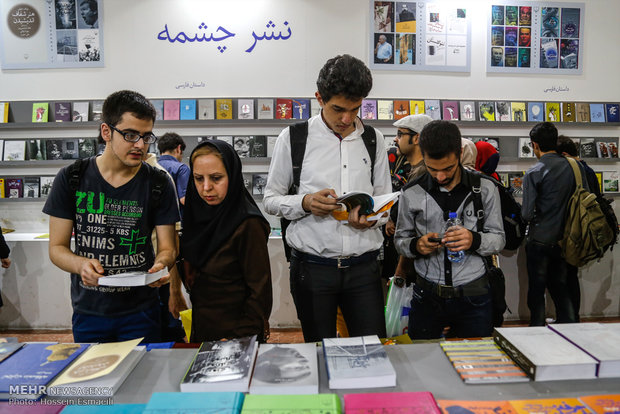 Tehran's International Book Fair, a ten-day-long, twenty-eight year-old annual cultural event, concluded on Saturday May 16 this year in a 120,000 square-meter venue at Tehran's Grand Prayer Grounds (known as the Musalla).
Offering books in various languages including English, Arabic, German, French, Turkish, Armenian, Russian, Spanish, Urdu, Japanese, Korean, Chinese and the Indian & African languages, on as many topics as humanities, religion, philosophy, literature, social sciences, art & architecture, medical science, and engineering & technology, Tehran International Book Fair has become a great cultural event in which publishers from all over the world along with a large number of domestic participants take part to exhibit their new titles.
This cultural event, scheduled in May every year, has been sponsored by the Ministry of Culture and Islamic Guidance of the Islamic Republic of Iran for the last 27 years. However, in the recent years, publishers' associations and unions have played a key role in managing the national division of the Fair.
By Mehr News Agency