Representatives of six world powers are intensifying talks with Iran, as a deadline to reach a deal on Tehran's nuclear programme looms.
The US secretary of state and German and French foreign ministers have all reportedly cancelled their travel plans in a final push for an agreement.
Representatives from China, Russia and the UK are also in Switzerland for the negotiations.
They are working towards a self-imposed deadline of 31 March.
The world powers, known as the P5+1 group – the five permanent members of the UN Security Council plus Germany – want to ensure that Iran cannot develop nuclear weapons.
Iran denies it is aiming to build nuclear weapons and is hoping that a deal will lead to an end of international sanctions imposed on Tehran.
'Mutual compromises'
Sunday's talks began at 15:30 local time (11:00 GMT) in the Swiss city of Lausanne, with world powers meeting Iranian Foreign Minister Mohammad Javad Zarif. They followed preliminary talks on Saturday between Iran, the US, France and Germany.
US Secretary of State John Kerry cancelled a planned return to the US to attend an event honouring his late Senate colleague Edward Kennedy, the state department said.
German Foreign Minister Frank-Walter Steinmeier and his French counterpart Laurent Fabius also delayed a planned trip to Kazakhstan in order to focus on the negotiations, Reuters news agency reported.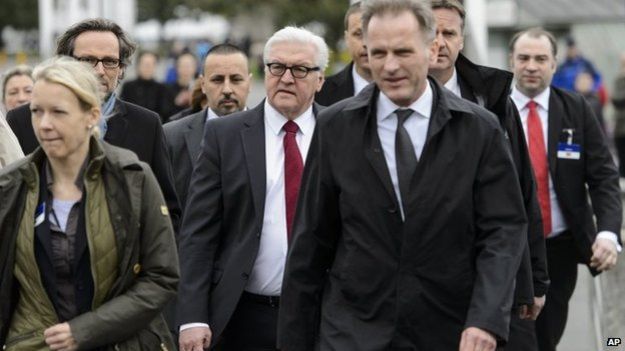 They were joined by Chinese Foreign Minister Wang Yi, and senior representatives from Russia and the UK.
Diplomatic sources told Reuters that the parties had offered mutual compromises at Sunday's talks in an attempt to break the deadlock.
Mr Zarif had said on Saturday that progress was being made.
"I think we can in fact make the necessary progress to be able to resolve all the issues and start writing them down in a text that will become the final agreement," he said.

At the scene: Lyse Doucet, BBC News, Lausanne
Negotiators are close, closer than ever before, in their 12-year standoff over Iran's nuclear programme. But a deal is still not done, and no one can say with 100% percent certainty if it will be.
With each day that slips by before an end-of-March deadline for a framework agreement, the political temperature rises against the serene backdrop of the snow-capped Swiss Alps. As foreign ministers and officials stream in and out of meetings in the gilded Beau Rivage, snippets and statements to the persistent press play into 11th-hour brinkmanship.
The last difficult details are as much about political power as they are about nuclear energy. Both Iran and world powers urge the other side to make tough decisions. All say they've come here, hoping to make a deal, to make history.
Beyond this rarefied world, sceptics wait in many capitals, ready to react if, in their view, a bad deal emerges. Reaching what counts as a "good deal" for all will go right down to the wire and, possibly, beyond.

Some of the most contentious issues remain unresolved, says the BBC's Barbara Plett Usher, in Lausanne.
Potential sticking points in the nuclear talks are thought to include the pace at which sanctions would be lifted, how long the deal will last and how much of Iran's nuclear facilities will be open to inspection.
Israel's Prime Minister Benjamin Netanyahu has again warned of a deal with Iran, describing it as worse than his country had feared.
On Sunday he told a cabinet meeting "this deal, as it appears to be emerging, bears out all our fears, and even more than that".
He gave no details, but noting advances by Iran-backed forces in Yemen and other Arab countries, he accused Iran of trying to "conquer the Middle East" while pursuing nuclearisation.
"The Iran-Lausanne-Yemen axis is very dangerous to humanity and must be stopped," he said.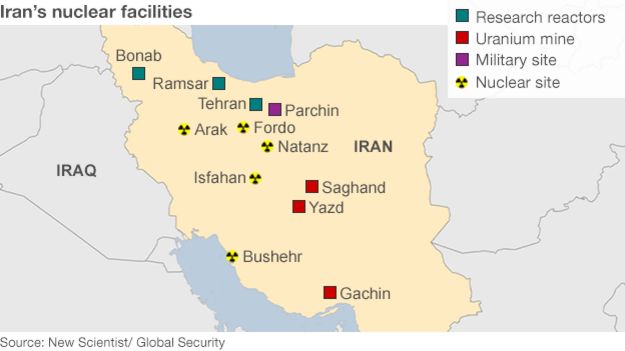 By BBC