IFP has taken a look at the front pages of newspapers on Wednesday and picked headlines from 13 of them. IFP has simply translated the headlines and does not vouch for their accuracy.
Inauguration of Phase 12 of South Pars gas field and President Rouhani's comments at the opening ceremony that his administration has delivered on its promises and that sanctions do not work in eroding the hope and prudence of the nation dominated the front pages of Iranian newspapers on Wednesday. Also in the news were comments by Foreign Minister Zarif and nuclear chief Ali Akbar Salehi about progress in talks with P5+1 on the nuclear issue.
Abrar: Ali Younesi [an adviser to President Rouhani] has been summoned to the Special Court for Clerics [for making controversial comments].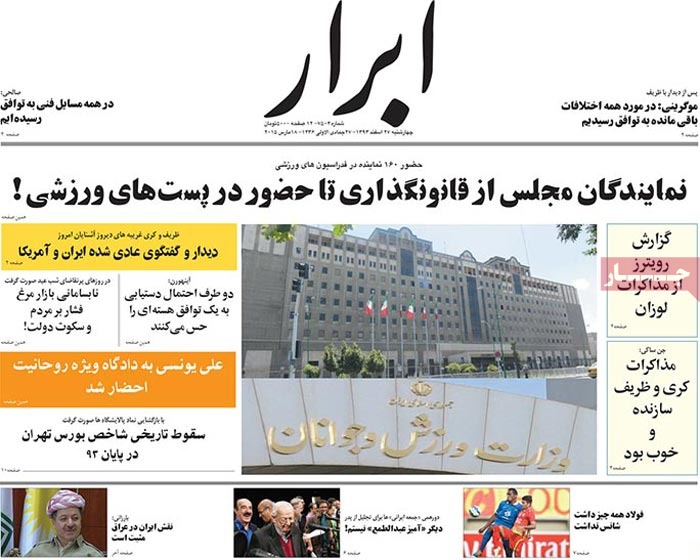 ---
Aftab-e Yazd: Arrest warrants have been issued for assailants who attacked Tehran MP Ali Motahari in Shiraz last week.
Aftab-e Yazd: Nine people have been arrested in connection with the distribution of fake Avastin [a drug injected into the eye to slow vision loss].
Aftab-e Yazd: Iran's gross domestic product is expected to go up by $53 billion.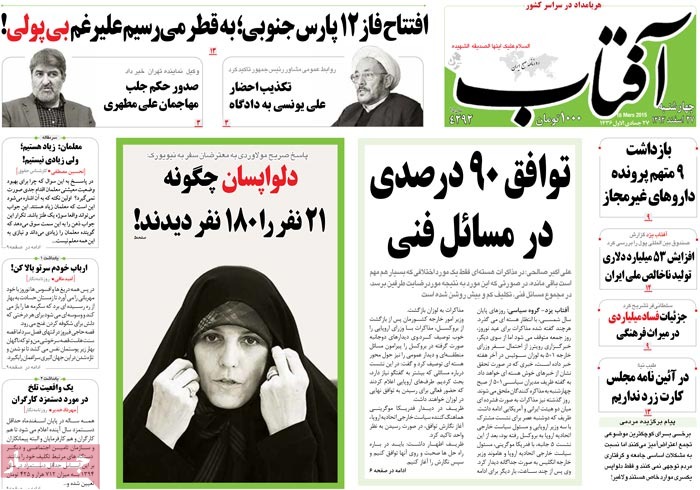 ---
Arman-e Emrooz: "We will eventually reach a deal," said Iranian Foreign Minister Mohammad Javad Zarif of nuclear talks between Iran and P5+1.
That comment came as Iranian nuclear chief Ali Akbar Salehi said 90 percent of technical differences has been settled.
Arman-e Emrooz: "IS terrorists had plans to invade [western Iranian cities of] Ghasr-e Shirin, Soomar and Naft Shahr," said the commander of the ground troops of the Iranian Army.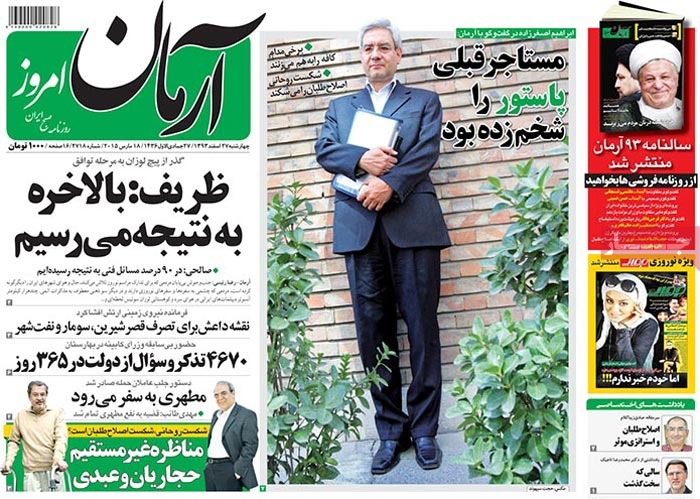 ---
Asrar: "The results of government measures [on the economic front] will come to surface next year [starts on Saturday March 21]" said the minister of economy and financial affairs.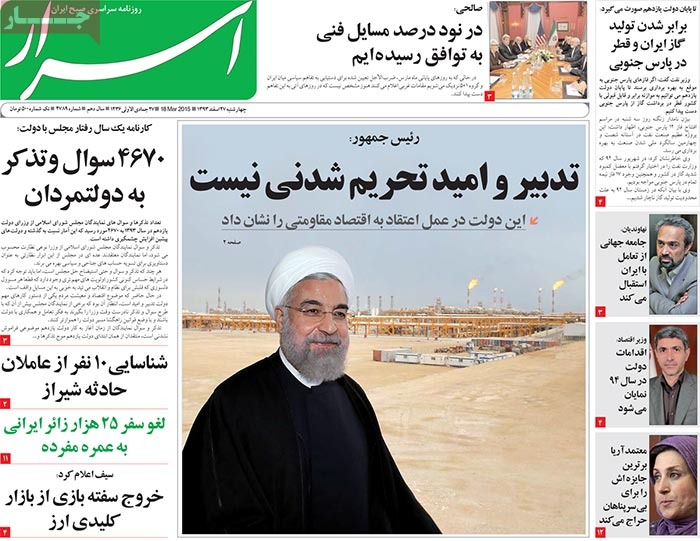 ---
Ebtekar: Well-known political commentator Sadegh Zibakalam has said a nuclear deal [between Iran and P5+1] will definitely be clinched in Farvardin [Iranian month that ends on April 20].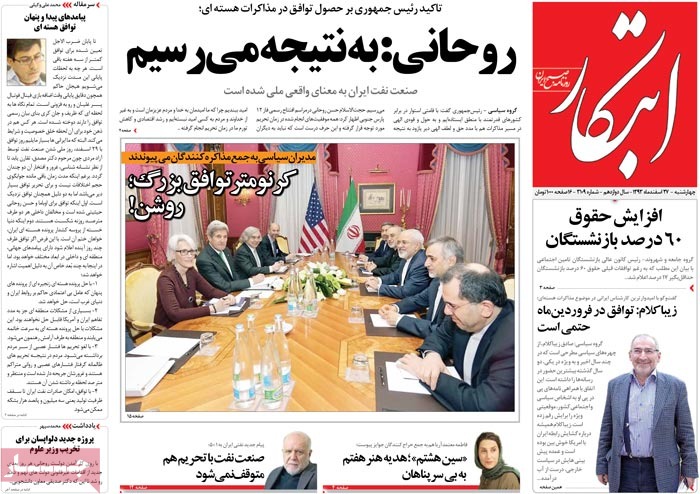 ---
Emtiaz: The governor of the Central Bank says efforts will be made to push inflation down into single digits.
---
Etemad: A political deal is one step away.
On day three of talks solutions came within reach.
---
Ettela'at: Wi-Fi is to become available in public places.
Ettela'at: "The international community welcomes understanding and interaction with Iran," said the president's chief of staff.
Ettela'at: "Talks have been satisfactory," said Foreign Minister Zarif after negotiations with his counterparts from P5+1.
---
Hambastegi: "Times are gone when pressures could be brought to bear through sanctions," said President Hassan Rouhani at the inaugural of Phase 12 of South Pars gas field.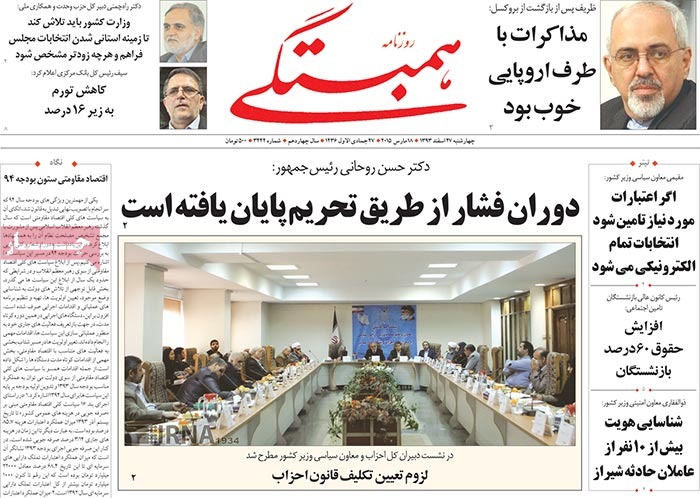 ---
Hemayat: The stock exchange lost 3,500 points in the final Tuesday of the year.
---
Jomhouri Islami: President of the Iraqi Kurdistan Region Masoud Barzani has said that Iran plays a positive role in Iraq.
---
Kayhan International: Biggest South Pars project comes on stream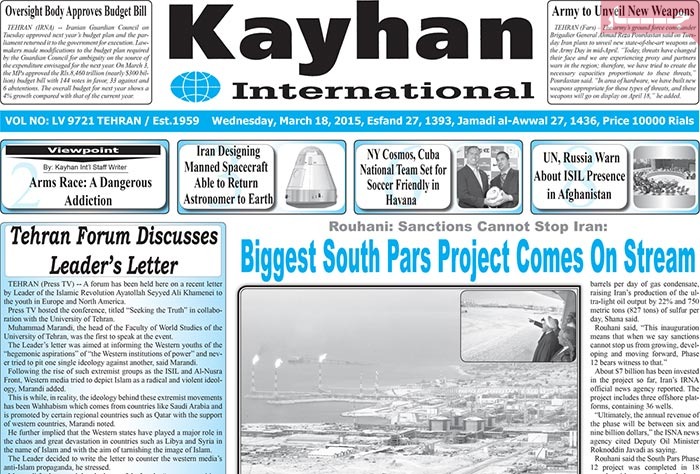 ---
Tejarat: The mining sector posted 10.7 percent growth in the last 12 months