Minister launches new cruise missile production line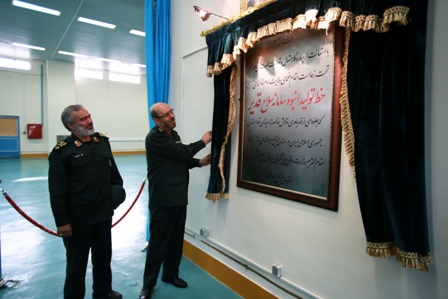 Tehran, March 14, IRNA – Defense Minister Brigadier General Hossein Dehghan inaugurated the mass production line of long-range anti-ship cruise missiles here on Saturday.
Talking to reporters on the sidelines of the ceremony, he noted that a number of sample missiles were unveiled by the Iranian President Hassan Rouhani late August 2014.
Today, the minister added, some of the sample products of the missile have been handed to the Iranian Navy for combat purposes.
He stressed that the Iranian Defense Ministry is the most powerful in the region thanks to its completely indigenous technology for producing different kinds of missiles.
He said the speed and precision of his ministry's productions have added to military might of armed forces in water, air and land.
The new missile designated as Qadir is the newest type of cruise missiles manufactured by Iran which has the capability of targeting enemies in up to 100 kms with high precision and pounding power.
It could be launched both from sea and coastal platforms.
One major feature of Qadir missile is that it could be launched from the same old platforms used for other types of missiles, thus giving the Iranian army enhanced operational capabilities.
By IRNA