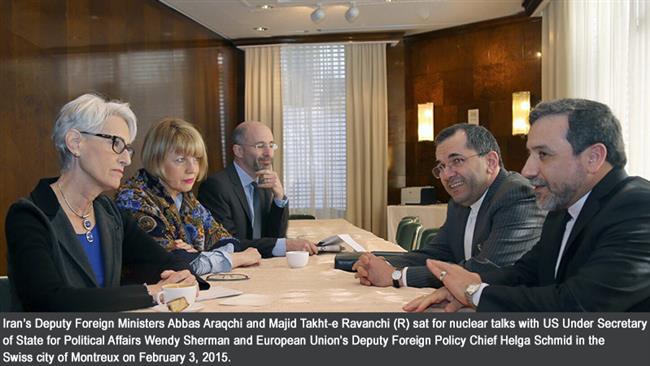 TEHRAN (FNA)- Senior negotiators from Iran and the US will hold their next round of nuclear talks on March 15, sources privy to the talks revealed after two days of talks between the two sides on Wednesday.
An informed source close to the Iranian team of negotiators told FNA on Wednesday that senior diplomats from Iran and the US will hold more talks in the presence of Helga Schmid, a deputy to EU Foreign Policy chief Federica Mogherini, on March 15, but the exact venue of the negotiations has not been decided yet.
Meantime, Iranian Foreign Minister Mohammad Javad Zarif underlined the necessity for holding discussions with his US counterpart John Kerry to find ways for the rapid removal of sanctions against Tehran in their fresh round of talks underway in Montreux.
"This round of nuclear negotiations is a proper opportunity for the two ministers to discuss political issues, specially the method for the rapid removal of sanctions," Javad Zarif told the state-run TV in Geneva on Tuesday.
Zarif expressed the hope that the two sides could take basic steps during their talks in the Swiss town of Montreux, and said, "Negotiation is no doubt the only option for the world to settle Iran's nuclear issue, and there is no choice other than this."
Iranian Deputy Foreign Minister Seyed Abbas Araqchi said on Wednesday that Iran and the US aim to reach greater progress on Tehran's nuclear program than was achieved during the last rounds of negotiations.
"The US and Iran are aiming to reach greater progress on Tehran's nuclear program than was achieved during the last rounds of negotiations," Abbas Araqchi said in an interview with Sputniknews.
"Last time we made a progress (in Geneva). We are trying to make more progress. But now it's too soon to say,"  Deputy FM added.
Zarif and Kerry, who both addressed the UN Human Rights Council in Geneva on Monday, later went to Montreux for bilateral nuclear talks, to be followed later this week by talks there between political directors from the six major powers (the US, Russia, China, Britain and France plus Germany) and Iran.
The Iranian and American teams of negotiators had several days of talks in Geneva late in February. Then after two days of negotiations, Zarif, Head of the Atomic Energy Organization of Iran (AEOI) Ali Akbar Salehi and President Rouhani's brother and senior aide Hossein Fereidoun as well as Kerry and Secretary of Energy Ernest Moniz joined their deputies in the talks.
After two days of intensive negotiations with his US counterpart, Zarif said that Tehran and Washington have had "serious, useful and constructive" talks in the last few days, but there is still a long way ahead before a final nuclear deal can be struck.