World leaders and international organizations have condemned the extreme interrogation techniques used by the CIA in its Detention and Interrogation Program following the release of a detailed report on the agency's torture program.
MOSCOW, December 10 (Sputnik) – Reactions from world leaders and international organizations have been pouring in following the release of a summary of what the media has labeled the "CIA torture report."
The review was produced by the US Senate Intelligence Committee after a thorough investigation of CIA's Detention and Interrogation Program. The program authorized CIA officers to use extreme interrogation techniques, including sleep deprivation, waterboarding, painful stress positions, dietary manipulation, walling, 'rectal rehydration' or rectal feeding, etc. All of them amount to nothing less than torture, according to the US Senate Intelligence Committee.
The UN welcomed the release of the report on the CIA's torture program. "The Administration is to be commended for resisting domestic pressure to suppress these important findings," said Ben Emmerson, UN special rapporteur on counter terrorism and human rights.
"It is now time to take action. The individuals responsible for the criminal conspiracy revealed in today's report must be brought to justice, and must face criminal penalties commensurate with the gravity of their crimes," he added in a statement publishedby the Office of the High Commissioner for Human Rights.
"International law prohibits the granting of immunities to public officials who have engaged in acts of torture. This applies not only to the actual perpetrators but also to those senior officials within the US Government who devised, planned and authorised these crimes. As a matter of international law, the US is legally obliged to bring those responsible to justice," he added.
UK Prime Minister David Cameron, commented on the report, stating that torture is wrong. "Torture is always wrong. Those of us who want to see a safer, more secure world, who want to see this extremism defeated, we won't succeed if we lose our moral authority, if we lose the things that make our systems work and our countries successful," he said at a joint press conference with Ahmet Davutoglu, Turkey's prime minister.
A Twitter account believed to be run by the office of Iran's Supreme Leader Ayatollah Ali Khamenei posted a series of tweets using hashtag #TortureReport condemning the practice. One of the tweets said that the US is a "symbol of tyranny," adding that even Americans face violence at home. The sentiment was repeatedly expressed in other tweets.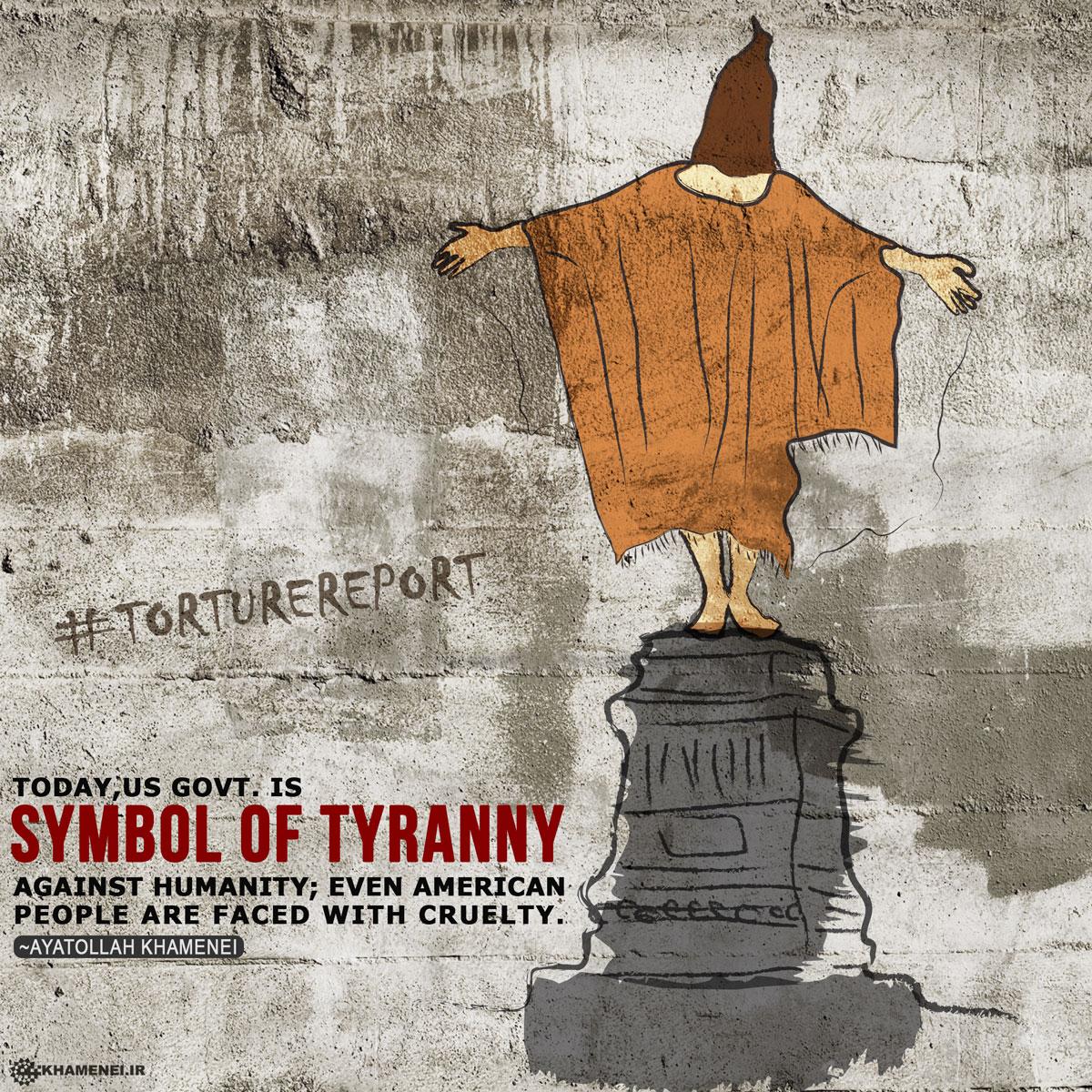 They claim they've a prideful nation; US govts. debased & misguided their ppl who aren't aware of many realities.#TortureReport 10/31/12
The report on the interrogation techniques, used by the CIA, confirms the systematic use of torture against terror suspects, Russian Foreign Ministry's human rights ombudsman Konstantin Dolgov said. "US Senate's report confirms the systematic use of torture in CIA prisons in violation of international obligations of the United States. It is a well-known fact," Dolgov tweeted on Tuesday.
Anatoly Kucherena, a Russian lawyer representing Edward Snowden, said that torture is unacceptable under any circumstances. "However one tries to justify torture, it curtails basic human rights. Physically no one can survive abuse. Anyone can admit to anything under pressure," he said.
"China has consistently opposed torture," said Hong Lei, a spokesman for China's Foreign Ministry, as reported by Bloomberg. "We think the U.S. should reflect on that and correct related practices, to earnestly abide by and honor the regulations of international conventions," he added.
The US seems to be using human rights issues as a political tool, China's state news agency Xinhua said in an opinion piece on the report. The US "is neither a suitable role model nor a qualified judge on human rights issues in other countries, as it pertains to be. Yet, despite this, people rarely hear the U.S. talking about its own problems, preferring to be vocal on the issues it sees in other countries, including China," it stated.
Amnesty International called the release of the report a wake-up call for the US urging the government to release the full inquiry, the NGO said in a press release. "The declassified information contained in the summary, while limited, is a reminder to the world of the utter failure of the USA to end the impunity enjoyed by those who authorized and used torture and other ill-treatment. This is a wake-up call to the USA, they must disclose the full truth about the human rights violations, hold perpetrators accountable and ensure justice for the victims. This is not a policy nicety, it is a requirement under international law," said Erika Guevara Rosas, America's Director of Amnesty International.
Marine Le Pen, the leader of the far-right Front National, sparked controversy with her remarks on the CIA report and the interrogation techniques the agency employed. The politician initially said she did not condemn torture. "Of course [torture] can be used. It's been used throughout history," Le Pen stated on Wednesday, as quoted by France 24. "I believe that the people responsible for getting information out of terror suspects that can save civilian lives do a responsible job," she added.
Le Pen later said her comments were misinterpreted in a post on Twitter. "When dealing with terrorism we can't behave like angels," she tweeted. "But 'by any means' means within the law, so obviously not torture," she clarified.
Interprétation malveillante. Face au terrorisme, pas d'angélisme. "Les moyens qu'on peut" : les moyens de la loi, évidemment pas la torture.
By Sputnik News
The Iran Project is not responsible for the content of quoted articles.