IFP has taken a look at the front pages of newspapers on Monday and picked headlines from 37 of them. IFP has simply translated the headlines and does not vouch for their accuracy.
Nuclear talks between representatives of Iran, the EU and the US in Muscat, Oman dominated the front pages of Iranian newspapers on Monday.
---
Abrar: Iraqi Vice-President Nouri al-Maliki has arrived in Tehran on an official visit.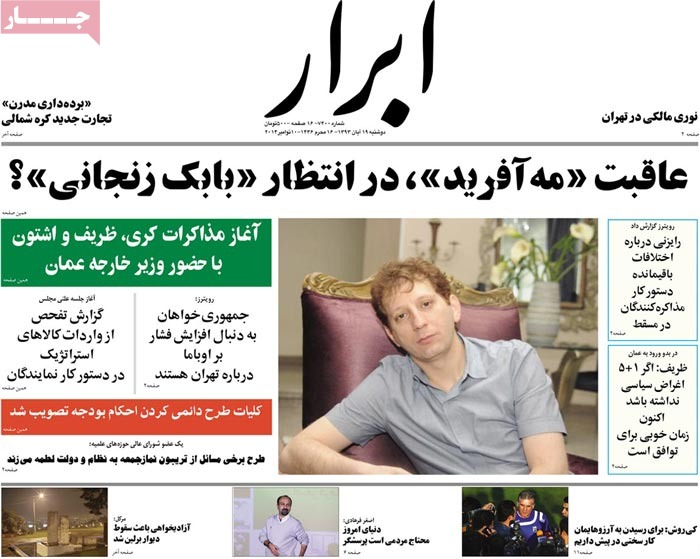 ---
Abrar-e Eghtesadi: A member of parliament's Development Committee has described the explanations of the Ministry of Transportation on a recent deadly crash of an Antonov 140 turboprop as insufficient.
---
Afarinesh: "Elimination of talented individuals paves the way for opportunists," said Ali Motahari, [a principlist MP who represents the capital in the Islamic Consultative Assembly].
Afarinesh: "Recent sanctions by Europe are inconsistent with the spirit of talks," said Foreign Ministry Spokeswoman Marziyeh Afkham.
Afarinesh: Oman says conclusion of a nuclear deal [between Iran and major powers] will serve the interests of Arabs.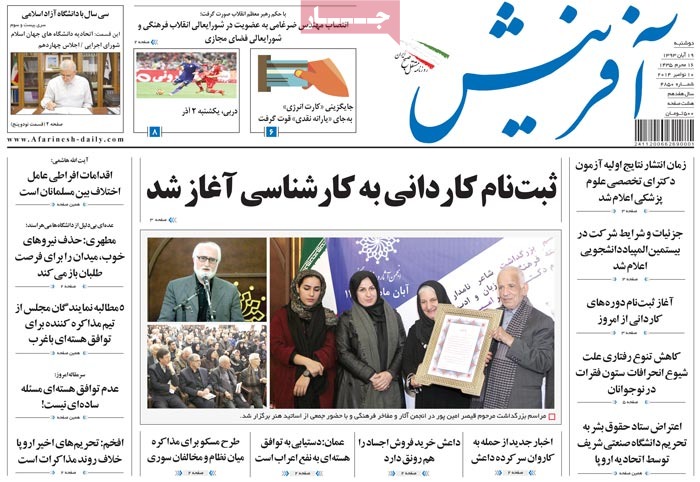 ---
Afkar: "In the absence of political motives on the part of P5+1, time is right to clinch a nuclear deal," said Iranian Foreign Minister Mohammad Javad Zarif.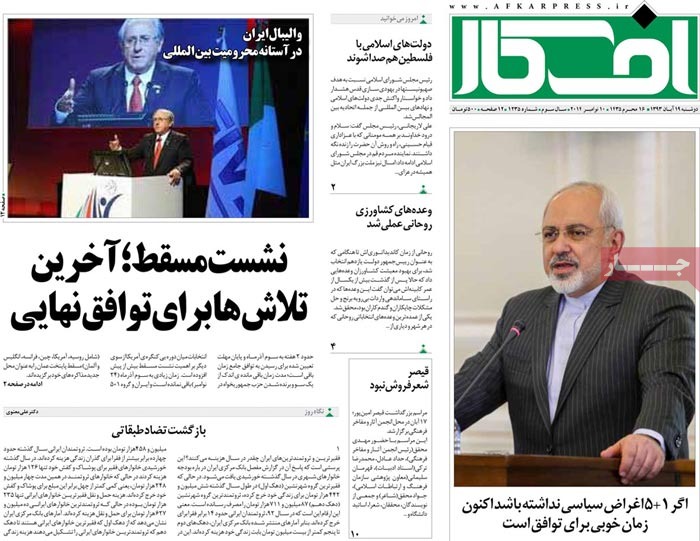 ---
Aftab-e Yazd: President Rouhani has said that IRIB [the national broadcaster] should ensure the freedom of expression.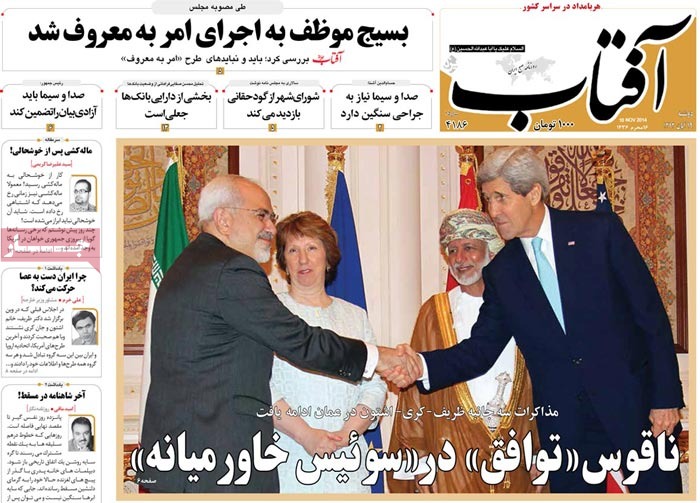 ---
Arman-e Emrooz: "Airing critical comments does not pose a threat to the country," said Ali Motahari [a principlist MP].
Arman-e Emrooz: The reformist period [during which Mohammad Khatami served as president] gave women a befitting role to play in journalism, said Minoo Mortazi Langeroodi, a senior expert on women's studies.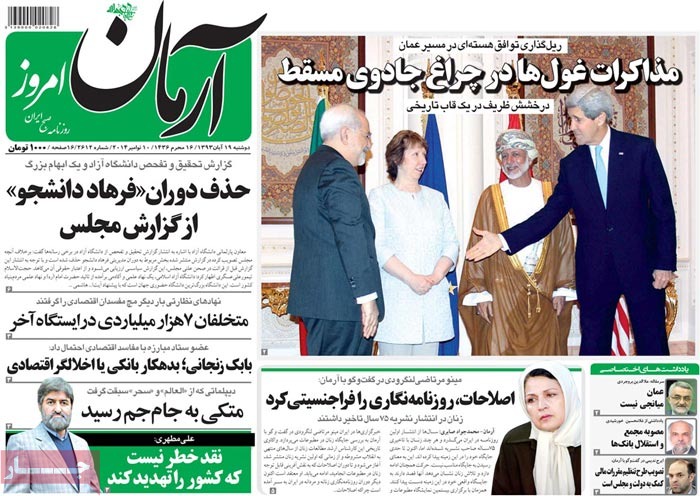 ---
Asia: Electronic passports will be issued as of tomorrow.
Asia: German investors are in Iran with a $1 billion proposal for investment in the electricity sector.
---
Asr-e Rasaneh: The Russians have been given the green-light to get involved in Iranian mining projects.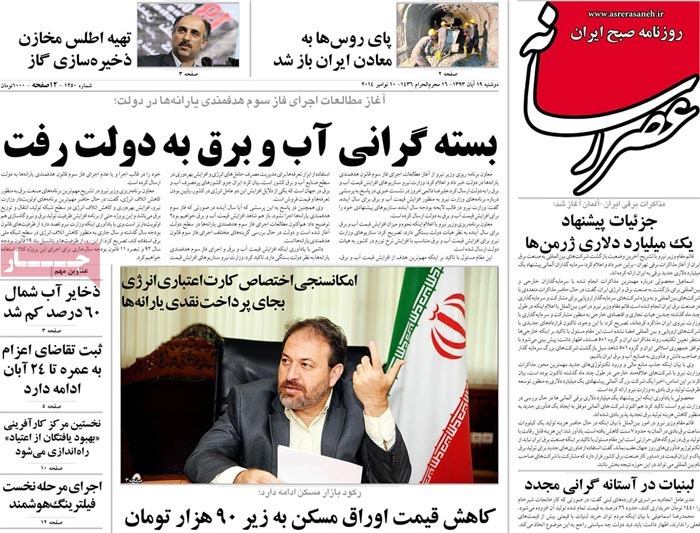 ---
Bani Film: Kolkata International Film Festival is to honor veteran Iranian actress Niki Karimi.
Bani Film: Veteran Iranian director Dariush Mehrjui is to be awarded France's Ordre national du Mérite.
---
Ebtekar: The executive and legislative branches have 11 more days to name and approve a new minister of science, research and technology.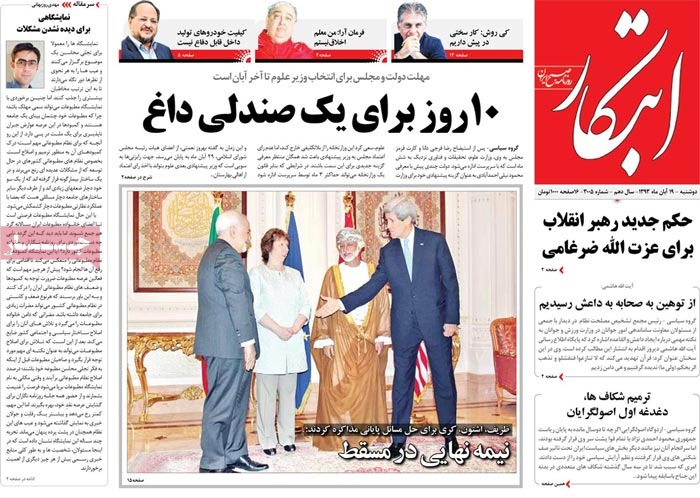 ---
Emtiaz: A spokesman of the FIVB (International Federation of Volleyball) has said that Iran won't be given the right to host international events as long as sports stadiums remain off-limits to female spectators.
Emtiaz: A first step has been taken to complete the unfinished Tehran-North highway project.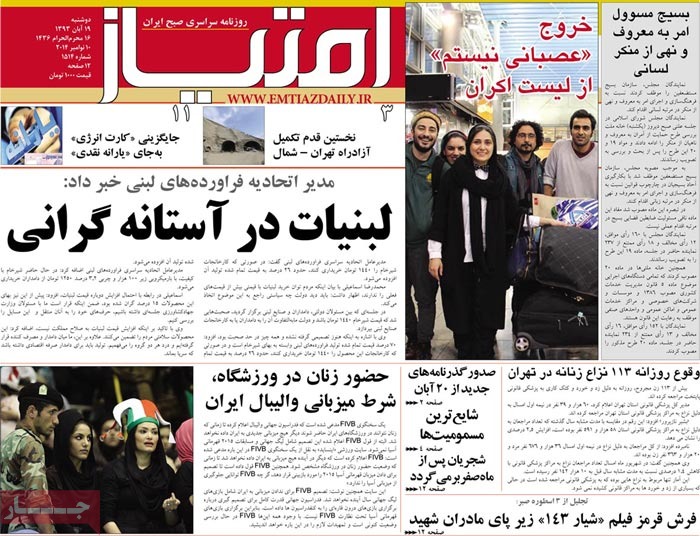 ---
Esfahan Emrooz: People of Isfahan have celebrated the flow of water in the Zayandehrood River [that cuts through the central historic city].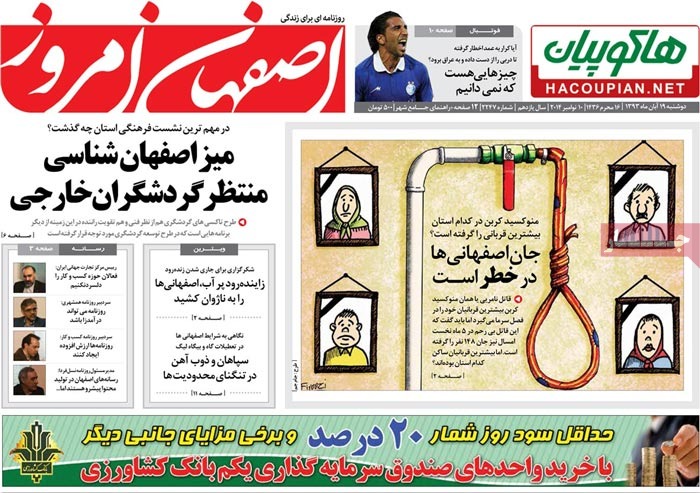 ---
Etedal:The Supreme Leader has appointed Ezzatollah Zarghami, the former president of IRIB who was replaced earlier this week, to serve on the Supreme Cultural Revolution Council and the Supreme Cyberspace Council.
---
Etemad: Parliament has tasked the Basij Volunteer Force with verbally implementing a "Promotion of Virtue and Prevention of Vice" law it is finalizing.
---
Ettela'at: Removal of sanctions and enrichment capacity are at the center of talks between Iran and P5+1.
Ettela'at: Hessameddin Ashna, a cultural advisor to President Rouhani, has urged Islamic Republic of Iran Broadcasting (IRIB) to recognize the right of the public to choose.
Ettela'at: Bijan Nafisi's four decades in journalism has been celebrated at the 20th Exhibition of Press and News Agencies. Nafisi is a veteran journalist with Ettela'at.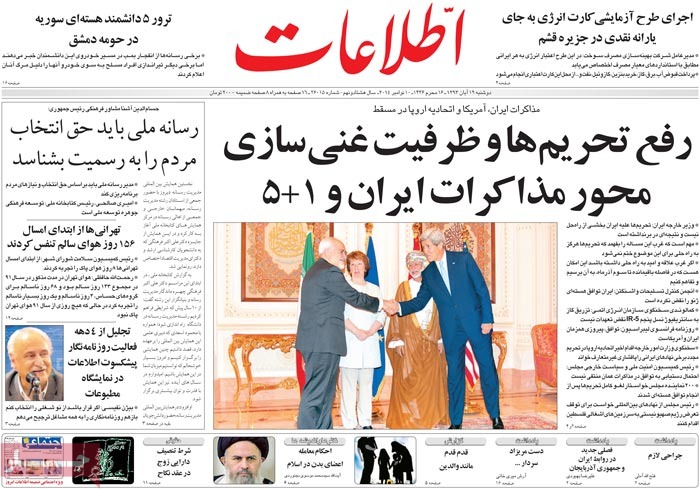 ---
Farhikhtegan: Ali Akbar Velayati, an advisor to the Supreme Leader, has denied reports by an American newspaper that he is in Oman to take part in talks between Iran, the EU and the US.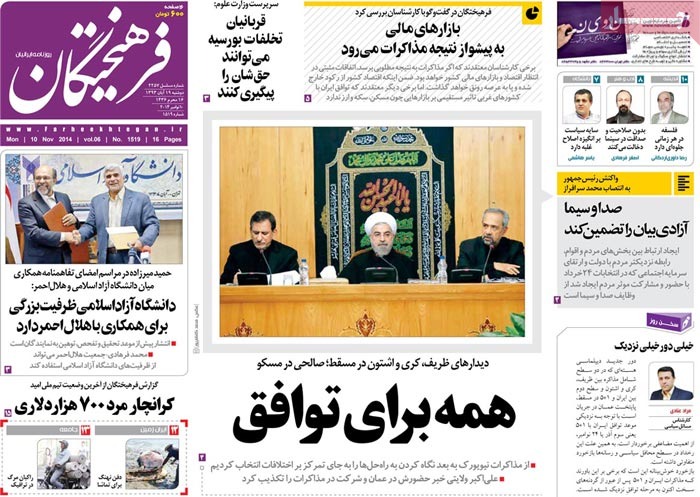 ---
Hambastegi: The Iranian health minister has said that his ministry will soon announce the details of a package to promote food production supervision.
---
Hemayat: Up to 200 Iranian MPs have called for "complete removal of sanctions" and "expansion of enrichment" to be included in any final nuclear deal.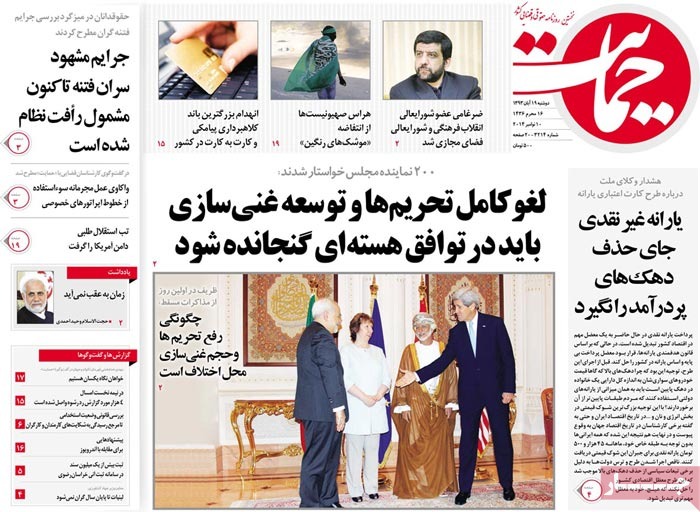 ---
Iran: The 20th Exhibition of the Press and News Agencies has got off to a good start.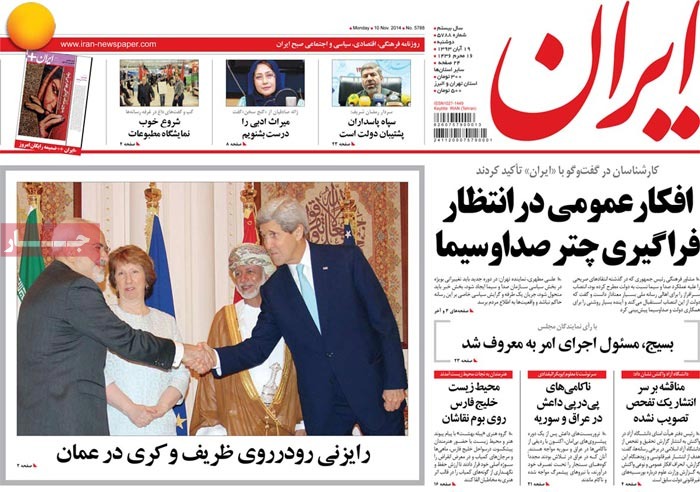 ---
Iran Daily: Iran key to resolving Mideast crises, said former German Foreign Minister Joschka Fischer.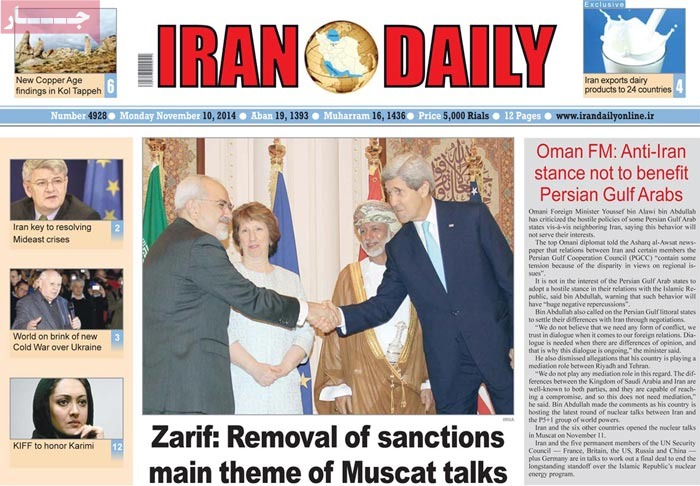 ---
Jahan-e Eghtesad: The vice-president for executive affairs has said that the quality of locally-manufactured automobiles is not defendable.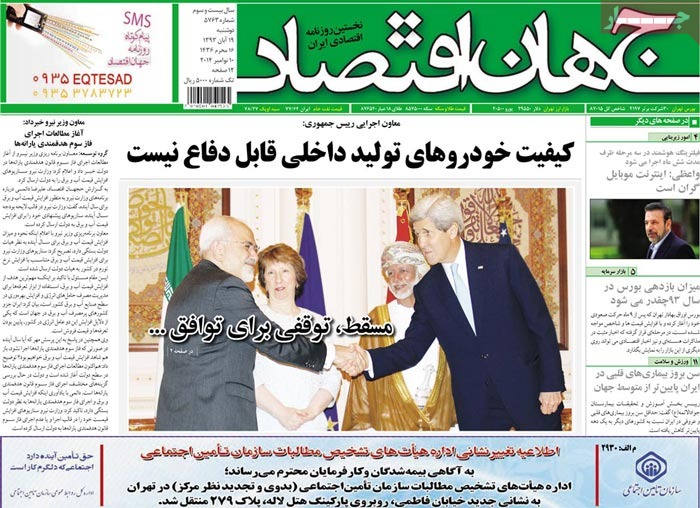 ---
Jomhouri Islami: A general strike has swept through occupied territories.
Jomhouri Islami: Some $70 million has been allocated to improvement of roads across the nation.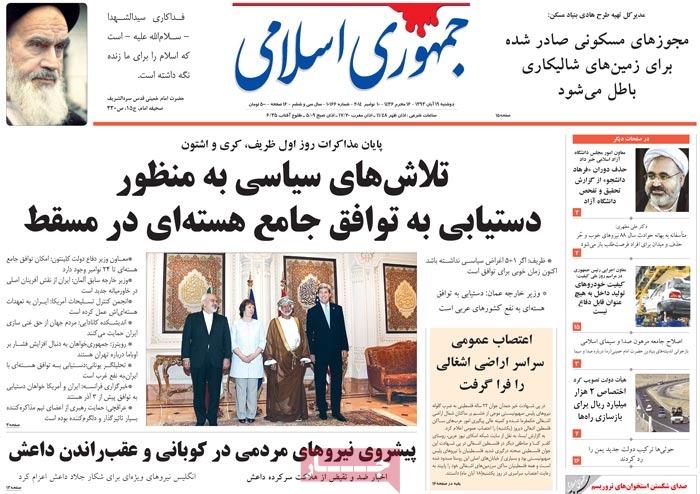 ---
Kaenat: A big fraud ring which used SMS scams has been busted in Fars Province, southern Iran.
---
Kayhan: Police in France used brute force [on Saturday] to put down an anti-violence demonstration.
---
Khorasan: "The statement [by the Supreme Leader] that Iran needs 190,000 separative work units of uranium enrichment tilted the balance in favor of Iran," Iranian nuclear negotiator Abbas Araghchi said.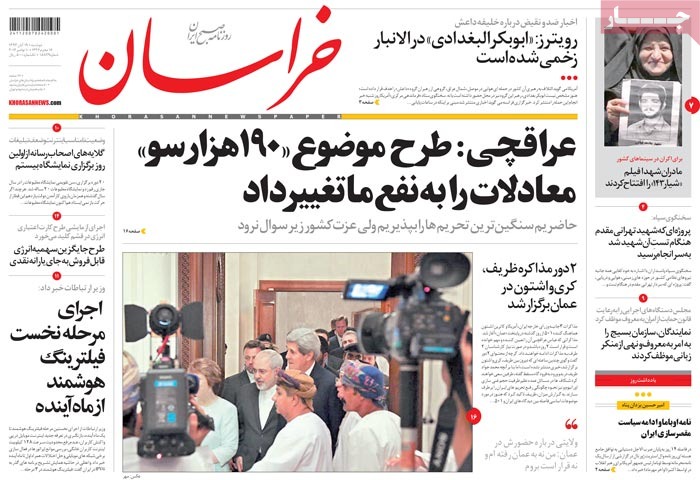 ---
Mardomsalari: The Iranian nuclear negotiating team will take action within the framework outlined by the Supreme Leader.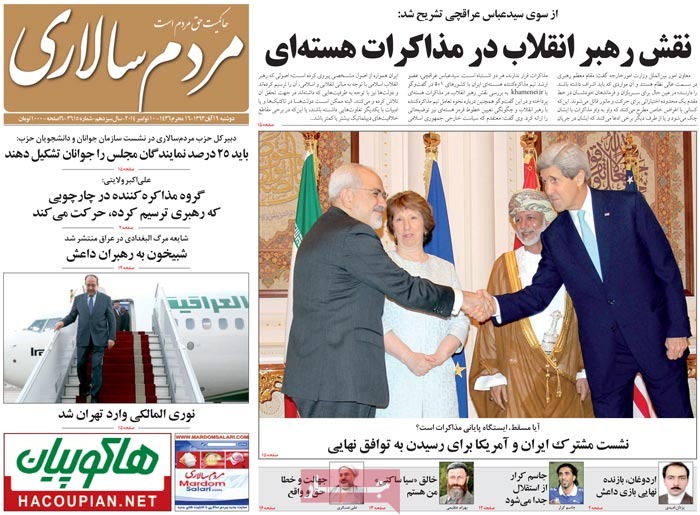 ---
Qods: "The smart Internet filtering software Iran has developed will take effect fully in six months," said Minister of Information and Communications Technology Mahmoud Vaezi.
Qods: "The last [indigenous] missile project developed by Martyr Tehrani Moghadam has been complete", said Head of the Islamic Revolution Guard Corps (IRGC) Public Relations Department General Ramezan Sharif.
---
Resalat: "The United States has failed to honor its commitments," said Ali Akbar Velayati, an advisor to the Supreme Leader and a former foreign minister.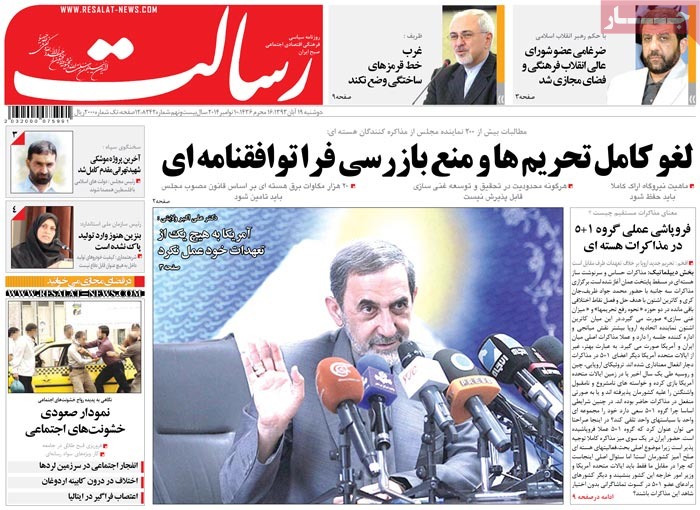 ---
Roozan: "[Former President Mahmoud] Ahmadinejad and Seyyed Hassan Khomeini [the grandson of the late Imam Khomeini] are on friendly terms," said Ali Akbar Javanfekr, an advisor to Ahmadinejad.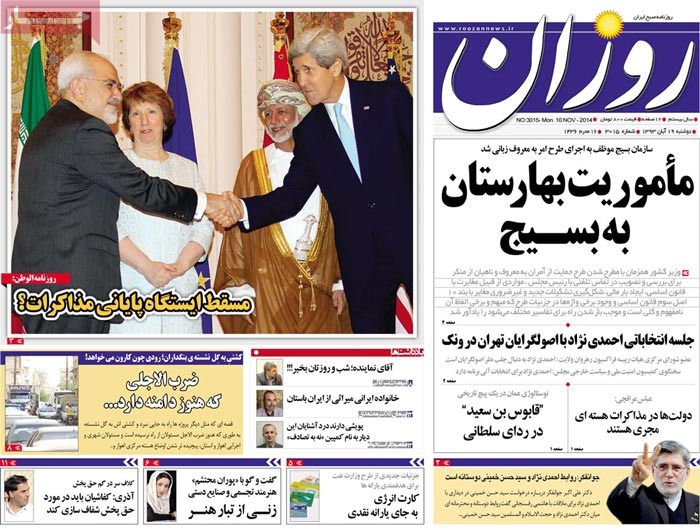 ---
SMT: At a ceremony attended by the health minister, a host of MPs, university professors and producers to mark the National Quality Day, participants stressed "A national will to boost the quality of domestic products".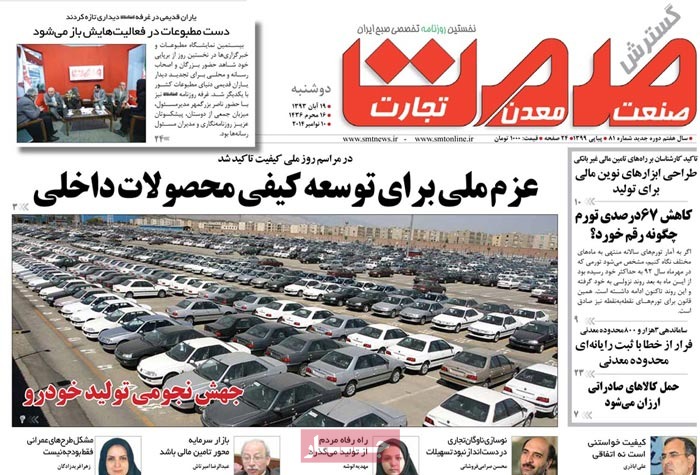 ---
Shahrvand: The Iranian Red Crescent Society and the Islamic Azad University have signed a cooperation agreement.
Shahrvand: An 80-year-old Iranian has broken the world's blood donation record by donating blood 192 times.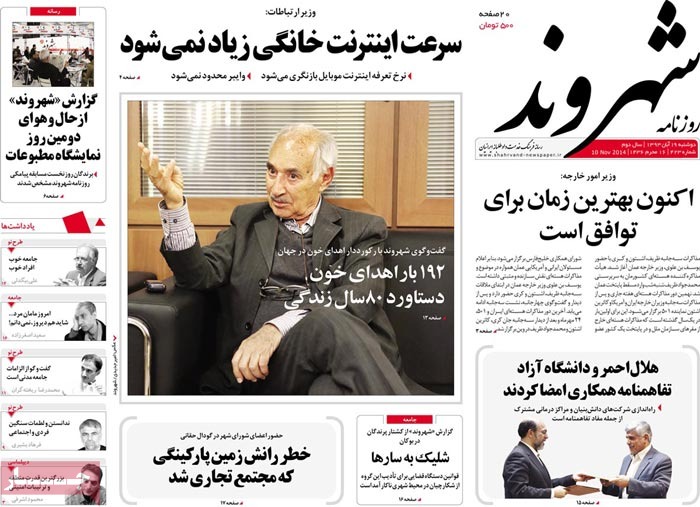 ---
Sharq: "Nuclear bargaining in the absence of the media," read the daily's headline about a meeting between Mohammad Javad Zarif, John Kerry and Catherine Ashton in Oman.
---
Siasat-e Rooz: One in four Americans is open to secession.
---
Taadol: "The Islamic Revolution Guard Corps does not pursue any economic objectives," said the head of the Public Relations office of the revolutionary guards.
---
Tafahom: An experimental project to replace cash subsidies with energy cards has been implemented in Qeshm and Aras Free Trade Zones.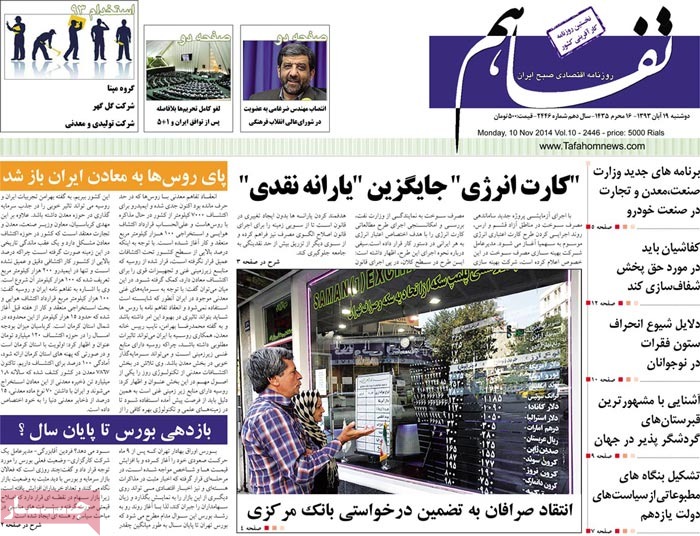 ---
Tejarat: Prices of dairy products are to increase.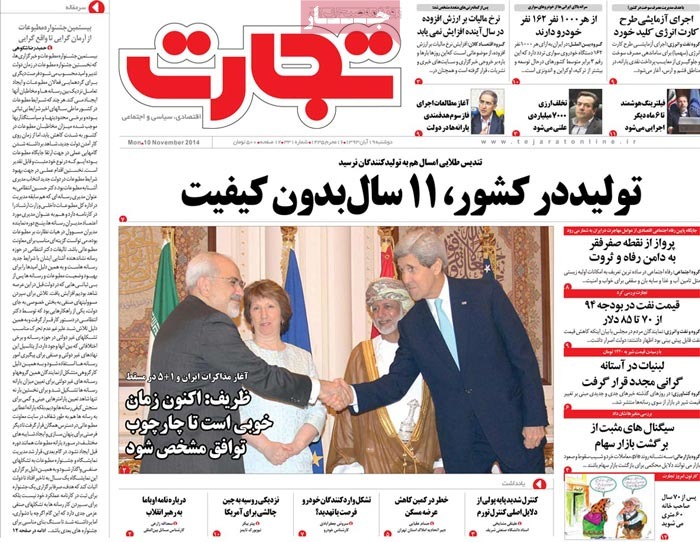 ---
Vatan-e Emrooz: "Tehran once again grapples with air pollution," wrote the daily, quoting Tehran Air Quality Control Center.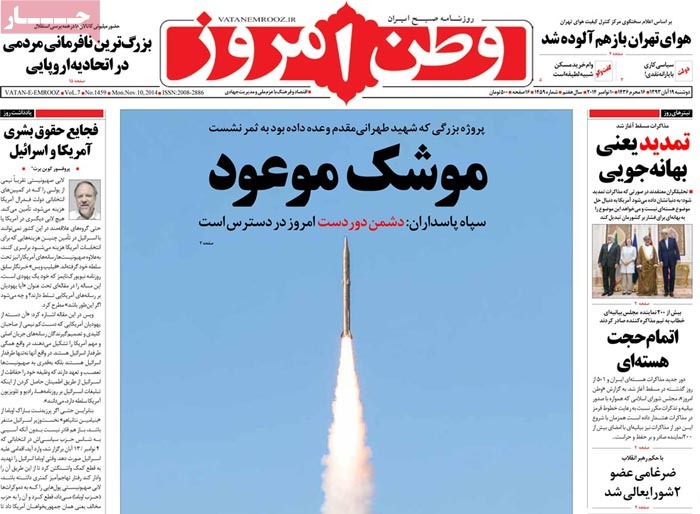 The Iran Project is not responsible for the content of quoted articles.