Ebola crisis in Liberia brings rumours, hygiene lessons and hunger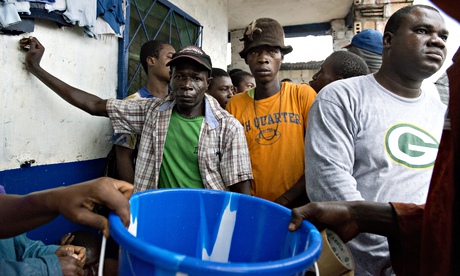 As aid workers offer health advice on the streets, residents fear emergency measures are starving the capital of supplies
Another day has just broken in Liberia's capital, Monrovia. Outside a block of humble flats on Centre Street, two women in long overcoats jump out of a taxi, avoiding the torrents of rainwater pouring along the gutter as they carry a large plastic bucket. On the porch, a crowd of young homeless men take shelter. They are about to receive a lesson in handwashing, non-contact and recognising symptoms of the deadlyEbola virus. It has killed 249 of their countrymen so far since March, 961 worldwide, and prompted 1,779 reported cases internationally.
The fact that Ebola is spread through bodily fluids such as sweat and saliva means reducing physical contact has become a national obsession. At any time of day, outside banks, shops and homes, people disinfect their hands with chlorinated water. Shaking hands is forbidden and some have donned latex gloves.
Last week the government ramped up anti-Ebola measures. On Wednesday, Liberia's president, Ellen Johnson Sirleaf, declared a state of emergency for 90 days. Her televised statement sent a new wave of fear through communities following two weeks of alarming announcements. The government has already sent home non-essential staff, closed schools and forbidden large gatherings. Last week three days of national fasting and prayer pushed many businesses into shutting up shop. But Sirleaf's message that the new arrangements allow the government to "institute extraordinary measures, including, if need be, the suspension of certain rights and privileges", has left many wondering what will happen next.
The Iran Project is not responsible for the content of quoted articles.