Hossein Mahini has had his account verified and even tweeted pictures with Foreign Minister Javad Zarif, meaning all 32 countries are represented at the World Cup.
Every country at this summer's World Cup will be represented on Twitter after Iran defender Hossein Mahini became the first Iranian footballer to have his Twitter page verified – despite the social media site being banned in Iran since 2009.
Mahini, who plays his club football with Persepolis in his home country, has had an account for some time, but rarely used it.
However, after an initiative involving Twitter itself, the 27-year-old defender and two teammates – Rubin Kazan's Sardar Azmou and midfielder Mohammed Reza Khalatbari – have all joined the site in time for the World Cup.
It means that each country will be represented on the site at the tournament, with Mahini having declared that he joined because "the people of Iran and our fans like to know what we are doing while [in Brazil].
"I want to create an atmosphere for people to know more about what we do for them," he told Mashable.com.
"It will help me get closer to my fans. And people who like to know about our work can do it easier through Twitter."
Mahini's official arrival on the site has even seen him welcomed by Twitter's co-founder Jack Dorsey.
Additionally, the player has tweeted a picture of himself, teammates and Iran's Foreign Minister Javad Zarif, after Mr. Zarif visited the players' training camp on the outskirts of Vienna this past week.
Zarif is one of the high-ranking Iranian officials who has both a Twitter and Facebook account, despite it being banned following the so-called Twitter revolution of 2009, in which social media were widely used to instigate anti-government unrest.
However, millions of Iranians continue to use social media via virtual private networks (VPNs) and proxy servers.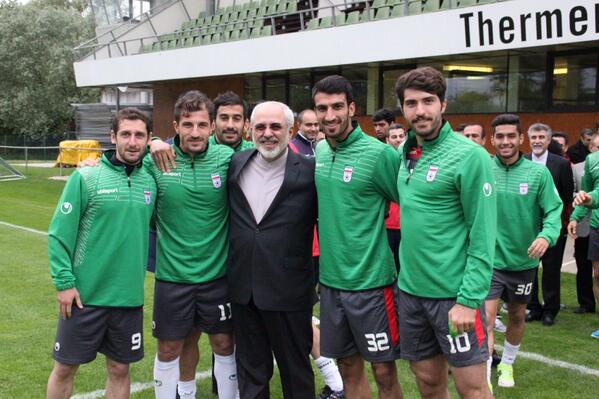 حضور اقای ظریف در تمرین امروز…
By Mirror
The Iran Project is not responsible for the content of quoted articles.