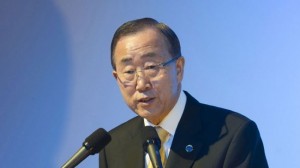 UN Secretary General Ban Ki-moon performs with "partisanship and animus" against the two "prominent anti-imperialist states" of Iran and Syria, an analyst says, Press TV reports.
"Because of his outrageous partisanship and animus against countries like Syria and Iran,… Ban… has manifestly lost the confidence of political circles the world over, and can no longer continue in office," wrote historian Webster G. Tarpley in an article on Press TV on Wednesday.
Tarpley pointed to the role of the UN chief as a mediator in global conflicts and cited a paragraph that appears on the website of the world body in explanation of the same role.
"One of the most vital roles played by the Secretary-General is the use of his 'good offices' — steps taken publicly and in private, drawing upon his independence, impartiality and integrity, to prevent international disputes from arising, escalating or spreading," read the paragraph.
"But," Tarpley wrote, "to speak of 'independence, impartiality and integrity' in the same sentence with the name of Ban has now become grotesque. Ban Ki-moon has always been a dubious figure on these points, but he has now crossed the line into partisanship and animus against two prominent anti-imperialist states (Syria and Iran)."
The historian then referred to Ban's recent move to rescind an invitation he himself had extended to Iran to participate in a conference aimed at finding a political solution to the crisis in Syria, which is commonly referred o as the Geneva II conference.
On January 19, the UN secretary general said Iran had been invited to the Geneva II conference but later retracted the invitation under pressure from the United States, Saudi Arabia and the foreign-backed Syrian opposition.
Tarpley described the rescinding of the invitation by Ban as "a diplomatic affront of the first magnitude," and said, "Earlier Secretaries General of the United Nations had of course played favorites, but seldom had they done so in such a primitive and insulting manner as Ban."
The analyst then went on to explain how Ban attempted to interrupt Syrian Foreign minister Walid al-Muallem when the latter was delivering an address at the Geneva II conference as the top representative of his country.
"Ban Ki-moon's rowdy partisanship against Syria and Iran threatens the very existence of the United Nations," Tarpley warned.
With a little imagination, we can see the definite possibility of the world body splitting into two opposed camps: on the one side, an imperialist UN operating lawlessly under the cynical cover of humanitarian intervention and the responsibility to protect… On the other side would be a United Nations of independent states, respecting the principle of noninterference in the internal affairs of its members as enshrined in the United Nations Charter…," he said.
By Press TV
The Iran Project is not responsible for the content of quoted articles.