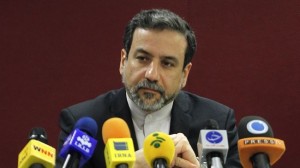 TEHRAN (FNA)- Senior member of the Iranian negotiating team in the nuclear talks with the world powers Seyed Abbas Araqchi reiterated the peaceful nature of Tehran's nuclear program, and underlined that any move for the removal of the concerns of the other side would be done in reciprocal manner.
"Iran has always had and will have the readiness to resolve the existing ambiguities in proportion to the other side's reciprocal steps," Araqchi, who is also a Deputy Foreign Minister for Legal and International Affairs, said in a meeting with the Dutch Foreign Minister Frans Timmermans on the sidelines of the 18th Conference of the States Parties (CSP) to the Chemical Weapons Convention (CWC) in The Hague on Tuesday.
The Iranian official explained that Iran has no need for nuclear weapons based on its religious beliefs and security doctrine, adding, "Iran's nuclear program is peaceful in nature."
He stressed the importance of implementing the Geneva agreement and lifting the "unconstructive" sanctions against Iran over its nuclear energy program.
In November, a nuclear expert underlined that Iran as a signatory to the Non-Proliferation Treaty (NPT) is after utilizing nuclear technology for peaceful purposes.
Behrouz Bayat, a former consultant at the International Atomic Energy Agency (IAEA), said all activities in Iran's Fordo site are transparent and under full supervision of the UN nuclear watchdog.
As to Parchin site, Bayat said its activities have been exaggerated by the IAEA and its Director-General Yukiya Amano.
He further criticized the disinformation made about the clean-up process of the Parchin site.
Supreme Leader of the Islamic Revolution Ayatollah Seyed Ali Ayatollah Khamenei has on many occasions said the Islamic Republic considers the pursuit and possession of nuclear weapons "a grave sin" from every logical, religious and theoretical standpoint. On April 17, 2010 Ayatollah Khamenei issued a fatwa declaring that the production, stockpiling, and use of nuclear weapons are all haram (religiously prohibited).
"Iran is not after a nuclear bomb. Why would Iran want a nuclear bomb? Moreover, when an atomic bomb is detonated, it does not just kill enemies. Rather, it kills innocent people as well, and this goes against Islamic beliefs and the principles of the Islamic Republic of Iran.
An atomic bomb does not discriminate between good and bad people, and it is not something that the Islamic Republic would use. The Islamic Republic is relying on something that is not affected by bombs, foreign invasions and other such things. Such things only strengthen what the Islamic republic is relying on. The Islamic republic is relying on the people," a part of the fatwa said.
Analysts believe that the fatwa of the Leader of the Islamic Revolution can well serve as a beacon of light for Washington in order to find its way out of darkness and ignorance.
The Iran Project is not responsible for the content of quoted articles