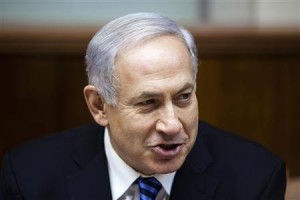 (Reuters) – Israeli stock prices rose to another record high on Sunday, ignoring local politicians' comments that a deal to curb Iran's nuclear program was a mistake.
Iran and six world powers clinched a deal earlier in the day to curb the Iranian nuclear program in exchange for initial sanctions relief, signaling the start of a game-changing rapprochement that could ease the risk of a wider Middle East war.
Israeli Prime Minister Benjamin Netanyahu denounced the agreement with Iran as a historic mistake that left the production of atomic weapons within Tehran's reach. Netanyahu told his cabinet his government would not be bound by the deal.
But Israeli investors ignored such talk from Netanyahu and other lawmakers and doubt Israel will attack Iran on its own.
The blue-chip Tel Aviv 25 index .TA25 rose 0.5 percent to 1,352.04 points at 9:12 a.m. ET, after reaching a new intraday high of 1,355.38 earlier in the session. Last Wednesday, the TA-25 posted a new record close, surpassing an April 2011 peak. It edged higher on Thursday to a new record and its sixth straight daily gain.
"Israeli investors see a lower risk of conflict despite what politicians have to say. An agreement is reducing the odds of a military conflict," said Roni Biron, senior analyst at UBS Israel. "Investors are reading … that this is a positive agreement. Investors are liking any agreement that is done in a diplomatic way. They prefer that to a military conflict."
The broader TA-100 index .TA100 was 0.7 percent higher at 1,220.97 points, some 33 points shy of a record.
Bond prices rose, with the benchmark 10-year bond up 0.5 percent for its first gain in a week. Its yield slipped to 3.55 percent from 3.62 on Thursday, the last day of trade for the Israeli trading week.
Analysts noted that gains on Wall Street and in U.S. Treasuries on Friday also helped to boost Israeli markets.
Stock volume was weak at 737 million shekels ($207 million), but turnover is typically lower on Sundays given the lack of foreign investors. The foreign exchange market is closed on Sundays.
By Reuters
The Iran Project is not responsible for the content of quoted articles.