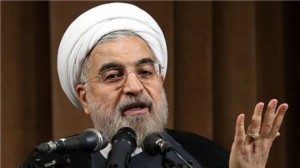 Iranian President Hassan Rouhani has warned that "excessive demands" by world powers at nuclear talks due to resume in Geneva this week could hamper the negotiations.
"At the recent Geneva talks good progress was made, but everyone must realize excessive demands could complicate the process towards a win-win agreement," Rouhani said in a telephone conversation with Russian President Vladimir Putin on Monday.
"From our point of view, there should not be a situation in which the will of parties to reach mutually acceptable agreement is affected," Rouhani added.
The Kremlin earlier reported that the Russian President told Iran's Rouhani that there is a "real chance" to resolve the Western dispute over Tehran's nuclear energy program.
"…In the context of the Iranian nuclear program, V.V. Putin underlined that at the moment a real chance has appeared to find a solution to this long-running problem," the Kremlin said in statement.
The Kremlin said that the two presidents spoke by telephone at the Russian leader's request, two days before nuclear talks between Iran and the five permanent members of the UN Security Council – Britain, China, France, Russia and the US – plus Germany.
The statement said that Putin and Rouhani also discussed the latest developments in Syria and expressed support for efforts to convene an international peace conference to end the conflict in the Arab country.
At the end of the Geneva talks on November 10, the two sides did not reach an agreement, but stressed that significant progress had been made and expressed optimism about the prospect of a possible deal in the future.
On Friday, an unnamed top US official said a nuclear agreement between Iran and the six powers would be "quite possible" during the upcoming talks, which are going to start on Wednesday.
"I don't know if we will reach an agreement. I think it is quite possible that we can, but there are still tough issues to negotiate," the official was quoted as saying by Reuters.
The United States, Israel and some of their allies have repeatedly accused Iran of pursuing non-civilian objectives in its nuclear energy program with the Israeli regime repeatedly threatening to attack Iran's nuclear facilities based on the unsubstantiated allegation.
Iran rejects the allegations, arguing that as a committed signatory to the Non-Proliferation Treaty (NPT) and a member of the International Atomic Energy Agency (IAEA), it has the right to use nuclear technology for peaceful purposes.
In addition, the IAEA has conducted numerous inspections of Iran's nuclear facilities but has never found any evidence showing that Iran's civilian nuclear program has been diverted to nuclear weapons production.
By Press TV
The Iran Project is not responsible for the content of quoted articles.