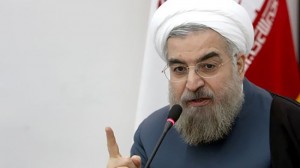 Iran President Hassan Rouhani says the removal of the West's complicated sanctions against the country over its nuclear energy program needs an "adequate and suitable" amount of time.
Addressing a meeting with lawmakers from the southern province of Fars on Monday, President Rouhani added that the administration has focused all its efforts on "lifting the cruel sanctions against the Iranian nation."
"The administration is hopeful about resolving problems and we must always remember that no one should expect all problems will be resolved in a short period of time," Rouhani pointed out.
He emphasized that his administration would stop at nothing to protect the absolute rights of the Iranian nation.
The United States, Israel and some of their allies have repeatedly accused Iran of pursuing non-civilian objectives in its nuclear energy program, with the US and the European Union using the unsubstantiated claim as an excuse to impose illegal sanctions against Tehran.
The bans come on top of four rounds of US-instigated UN Security Council sanctions against Iran under the same pretext.
Iran has categorically rejected the allegation, stressing that as a committed member of the International Atomic Energy Agency and a signatory to the Non-Proliferation Treaty, it is entitled to develop nuclear technology for peaceful purposes.
President Rouhani also urged Majlis to follow Leader of the Islamic Revolution Ayatollah Seyyed Ali Khamenei with regards to the Iranian negotiating team "…so that negotiators can use their all to defend national interests."
On Sunday, Ayatollah Khamenei pointed to the ongoing nuclear negotiations between Iran and the UN Security Council's permanent members – Russia, China, France, Britain and the US – plus Germany and defended the Iranian negotiating team against criticism.
The Leader warned that no one should undermine or insult the negotiating team or label them as being inclined toward reaching a compromise over Iran's nuclear energy program.
Iran and the six major world powers held two days of negotiations over Tehran's nuclear energy program in Geneva, Switzerland, on October 15-16. The two sides have agreed to meet again in the Swiss city on November 7-8.
Meanwhile, Iran and the International Atomic Energy Agency wrapped up two days of negotiations in the Austrian capital, Vienna, on October 29, which was described afterwards by both sides as "very productive."
Tehran and the UN nuclear agency agreed to hold the next round of the talks in the Iranian capital, Tehran, on November 11.
By Press TV
The Iran Project is not responsible for the content of quoted articles.