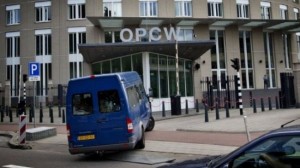 The head of the international chemical weapons watchdog has praised Syria for cooperating with his team tasked with dismantling the country's chemical arsenal.
"The cooperation has been quite constructive and I would say the Syrian authorities have been cooperative," Director General of the Organization for the Prohibition of Chemical Weapons (OPCW) Ahmet Uzumcu, told a news conference in The Hague on Wednesday.
Uzumcu said his team of inspectors has so far visited one chemical site in Syria, adding, "There are 20 sites to be visited in the coming weeks."
Uzumcu further described the mission of his team to eliminate Syria's chemical weapons by mid-2014 as "realistic."
He has also called for temporary ceasefires in Syria's raging conflict in order to meet the UN's disarmament deadlines.
"If we can ensure cooperation by all parties, and if some temporary ceasefire could be established in order to permit our experts to work in a permissive environment, I think the targets could be reached," he added.
A group of OPCW arms experts has been sent to Syria to destroy its chemical weapons production facilities. A second team is expected to be sent there in the near future.
The expert team in Syria is implementing a UN resolution on scrapping the Syrian chemical arsenal. The United Nations Security Council approved the resolution on September 27.
On September 14, Russia and the United States agreed on a deal according to which Syria would have its chemical weapons stockpiles eliminated and the US would in return not carry out planned strikes on the Middle Eastern country.
The agreement came after days of mounted war rhetoric against Syria by the United States and some of its allies, which blamed Damascus for a fatal chemical attack on the outskirts of the Syrian capital on August 21.
Damascus has vehemently denied the accusations, saying the attack was carried out by the militants operating inside the country as a false-flag operation.
By Press TV
The Iran Project is not responsible for the content of quoted articles.