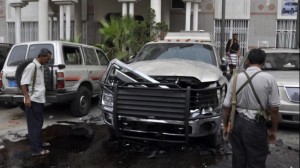 Two bomb blasts have rocked a busy road in the Yemeni capital, Sana'a, injuring at least 20 people, the Interior Ministry said.
The blasts took place on Thursday after explosive devices hidden among piles of garbage went off in Al-Rabat Street.
According to an Interior Ministry spokesman, no casualties were reported after the first bomb blast. But the second device exploded as people gathered in the area. Some 20 people were wounded in the second blast.
The explosions damaged cars and shattered windows in the area. Security forces have cordoned off the area for further investigation.
The bombings are the latest in a series of attacks that usually target military personnel in Yemen. The attacks are usually blamed on al-Qaeda or its affiliates.
On Wednesday, an army intelligence officer, Lieutenant Colonel Mohammed al-Saidi, was killed by a bomb planted in his car in the southern city of al-Ataq in Shabwa province.
A Yemeni air force officer was shot dead by gunmen in the capital, Sana'a, on Tuesday, a day after gunmen killed another colonel at a busy intersection in the city.
On Friday, militants attacked three police and army positions in Shabwa Province, killing at least 56 security personnel.
By Press TV
The Iran Project is not responsible for the content of quoted articles.