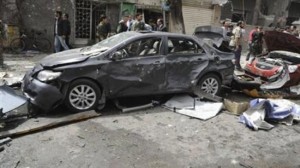 At least 60 people have been killed and over 100 others injured in a car bomb explosion in the Syrian town of Rankus, north of the capital, Damascus, Press TV reports.
The explosion occurred near al-Sahil Mosque in Rankus, some 30 kilometers north of Damascus, soon after Friday Prayers.
It was not immediately clear who carried out the deadly attack.
Al-Qaeda-linked al-Nusra Front, which is fighting against the government of Syrian President Bashar al-Assad, has claimed responsibility for most of the bombings in the country since the beginning of the unrest two and a half years ago.
Meanwhile, there are reports of clashes between Syrian forces and foreign-backed militants in several other Damascus suburbs, including Harasta and Douma.
According to Syria's official news agency, SANA, scores of militants were killed during the clashes.
The Syrian army has also inflicted heavy losses on militants in Aleppo, Idlib and Homs.
A recent study by IHS Jane's, a British defense consultancy, shows that there are about 100,000 foreign-backed militants operating inside Syria, fragmented into 1,000 groups.
IHS Jane's estimates that some 10,000 militants are fighting for groups affiliated with al-Qaeda such as al-Nusra Front and the rest fight for different militant groups.
Syria has been gripped by deadly unrest since March 2011. According to reports, the Western powers and their regional allies — especially Qatar, Saudi Arabia, and Turkey — are supporting the militants operating inside Syria.
According to the UN, more than 100,000 people have been killed and millions displaced due to the violence.
By Press TV
The Iran Project is not responsible for the content of quoted articles.