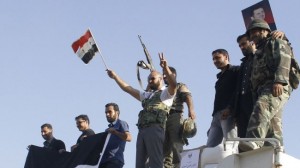 The World Food Program (WFP) has called on all the parties involved in the conflict in Syria to allow the affected people in the Arab country access to humanitarian aid.
Ertharin Cousin, the executive director of the WFP, called on Monday for a political solution to end the 30-month-long conflict in Syria, expressing concern about the humanitarian aspects of the crisis.
She said the WFP is spending USD 30 million a week to help the displaced people across Syria and asked for more humanitarian access to the people.
Syria has been gripped by deadly unrest since March 2011.
In a recent statement, the United Nations High Commissioner for Refugees (UNHCR) said the number of the Syrian refugees who have fled the country's conflict has reached two million.
The UN refugee agency further said some 4.2 million people have also been displaced inside Syria since the beginning of the conflict in the country.
By Press TV
The Iran Project is not responsible for the content of quoted articles.