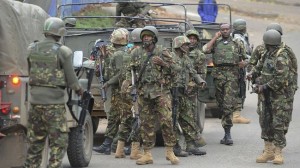 Al-Shabab fighters say they are still holding out at a Nairobi shopping mall, denying that Kenyan security forces have taken over and secured the site.
Somalia's al-Shabab group says its fighters are still holding the hostages inside the shopping center, adding that many dead bodies are scattered inside the complex.
"The hostages who were being held by the Mujahedeen inside Westgate are still alive, looking quite disconcerted but, nevertheless, alive," the al-Shabab said on their Twitter account.
Al-Shabab has also denied statements by the Kenyan Foreign Minister Amina Mohamed that American and British nationals were among the attackers.
Meanwhile, the Kenyan military says its forces are carrying out mop-up operations at the building.
Earlier, the Interior Ministry had announced that security forces were in control of the mall and that all the hostages had been freed.
On September 21, heavily-armed al-Qaeda-affiliated al-Shabab militants stormed the Westgate shopping mall in Nairobi, taking hostages.
Officials confirmed that more than 62 people have been killed so far and some 200 have been wounded.
The UN Special Envoy for Somalia Nicholas Kay called for stepping up fight against the al-Shabab fighters, who claimed the responsibility for the deadly assault on the mall in neighboring Kenya.
"The UN approach and my approach to al-Shabab in Somalia is [that] we need to intensify our campaigns," Kay said in Geneva, adding, "It must be military, but also political and practical…. On all three, we need to redouble our efforts."
The militants, the majority of whom are reportedly from Somalia, said the raid was in retaliation for the presence of Kenyan troops in Somalia.
By Press TV
The Iran Project is not responsible for the content of quoted articles.