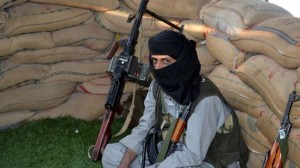 A Yemeni policeman has been killed by unknown gunmen in the southern city of Aden, a security official says.
"Unknown assailants on Wednesday ambushed a police patrol in Mualla (an Aden district)," the official said, adding that the militants "hurled a homemade bomb at it and opened fire, killing a policeman."
No group has yet claimed responsibility for the attack.
A police official said the authorities in the south of the country were determined to "prevent anyone from causing chaos in Aden."
Yemeni security forces frequently come under attack by gunmen especially in the southern and eastern parts of the country.
On Friday, suspected al-Qaeda militants killed Omar Mahfudh, a Yemeni intelligence officer in the southeastern city of Hadramawt, an informed source said.
Late on Thursday, retired army colonel Abdel Magid Abdullah, 70, was shot dead by gunmen, who fled the scene after a similar attack in the southern town of Hawta in Lahij area.
In December 2012, two armed men killed Lieutenant Colonel Mutei Baqatyan, a member of the country's state security, in an attack in the southern city of Mukalla.
Major General Ahmed was also seriously injured and 12 people were killed in a car bomb attack that targeted his motorcade in the heart of the capital Sana'a in September 2012.
On August 31, Yemeni Prime Minister Mohammed Salim Basindawa escaped an assassination attempt by unknown gunmen, who opened fire on his convoy in the capital.
By Press TV
The Iran Project is not responsible for the content of quoted articles.