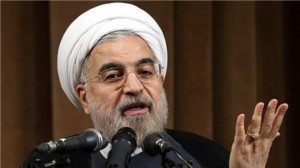 Iran news headlines on Tuesday include ambiguity of Iranian president's  about his nuclear negotiator; issuing of indictments for defendants in case of Iranian blogger's death; Iran and Turkey stressing over expansion of economic cooperation; Rouhani visiting Kyrgyzstan next month; Iranian technicians completing jacket for south pars project;  Iran attraction of million tourist by 2025; country preparation for president New York visit; Brahimi insistence on Iran's participation in Geneva meeting and country's fully cooperation with India over oil tanker.
President Hassan Rouhani is still deciding who will lead talks with world powers on Iran's nuclear program, the Foreign Ministry said on Tuesday, more than two months after the moderate cleric was elected.
Indictments will be issued soon for the defendants accused of involvement in the death of Sattar Beheshti, an Iranian blogger who died in custody on November 3, 2012, National Prosecutor General Gholam-Hossein Mohseni-Ejei announced on Monday.
Iranian Consul General in Istanbul Morteza Mortezaeefar said on Tuesday that the Islamic Republic of Iran is keen on enhanced economic cooperation with Turkey.
Iranian President Hassan Rouhani will visit Kyrgyzstan in September to attend the Shanghai Cooperation Organization (SCO) Summit in the Central Asian country, Tehran's Ambassador to Bishkek Ali Najafi announced on Tuesday.
Iranian technicianshave completed the construction of an industrial jacket to be mounted on platform C in the 12th phase of South Pars gas field, an industrial official said.
Foreign Ministry spokesman Abbas Araqchi said on Tuesday that all preparations have been made for visit to New York of President Hassan Rohani.
UN special peace envoy for Syria Lakhdar Brahimi Monday evening called on Iran to take part in the international conference on Syria to be held in Geneva, Switzerland.
Iranian foreign ministry spokesman called India a friendly country and reliable trade partner, and expressed Tehran's readiness to cooperate with New Delhi to clarify the technical issues surrounding the Indian oil tanker detained in the Persian Gulf.
The Iran Project is not responsible for the content of quoted articles.