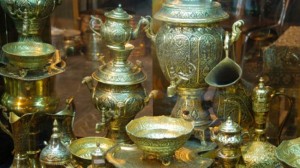 Honoring cultural heritage in Iran. Regular people from all walks life: artists, officials and scholars are celebrating cultural heritage week. Iranian culture has developed over thousands of years, making it one of the oldest and richest in world history. It encompasses many disciplines including metalworking, calligraphy, pottery, carpet weaving, music, cuisine and more. Different provinces in Iran have different traditions, foods and even languages making Persian culture one of the most interesting and vibrant in the world. It has something for everyone. This week, people with traditions and cultures, in one province, travel to different parts of Iran. They do this to exhibit their products and introduce their culture.
Officials talked about this week's programs:
Other people involved in these ceremonies talked about the importance of culture
People that had come here were interested in Iranian culture and they told us why it is important to them.
Even people that didn't have strong opinions about culture loved the products
Iran is comprised of different ethnicities, including Kurds, Lurs, Balochis, Turkmen, Qashqai, and Arabs. Iran cultural week started on Wednesday, May 15th and it will come to an end on Tuesday, May 21st.
By Press TV
The Iran Project is not responsible for the content of quoted articles.