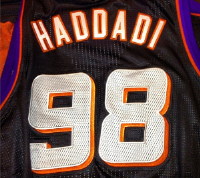 A young Iranian playing in the NBA.
Among the things I never thought I would see in my lifetime, that's one.
But he's here.
Hamed Haddadi, a 7-foot-2 center for the Phoenix Suns, has joined the long list of foreign-born players who have come to the United States to play basketball at its highest level.
None of the others, however, come from a country with such an acrimonious history with the U.S.
Before Wednesday night's game against the Jazz, Haddadi admitted the political aspect to his situation is rare. But it's not a distraction.
"It's part of it," he said outside the visitor's locker room at EnergySolutions Arena. "But I don't follow politics. It's not my job. Basketball is my job. I follow basketball — my sport, my team. I wake up every morning at 7:30 or 8. I don't have time for politics, you know? I follow just my job."
Haddadi was born almost 28 years ago in Ahvaz, Iran, a city with a population of 1.4 million that has an average high temperature in July of 115 degrees.
No wonder he likes Phoenix.
Haddadi didn't play basketball until he was "14 or 15," concentrating instead on soccer.
The Iran Project is not responsible for the content of quoted articles.