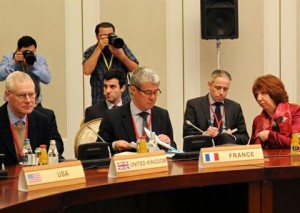 Iran news headlines on Monday include start of Iran-P5+1 nuclear talks in Istanbul; Iran's former Minister of Housing announcement for running in presidential election; Iran leader granting clemency to 1,059 prisoners ahead of Nowruz; fall of India's Iran oil imports by 27% and reformists calling on former Iranian president for candidacy in presidential election.
Iranian and foreign nuclear experts gathered in Istanbul on Monday to discuss Tehran's controversial atomic programme, a European Union spokeswoman said.
"The meeting is taking place at the expert-level as planned," said Maja Kocijancic, spokeswoman for EU foreign policy chief Catherine Ashton, who is leading talks betweenIran and the so-called P5 1 — Britain, China, France, Russia, the United States and Germany.
Iran's former Minister of Housing and Urban Development Mohammad Saeedi Kia has officially announced his candidacy for the country's upcoming presidential election.
Saeedi Kia has announced "Peace, National Unity and Global Cooperation" as his electoral slogan, Fars news agency reported on Monday.
Leader of the Islamic Revolution Ayatollah Seyyed Ali Khamenei has granted clemency to a number of the country's prisoners on the occasion of the Iranian New Year, Nowruz, and the Islamic Republic Day.
The Leader on Monday agreed to a request by Judiciary Chief Ayatollah Sadeq Amoli Larijani to pardon 1,059 prisoners or commute their remaining jail terms.
India may slash import of crude oil from Iran by as much as 27% this fiscal because US and European sanctions have made it difficult to ship oil from the Persian Gulf nation.
India may, in the financial year ending March 31, import just about 13 million tonne of crude oil from Iran, down from 18.1 million tonne shipped in the 2011-12 fiscal, official sources said.
91 prominent Iranian reformist figures have issued a letter addressed to former Iranian president Mohammad Khatami, urging him to nominate himself as a candidate in the presidential election.
The letter expresses grave concern regarding the country's current situation, describing the election as an "opportunity for supporters of the Islamic Revolution" to establish a government that could provide the country with "peace, well-being, progress and international credibility."
The Iran Project is not responsible for the content of quoted articles.