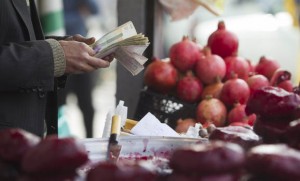 ISFAHAN, IRAN—A young merchant lifts a rack of finely wrought gold bracelets to the light.
"(These are) 18-karat," says Alireza Arzani, 24, promoting the signature etched handiwork he has acquired from local craftsmen and will market to retailers from across Iran.
We are standing in a closet-sized booth in the Isfahan bazaar, located off the historic main square of one of Iran's great cities, where iconic blue-tiled mosques dominate the skyline.
Trusting your nose or instinct, you can pursue an endless path through the bazaar's cavernous halls, following rivers of spice down arched corridors or brushing past piles of dried apricots and stalls selling water pipes and ornate silverware.
Isfahan is famed for its artisans, and the 400-year-old bazaar, built at a time when the city served as dynastic capital and a prominent layover point on the Silk Road, is central to showcasing to that identity.
As it happens, pride in history may underscore the regret in Arzani's voice when he describes what has happened to his place of work.
"Sanctions," he says, referring to the recent U.S. and western-backed clampdown on financial dealings with Iran, "(have) destroyed (the) bazaar in Isfahan."
Arzani is not alone in this assessment.
Although the purported target of the West's sanctions is the Iranian government — accused of pursuing a nuclear weapons program — the nature of the embargo restricts not only oil exports, a source of state revenue, but also electronic money transfers into or out of Iran. It's a move that disrupts trade and creates a climate of economic uncertainty — even Iranians with means are afraid to spend on anything but essentials.
And entrepreneurs like Arzani are feeling the pinch.
"Maybe I'll close," he says, when quizzed about the future of the business he took over last year from his father. According to Arzani, his sales have dropped to two or three customers daily, down from a healthy 12 to 14 earlier this year before the sanctions.
Recently the Iranian government has shown success in developing some new techniques to facilitate cross-border money transfers, and the financial crisis has eased slightly, but buyers remain hesitant.
People are "waiting to see what happens," explains a 53-year-old carpet dealer at the bazaar, declining to give his name for fear of angering local authorities.
As a city, Isfahan has lots to offer. But tourists are not thick on the ground here. In a traditional restaurant a stone's throw from the bazaar, patrons sit cross-legged on raised platforms covered with Persian carpets and clustered around a splashing indoor fountain. Though the decor is sumptuous and the food excellent the tables are two-thirds empty at midday.
"The economy is sick," ventures one employee. "It needs treatment."
By The Star
The Iran Project is not responsible for the content of quoted articles.