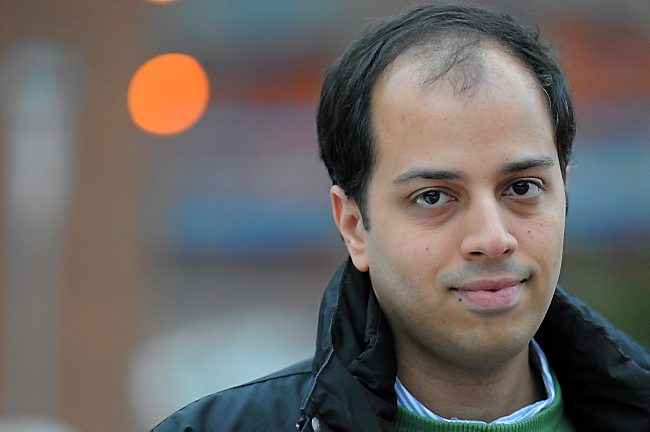 In the past year, increasingly tough sanctions have devastated Iran's oil industry and contributed to rampant inflation and unemployment there, all part of a plan to pressure Iran to curtail its nuclear ambitions.
But the international sanctions have had another, unintended, consequence. They have caused the Iranian currency to nose-dive, and for Iranian students abroad who rely on savings or family support from back home, the collapse has doubled or tripled the cost of their foreign education.
It is not that they have less money, but that their money has lost its value overseas. For many years, a dollar was worth around 10,000 Iranian rials. But last year, after additional restrictions were placed on banking and the oil market, and in the face of reported domestic mismanagement, the rial plummeted. By late 2012, Iranians reported paying 40,000 or 50,000 rials for a dollar; the rate has now leveled off at around 33,000.
In the absence of diplomatic relations between the United States and Iran, granting visas to Iranians who want to study in the United States has been seen as a way to build bridges between the two countries.
But for students who had been relying on rials to help finance their education, the rial crash has been devastating.
"I was in good financial standing before this crisis. . . . I had enough to take care of myself," said Mahdy Saedy, 35, who had saved around 300 million rials to use as he worked toward an electrical engineering PhD at the University of Texas at San Antonio. His savings were worth around $30,000 when he arrived in 2008, and he had planned to make them last until he graduated.
Instead, this monthhe had to borrow $190 from friends to pay for groceries. Many other Iranian students he knows are in similar straits.
"I feel terrible," said Saedy, who founded his university's Iranian Student Association and has been looking for ways to find loans and other support for fellow Iranian students. "I keep energizing my friends, saying things will be okay, but we don't know what we're going to do."
According to data from the Institute of International Education, 6,982 students from Iran are studying in the United States, up from 5,626 last year. For many, the path to get here is arduous; they must travel to third countries that have U.S. embassies and convince consular officers that they deserve a visa.
Among other things, they are often required to show that they can afford their educations here. Now, some worry about falling out of legal status if they are unable to afford to stay in school. And many worry that if they return to Iran they will not be able to get another U.S. visa to complete their studies here.
The problem is not likely to be solved soon, said Bernie Machen, president of the University of Florida, who recently met with some of the university's 63 Iranian students to discuss their financial problems.
Machen said the university could help with emergency funds and would solicit additional money elsewhere, but added that such measures will help only in the short term. Future applicants from Iran may not be admitted if they cannot show they have adequate funding to support themselves, he said.
"Obviously it has impacted our ability to take on new students, because we require some evidence of sustainability," Machen said, adding that the problem would also be a loss for U.S. universities, which tend to admit Iranian students seeking advanced degrees in the sciences.
"The United States and institutions like ours will miss out on some highly qualified students," he said. "In the long run, I don't think it's good for this country to shut off good students who want to come to this country."
Iranian students in European and other countries are experiencing similar financial troubles. Some have compared the situation to 1979, when Iran was the world's top sender of students to the U.S. and tens of thousands of Iranians were studying here.
After the fall of the shah that year, students abroad on scholarships funded by his government saw their money dry up. But "this is more severe," said Ali Dadpay, an assistant professor of economics at Clayton State University in Morrow, Ga., who knows many students affected by the currency crisis.
With visas that restrict them from working, some students are getting work illegally in low-paying jobs, he said. "Some are trying to get payment plans from their schools, and some of them simply quit because they don't have money to pay for it."
The Iranian government sells dollars to students heading abroad at a more favorable rate than the open market, but even that rate has doubled, students say. The fall of the currency has been compounded by the fact that sanctions have made it increasingly hard to transfer funds to the United States.
"While it's still legally possible to get money out of Iran, it's extremely difficult, and in some cases it seems to be all but impossible," said David Elliott, director of operations at the Washington-based National Iranian American Council (NIAC). "The third-party banks are now starting to pull out of Iran, and the banks that will still do business with Iranian banks will only do it if it's a very large amount."
Instead, many students resort to an informal transfer system in which payments are made by proxy to someone in Iran who has contacts outside the country — a system that leaves users vulnerable to theft by unscrupulous money brokers.
Students are not the intended target of the sanctions, said Treasury Under Secretary David S. Cohen, who oversees the sanctions program.
"It is not the intent of the sanctions to make it difficult for students from Iran who are lawfully in the U.S. studying to pay their tuition," Cohen said, noting that the United States still allows third-party bank transfers for student expenses and loan repayment, as well as financial transactions related to humanitarian purchases such as medicine and food. "The purpose of the sanctions is to put pressure on the Iranian government."
Jamal Abdi, policy director at NIAC, predicted that the crisis will worsen if the rial continues to languish and students exhaust the last of their resources and savings back home.
"It's only been a couple of months," he said. "I don't think we've seen the full repercussions of it yet."
For Setareh Salehi, 25, a student at Maryland Institute College of Art in Baltimore, the crisis means she may not be able to continue her studies. She was relying on her father's income to cover her expenses, and she had planned to apply to a master's program after she finishes her10-month degree certificate. She now says she won't be able to do that unless she can get a scholarship for at least half of the costs.
"All of the plans that we made before coming here have changed," she said. "It's got me overthinking about the whole situation, like is it worth it?"
The Iran Project is not responsible for the content of quoted articles.