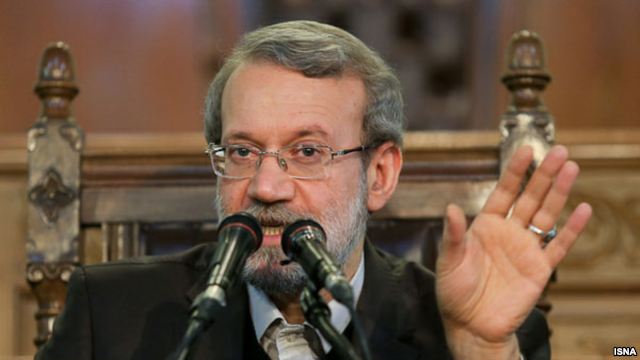 The president of the Islamic Consultative Assembly of Iran (Mayles), Ali Larijani, on arrival at Mehrabad International Airport, Tehran, announced Wednesday that the agreement reached between the Islamic countries to resolve the issue of Syria, without military intervention has been the crowning achievement of the Eighth General Assembly of the Interparliamentary Union of Islamic Countries, held between the 21st and the 22nd of this month in Khartoum, capital of Sudan.
"Despite the disagreements on the issue of Syria, the vast majority of countries stressed that the Syrian issue should be resolved through a peaceful political solution, and at the same time avoid military intervention in the Arab country" said Larijani.
Similarly, the senior Iranian official said that during the VIII General Assembly of the Union, important issues were discussed related to the Islamic world, including the Palestinian question, the denuclearization of the Middle East and the killing of nuclear scientists in Islamic countries.
"The creation of an Islamic Parliament was one of the important issues that parliamentary delegations from 48 Islamic countries present in Khartoum agreed to review," he added.
The Parliamentary Union of Islamic Countries was established in 1999 at the request of Iran. It aims to strengthen parliamentary cooperation between Islamic countries and solve the challenges facing the Islamic world.
Meanwhile, Saudi Arabia's Foreign Minister, Saud al-Faisal, hasbadmitted his country has been participating in recruiting, funding and arming terrorists before they enter Syria with the Turkish government's help, also could not help but admit that their project has reached "an impasse" in Syria in the aftermath of their failure to impose an externally-made solution on Syrians.
The Saudi Foreign Minister wondered about "what else could be done for winning the battle" in Syria after he considered that arming the opposition is a duty and has already spent billions of dollars on recruiting takfiri and mercenary groups to fight in Syria.
U.S. Secretary of State Hillary Clinton admitted in her turn that the terrorists in Syria are using weapons which were transferred from Libya after the foreign military intervention in it.
Speaking before the Congress about the attack on the U.S. Consulate in Benghazi, Clinton acknowledged that Libya has turned into a country of militias where gunmen are using weapons stolen from Libya's warehouses and smuggle them to be used in terrorist acts on the territories of neighboring countries.
Clinton ignored her country's role in the transfer of the Libyan weapons to Syria either by giving the orders to its regional agents or through turning a blind eye to the transfer operations by sea to Turkey and then to Syria under the supervision of the Turkish government.
By Pravda
The Iran Project is not responsible for the content of quoted articles.