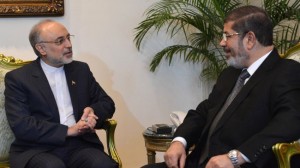 DUBAI (Reuters) – Iran has suggested that the next round of nuclear talks with world powers should take place in Cairo, the ISNA news agency reported on Wednesday, citing the Islamic state's foreign minister.
"When I was in Egypt … it was suggested that the next meeting be held in Cairo," Iranian Foreign Minister Ali Akbar Salehi was quoted as saying by ISNA on Wednesday. "This issue was welcomed by our dear friends in Egypt and Egypt will consult with the P5+1 for hosting this meeting."
The last round of negotiations between Iran and six world powers, known collectively as the P5+1, over Tehran's disputed nuclear program was held in June 2012 in Moscow.
By Reuters
The Iran Project is not responsible for the content of quoted articles.