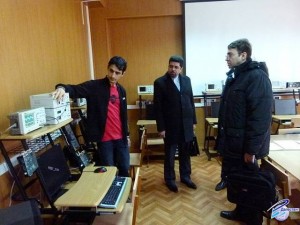 Makhachkala, January 20, 2013. On January 18, Dagestan State Technical University accepted a delegation of the Embassy of the Islamic Republic of Iran led by the Secretary of the diplomatic corps Zabihollaha Naderi. The guests arrived in Makhachkala to become familiar with the opportunities that can demonstrate Dagestani companies and organization and the high-tech research and development centers to the Iranian side.
In this regard, the foreign representatives visited the leading university of the region – Dagestan State Technical University and the best growing company of Southern Russia – the "Russian electronics." The acquaintance with DSTU started in the center of modern information technologies.
After that, the guests visited the Centre for examination and audit which functions on the basis of architecture and construction engineering faculty. Iranian partners with great interest questioned center professionals on advanced developments of scientists whish had highly practical application in the construction and operation of facilities in mountainous and earthquake-prone areas.
Then the Iranian embassy representatives expressed desire to get familiarized with the activities of the Research Institute "Microelectronics and nanotechnology" well known in Russia for the research work on semiconductors based on silicon carbides. The unique patented technology of the Institute has long become a subject of discussion in different Iranian universities.
The day before, the Iranian delegation accompanied by the DSTU representatives visited Izberbash Radioworks named after Pleshakov and one of the most successful high-tech industries of the region – the "Russian electronics." During the ten years of its existence, the company managed to not only to conquer the domestic market but to replace expensive foreign products with the better and cheaper alternatives and to enter the international market. One of the major projects of the company "Russian electronics" and Dagestan State Technical University is the innovative development of components and parts for the domestic production of elevators, in particular, the direct drive winch, which is expected to be used in the manufacture of domestic lifting products.
The experts estimated the elevator plant able to manufacture up to 6 thousand units per year and to take the leading position in the domestic market.
By Ria Dagestan
The Iran Project is not responsible for the content of quoted articles.