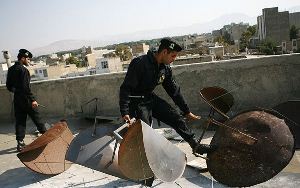 TEHRAN — On Sunday, as they do each week, Shahnaz and her elderly mother turned on the smuggled satellite receiver, its dish carefully hidden on the balcony, and sat back to watch their favorite soap opera, "The Tulip Age."
For months, they had happily immersed themselves in the luxe world of the square-jawed Cinar and the long-legged Yesim, whose complicated love triangles and out-of-wedlock pregnancies offer a daily distraction from real-world problems, like sanctions and a currency collapse, for millions of Iranians.
But this Sunday, the characters of the Turkish series were nowhere to be found. One of Iran's most popular satellite channels, GEM TV, operating from Dubai, United Arab Emirates, and broadcasting illegally into the country, was taken offline without explanation. Its Web site was also down, adding to the mystery.
"These soaps open my heart. Who is taking them from me?" asked Shahnaz, 52, a homemaker who did not want her last name used. "Dirt on their heads," her 84-year-old mother cursed in Persian, to no one in particular.
On Monday, with the Iranian news media silent, wild rumors flew about the causes of the blackout, with some describing a technically complicated government crackdown and others a shrewd plot to get people to subscribe online for a monthly fee.
"First, they made us addicted, and now, they are trying to get money out of us," said the doorman of a building in West Tehran.
"They must be changing their transmission frequencies," suggested a satellite dish engineer, who has been installing illegal sets for years. "The advertisements, the viewers — think of the money involved. No way this channel will stop."
Most people, though, saw the hand of the government. The authorities here have fought what they call a "cultural invasion" from the West, starting with the introduction of videotaped Hollywood movies in the 1980s and, more recently, the Internet and dozens of satellite channels based abroad, broadcasting in Persian.
Millions of Iranians in possession of illegal satellite equipment smuggled into the country and sold for less than $150 can watch an array of news programs, political talk shows and sometimes raunchy soaps. On Monday, another popular channel, Manoto, operating out of London, broadcast the Golden Globes.
Needless to say, none of these would appear on Iran's state television, whether as a matter of taste or politics. Police officers regularly rip satellite dishes from rooftops, and clerics warn of the corrupting effects of non-Iranian programs on children and families.
"At the beginning of the school year, our head teacher told us to give our students extra homework so they wouldn't spend their evenings in front of satellite channels," said Somaye, a teacher at an elementary school.
Satellite channels began to gain in popularity about a decade ago. It was about then that an Iranian opposition politician in California started receiving, during his long rants against Iran's leaders, phone calls from viewers in Iran who were picking up his station's signal through a Turkish satellite.
There has been a boom in channels ever since. Voice of America has a service in Persian, as does the BBC. But news and political talk shows are quickly losing out to channels that bring Persian-language entertainment, especially Turkish soap operas. New programs include a talent show hosted by one of Iran's most prominent singers, Googoosh, and Iranian dance competitions taped in Georgia. There are movie channels in Persian, shopping channels, even religious channels.
Several politicians have called upon state television to develop programming to win back the viewers they are losing to satellite channels. But few viewers, having been exposed to Western entertainment programs, want to switch back.
"On the satellite channels, I watch 'America's Got Talent' dubbed in Persian, while at the same time, our state television is showing an hourlong program on mathematics. Which one would you prefer?" asked Hamid-Reza Mohammadi, 30, an insurance salesman.
There are indications that GEM TV has closer ties with the Iran government than do other satellite channels based abroad. On Dec. 16, the semiofficial Tabnak Web site reported the arrest in Tehran of several people doing Persian voice-overs for the channel's other hit series, "The Sultan's Harem," another originally Turkish production popular in the Middle East.
Two weeks after those arrests, the Persian voice of the actor playing the lead role of Sultan Suleyman suddenly changed from a booming bass to a higher, almost squeaky voice. Other characters sounded nasal, as though they were pinching their noses to change their voices.
The changes first prompted laughter, but that quickly turned to disappointment after the series was taken off the air by the channel itself.
On GEM TV's Web site, which was up again on Monday, a contact page showed offices in Toronto, London and Dubai. An employee who spoke Persian but refused to give his name said that "all problems" would be solved soon and that he could give no further information on how long the channel might be off the air.
For Shahnaz, the question now was how to fill the long evenings with her mother. She tried a European music channel, where scantily clad models were dancing in a library to the beat of a song called "Raise the Roof." She quickly changed the channel before her mother could notice.
"There is nothing on tonight," Shahnaz told her. "Let's go to sleep."
The Iran Project is not responsible for the content of quoted articles.