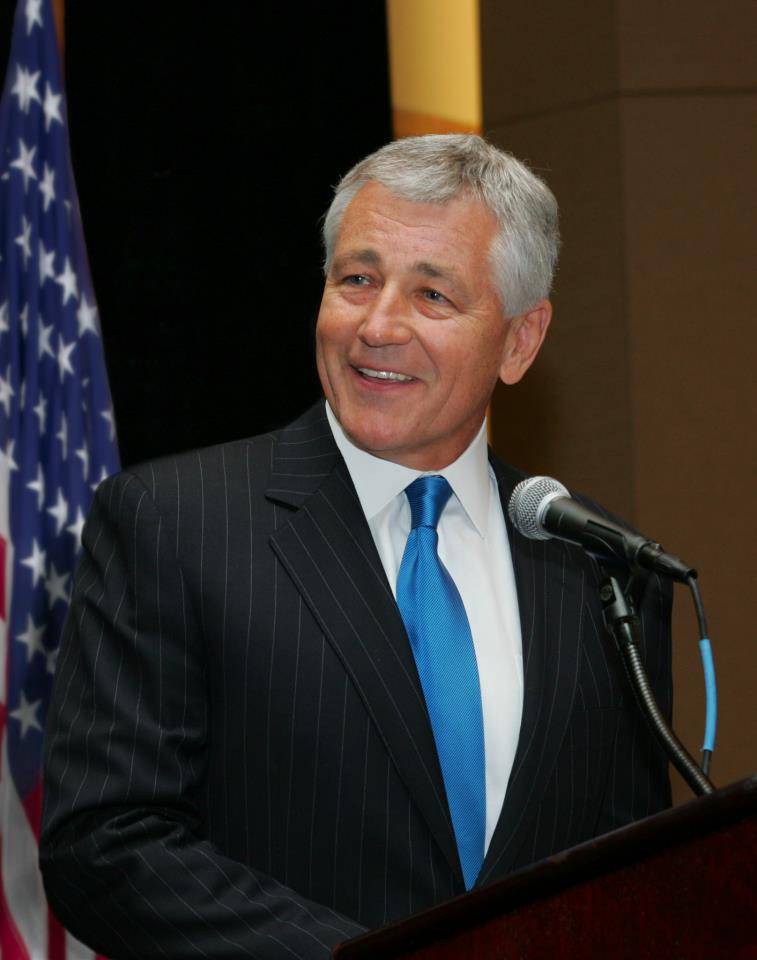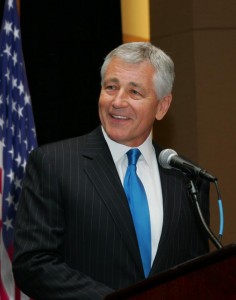 Last week, in his first interview since being nominated to be the next Secretary of Defense, former Nebraska Sen. Chuck Hagel told the Lincoln Journal Star: "I have not supported unilateral sanctions because, when it is us alone, they don't work and they just isolate the United States. United Nations sanctions are working. When we just decree something, that doesn't work." This is a nonsensical position, at odds with nearly every member of the U.S.. Senate and the Obama administration.
Recently, President Obama signed new Iran sanctions into law as part of the 2013 National Defense Authorization Act – the fourth round of Iran sanctions signed into law by the President since 2010. During the campaign and throughout his presidency, Obama has touted the viability of U.S. sanctions. Last year, the president in writing told the American Jewish Committee: "Today, because of concrete steps that I and my Administration have taken, Iran is under greater pressure and more isolated than ever. We have led the international community in putting in place the toughest and most comprehensive sanctions in history on Iran."
This view has been echoed again and again by David Cohen, the U.S. Treasury undersecretary for terrorism and financial intelligence, who was chiefly responsible for imposing the U.S. sanctions.
Under the Obama administration, with the near unanimous approval of Congress the U.S. has passed four rounds of unilateral sanctions. In 2009, 77 senators cosponsored sanctions on any entity in the world that provided refined petroleum products to Iran. This legislation was rolled into the Comprehensive Iran Sanctions, Accountability, and Divestment Act (CISADA), which passed the Senate unanimously by voice vote in January and later passed on a 99-0 Roll Call vote in June 2010. CISADA was signed into law by President Obama on July 1, 2010.
In 2011, Sens. Robert Menendez (D-N.J.) and Mark Kirk (R-Ill.) co-authored an amendment to the FY12 National Defense Authorization Act to impose sanctions on the Central Bank of Iran. The Menendez-Kirk amendment required all countries to significantly reduce their volume of crude oil imports from Iran or face sanctions against financial institutions inside their borders. The Senate voted 100-0 to pass the Menendez-Kirk amendment. This measure is generally seen as helping to crash Iran's currency. After much foot-dragging, the amendment was highly praised by the president and Secretary of State Hillary Clinton.
In 2012, the Iran Sanctions, Accountability, and Human Rights Act had over 80 co-sponsors. A compromise bill was finally reached with the House and passed the Senate by unanimous consent.
Finally, Menendez and Kirk introduced an amendment in the FY13 National Defense Authorization Act the Iran Freedom and Counter-Proliferation Act, which banned entire sectors of the Iranian economy. The Senate passed the second Menendez-Kirk amendment 94-0.
In Hagel's view, we shouldn't have passed any of these sanctions and the entire Senate was wrong. Or perhaps is it Hagel who is so very wrong? It is hard to argue that the sanctions haven't severely harmed Iran's economy, including its crude oil exports and its banking system. It would be one thing if Hagel were arguing from the right that sanctions will never work and we should skip right to the threat and use of military action. But of course that isn't his view. Moreover, he can't argue that when he voted repeatedly against sanctions in the Senate that we were ignoring international sanctions. In fact, President George W. Bush pursued and obtain four separate sets of international sanctions.
Hagel also misunderstands how we work with allies. Going to the United Nations over and over again for meager results is — as we've seen with Syria – useless. However, when the United States act, our allies normally follow. On March 15, 2012, the European Union ordered Society for Worldwide Interbank Financial Telecommunication (SWIFT) to expel designated Iranian banks from the SWIFT financial communications network. Dozens of Iranian institutions were impacted. One congressional staffer with extensive experience in sanctions legislation says, "This action was taken in response to an amendment passed by the Senate Banking Committee to authorize U.S. sanctions on board members of entities like SWIFT that provide such services to designated Iranian banks." Had we not acted, the EU would not have either.
If Hagel believes unilateral sanctions don't work, he ignores and contradicts the entire sanctions effort Obama has put in place. Conservatives think it won't be enough without a credible threat of force but left to Hagel none of it would have been undertaken. How can a person so out of touch with both parties and no willingness to incorporate recent experience run the Pentagon? That is what senators of both parties should be asking him when he comes around. Maybe we'll get a new version of his sanctions philosophy.
The Iran Project is not responsible for the content of quoted articles.