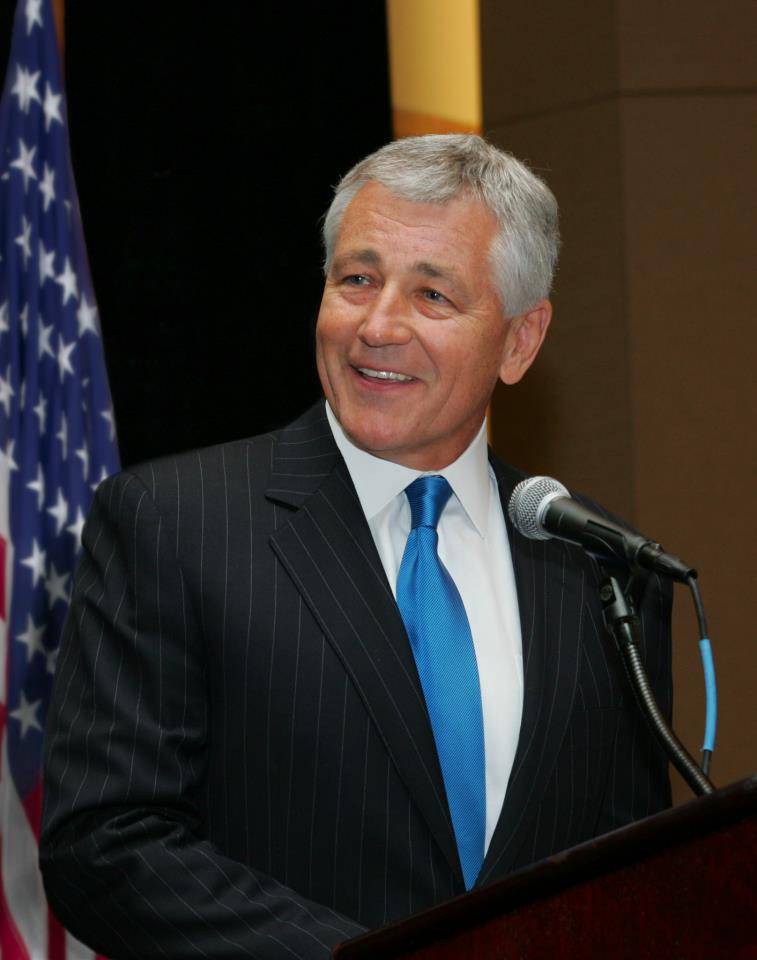 What should the United States do about Iran?
This has been among the most important and urgent questions on U.S. national security over the past four years. Barack Obama began his presidency with a series of conciliatory gestures, nearly all of which were rejected (or mocked) by the Iranian regime. The president's rather accommodating approach has given way to a slightly more assertive U.S. posture, albeit one driven more by the international community and the U.S. Congress than the White House. And over the last four years, the one consistent message from the Obama administration to the Iranian regime has been unmistakable: We don't want a war.
That message reflects a basic truism. Nobody, of course, wants a war with Iran. But the surest way to avoid a war is to make clear to Iranian leaders that their provocations – on nuclear weapons, terrorism, regional troublemaking – will produce one.
With the selection of Chuck Hagel as his nominee to be secretary of defense, President Obama is amplifying the message of his first term. Hagel, as others have noted, has taken a rather soft line on Iran over the years, even ruling out a military response to the Iranian threat, arguing that it is "not a viable, feasible, responsible option." As Phillip Klein notes, "if Iran doesn't think America would act, the deterrent value in saying all options are on the table erodes."
Hagel, a decorated Vietnam veteran who has vast combat experience, no doubt comes by his views honestly. And nobody thinks war should be the first answer. But a look at Hagel's record during his second term in the Senate suggests a policymaker who not only possesses a healthy skepticism of war but an eagerness to disregard information that might make that last of all possible choices the only one.
In 2007, Hagel voted against an important amendment to the Defense Authorization Bill that would label the Iranian Revolutionary Guards Corps (IRGC) a terrorist organization. The role of the IRGC in providing weapons, training, and financing to those killing Americans in Iraq and Afghanistan was not seriously in doubt. And in the months leading up to that vote, the evidence of a consistent campaign against U.S. troops was indisputable and well documented. In a lengthy and detailed briefing in July 2007, Brigadier General Kevin Bergner laid out the case against Iran and the IRGC's Qods Force in aiding these "special groups."
"Funding and training of the special groups started in 2004. The Qods Force supplies special groups with EFPs, machine guns, rockets, sniper rifles, rocket-propelled grenades and IEDs. Iraqi special groups are trained in one of three training camps inside Iran and ore operated by the Qods Force and supported by Lebanese Hezbollah operatives."
These were not the rogue activities of an autonomous group. "Our intelligence reveals that senior leadership in Iran is aware of this activity," Bergner reported.
And yet when the IRGC amendment came before the Senate on September 26, 2007, Hagel was one of two Republicans who opposed it. One month later, Hagel urged the Bush administration to pursue "direct, unconditional and comprehensive talks with the Government of Iran."
Not quite a year later, in remarks at the Brookings Institution on June 26, 2008, Hagel went further, suggesting that it would be in the interest of the United States to establish an "interest section" in Tehran. What had Iran done to earn such diplomatic recognition and respect? Had the regime there cut off its support for the terrorists and "special groups" killing Americans in Afghanistan and Iraq?
Hardly. A month before Hagel proposed such rapprochement, then-CIA director Michael Hayden was unequivocal about the Iranian targeting of U.S. troops. "It is the policy of the Iranian government, approved to the highest levels of that government, to facilitate the killing of Americans in Iraq."
In July, on a trip he took to the region with then-senator Barack Obama, Hagel heard about the Iranian threat directly from Afghanistan president Hamid Karzai. According to a leaked State Department cable dated July 24, 2008:
Obama and Hagel solicited Karzai's opinion of Afghanistan's western neighbor. Karzai began his reply by saying we try to engage them, talk to them; however, the current Iranian regime 'suspects our relationship with you.' Obama asked if the Iranians had caused problems for Afghanistan. "Yes," Karzai repled, "we've confirmed reports they supplied weapons to the Taliban. National Directorate for Security (NDS) chief Saleh added that three weeks ago, NDS had arrested "an agent of the Iranian consulate in Kandahar" who had been training the Taliban in the use of landmines.
Hagel's views on Iran put him to Obama's left. Although the president has made clear that he doesn't want war with Iran, and that's he is open to direct talks, he has never ruled out the military option, as his Defense nominee has. And while Obama was an enthusiastic supporter of direct talks with Iran, he never went so far as propose a U.S. "interest section" in Tehran as a way to advance our interests.
Iran is closer to the bomb. The regime has continued its support for terrorists targeting Americans in Iraq and Afghanistan. The Iranian government, according to the Obama administration, has a secret agreement with al Qaeda to allow the shipment of money and fighters on Iranian territory – what one official called the "core pipeline" for al Qaeda.
Does Hagel still believe the military option should be off the table? Does he think the United States ought to open an interest section in Tehran to advance our interests?
What, if anything, does Chuck Hagel think the United States should do about Iran?
The Iran Project is not responsible for the content of quoted articles.