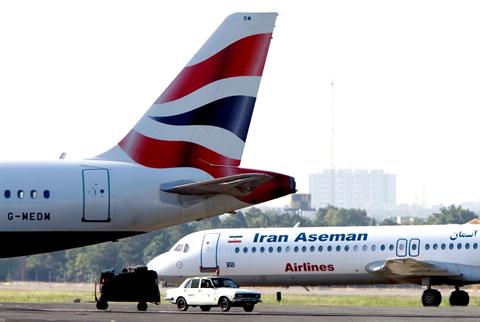 The call to prayer, a five-times-a-day ritual for strict adherents to Islam, is reaching new heights in Iran.
Under a directive announced Wednesday by Iran's Civil Aviation Organization, all aircraft will be prohibited from flying across the country during the Adhan, or call to prayer, when many devout Muslims pause to face toward Mecca and pray. The directive also requires that planes scheduled for takeoff in Iran will now have to wait at least 30 minutes until after the day's first call to prayer, before sunrise, known as Al-Fajr.
Hamid Reza Pahlevani, the head of the aviation organization, was quoted as telling theIranian Students' News Agency that the directive was meant to give air travelers the time "to carry out their religious duties."
The directive appeared to be part of a strengthened effort in Iran to enforce obedience to orthodox Islamic codes of conduct in all manner of life. Ali Taheri, a spokesman for Parliament's cultural committee, was quoted by Reuters as saying that in addition to the new restrictions on aircraft flights, serious attention will be given to observing the strict Islamic dress code for women working at airports or airline companies. The code requires women to cover their hair and wear loosely fitting clothes that will cloak their figures.
It was unclear, however, how Iranian aviation officials intended to resolve possible scheduling complications created by the call-to-prayer flight restrictions. The Civil Aviation Organization directive also did not explain whether flights in midair would be forced to land or be rerouted in order to satisfy the requirement that no aircraft fly during the call to prayer.
According to Islamicfinder.org, which provides information on daily call-to-prayer times worldwide, they vary significantly in Iran. In Tehran, for example, they are at 5:38 a.m., 12:03 p.m., 2:40 p.m., 4:58 p.m. and 6:23 p.m. In the holy city of Qom, they are 5:42 a.m., 12:08 p.m., 2:45 p.m., 5:03 p.m. and 6:28 p.m.
The Iran Project is not responsible for the content of quoted articles.