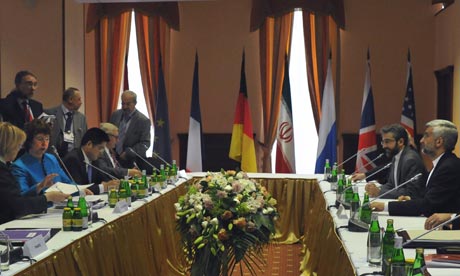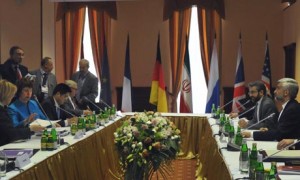 After a six-month hiatus, the United States and other major powers are trying to resume negotiations with Iran over its nuclear program. Iran has been enriching uranium in defiance of United Nations Security Council resolutions for six years, and Prime Minister Benjamin Netanyahu of Israel has threatened military strikes if these activities are not halted by next spring or early summer. It is imperative that all sides make every effort to reach a diplomatic solution. War, of course, would be disastrous. But so would an Iran with a nuclear weapon.
American officials still have doubts about whether Iran's supreme leader, Ayatollah Ali Khamenei, really wants a deal. Iranian officials have sent mixed messages. The United States and its partners — Russia, Britain, China, France and Germany — wanted to resume talks this month, but Iran never agreed to a date, so a meeting isn't expected until January.
It is also unclear whether President Obama and his partners will put a serious offer on the table. The last session, in Moscow in June, collapsed when Iran rejected a proposal to stop enriching uranium to 20 percent purity, which can more easily be made into bomb-grade nuclear fuel. Iran would have been required to ship its existing stockpile of this fuel out of the country and shut down the Fordo enrichment plant.
In exchange, the Iranians wanted guarantees that if they took such steps, the West would ease tough sanctions on oil exports, banks and other economic activities that have caused a drop in oil production from 4.2 million to 2.6 million barrels per day and a decline of nearly 80 percent in the value of the Iranian rial.
The major powers' proposal was a narrow strategy to put the brakes on the most worrisome aspects of Iran's program, enrichment to 20 percent. Some experts are now urging the West to put forward a broader deal that would offer Iran far greater relief from sanctions and an eventual end to diplomatic isolation in return for ending its nuclear program altogether, or, at a minimum, the program's military components. There is value making clear the positive as well as the negative choices that Iran faces.
American officials now say that when negotiations resume, the major powers will offer a somewhat modified version of their original proposal that includes some new relief if Iran takes additional steps to curb its program. They say they would be prepared to discuss a more extensive proposal if Iran showed real interest in negotiating seriously. Whatever package is offered has to include meaningful relief from sanctions or there will be no incentive for Iran to do anything.
While negotiations with the major powers are important, Iran and the United States need to start talking directly. In October, The Times reported that the two countries, adversaries since the 1979 Islamic revolution, had agreed in principle to hold one-on-one talks. The window for a deal won't be open forever.
The Iran Project is not responsible for the content of quoted articles.