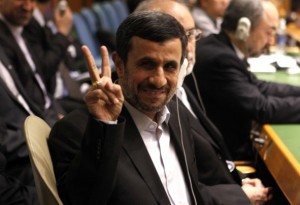 TEHRAN — For months, Iranian President Mahmoud Ahmadinejad has been seen here as an increasingly marginal figure who may not even be able to serve out his term, which ends next summer.
But now, Ahmadinejad appears to have defied his political obituary once more.
Battling stiff international sanctions over Iran's uranium-enrichment program and pondering possible negotiations with the United States, the country's supreme leader has called for national unity, giving Ahmadinejad a lifeline when he most needed it.
Before the supreme leader stepped in last week, criticism of Ahmadinejad was rampant, especially over his administration's handling of Iran's economy. Amid reports of a feud with the supreme leader, Ayatollah Ali Khamenei, Ahmadinejad's policies have come under repeated attack, as have his most loyal advisers.
But Ahmadinejad, who won a controversial reelection bid in 2009, has again demonstrated mastery of one of the most important traits in Iranian politics — the ability to simply survive.
Ahmadinejad continues to exert considerable influence in the Islamic Republic, to the dismay of those who had hoped to see him forced from office. Adversaries see his policy decisions as reckless, especially the replacement of Iran's subsidy program with cash payouts, which critics say has fueled inflation.
Allegations of corruption against his ministers have also raised the ire of longtime members of the establishment, who deem Ahmadinejad an uncontrollable threat to the system they built.
Ahmadinejad's bombastic statements about Israel have made him a pariah in the West. But ironically, it is his vocal support for direct negotiations with the United States that offers the clearest explanation of why his detractors have been abruptly silenced.
While Ahmadinejad has repeatedly advocated talks with Washington throughout his second term in office, leaders from across Iran's political spectrum have only recently begun to openly share that position.
A report issued by Iran's usually hard-line Intelligence Ministry outlining the benefits of negotiation with the United States signaled the establishment's move toward possible engagement. The shift comes as Israel has repeatedly warned that it may use military force to stop Iran from acquiring nuclear weapons. Iran has insisted that its uranium-enrichment program is for peaceful purposes.
The United States also has indicated a willingness for new talks with Iran, either bilaterally or through the diplomatic sextet that includes Britain, China, France, Germany and Russia — the so-called P5-plus-1. But in recent weeks, the Obama administration has hinted that time for negotiations is limited. A U.S. diplomat warned Iran this week that it must agree to a dialogue in the next three months on a key issue: Iran's refusal to account for alleged nuclear weapons research conducted in the past.
"Iran cannot be allowed to indefinitely ignore its obligations," said Robert Wood, chargé d'affaires at the U.S. mission to the International Atomic Energy Agency in Vienna. "If by March Iran has not begun substantive cooperation with the IAEA," he told a meeting Thursday of the U.N. agency's Board of Governors, "the United States will work with other board members to pursue appropriate board action."
As Iran's most prominent face around the world, Ahmadinejad would have an important role to play in any negotiations, although the real power in Iran lies with Ayatollah Khamenei. This makes a show of unity among Iranian officials essential.
Ayatollah Khamenei called for a truce in domestic political wrangling just as Ahmadinejad was facing a parliamentary vote that would have forced him to answer questions about his administration's handling of Iran's currency. The supreme leader preempted that vote with a "state verdict," a rarely used maneuver that trumps all other laws.
Explaining the decision, Ayatollah Khamenei told a gathering of Basij paramilitary members that "all officials need peace to carry out their responsibilities, and putting an end to the issue will show that the legislative and executive branches respect unity and peace more than anything else."
Although many here had begun to believe that Ahmadinejad and his associates would be swept from Iran's political scene, there are now signs that his most controversial adviser may even attempt to succeed him as president.
A report surfaced last week that Ahmadinejad's chief of staff, Esfandiar Rahim Mashaei, had reasserted his intention of running for president next June. The report came after months in which Mashaei was out of public view.
Also last week, the judiciary dropped charges against Ali Akbar Javanfekr, Ahmadinejad's media adviser and the head of the Islamic Republic News Agency, who has been serving two six-month sentences in Tehran's notorious Evin prison for publishing an article that questioned the origins of the Islamic dress code and for insulting the supreme leader.
While the moves seem to point to job security for Ahmadinejad, there is little consensus about his political legacy or the role his inner circle might play in Iranian politics beyond next June's election.
Former president Mohammad Khatami, who is considered a reformer, has suggested it would be better for Ahmadinejad to serve out the rest of his term so that he would get the blame for whatever happens to Iran during the first half of next year.
"All the consequences and calamities will be written under his name," Khatami said. "This will not happen if he is put aside before his term is finished."
On the other end of the spectrum, among hard-liners, there is concern that Ahmadinejad will continue to exert influence even after he leaves office.
In an interview, Hamid Reza Taraghi, a prominent hard-liner who is believed to be close to the supreme leader, likened Ahmadinejad to Russia's Vladimir Putin, who returned to the presidency after a term as prime minister.
Iran's constitution allows for a third term in office, but only two terms consecutively, meaning that Ahmadinejad could conceivably run again in 2017. He has publicly stated, though, that his intention is to return to teaching at the university level, which he did before entering politics.
The Iran Project is not responsible for the content of quoted articles.