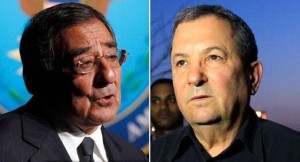 U.S. Secretary of Defense Leon Panetta and Israeli Minister of Defense Ehud Barak addressed questions about Afghanistan, the Iron Dome missile defense system protecting Israel, Iran, Syria and Israel's security at a joint Pentagon press conference on Thursday.
Panetta addressed questions on the timing of the U.S. withdrawal from Afghanistan, and said the exact number of the troops that will remain past the 2014 timetable is still being decided.
"The fundamental mission in Afghanistan is to establish an Afghanistan that can secure and govern itself and ensure that al Qaeda never again finds a safe haven within Afghanistan from which to conduct attacks on the United States or any other country," said Panetta.
He highlighted the three missions for which the United States will need to keep a presence in the country: counter-terrorism, training and assisting the Afghan army, and having enough troops to enable supporting any American forces still in the country.
Both leaders spoke about the ongoing conflict in Syria, with Panetta saying unequivocally that the United States has not provided any shoulder-to-fire missiles or missiles of that type to opposition forces. He said the Pentagon continues to work with other nations in monitoring the country's chemical weapons stockpile.
Barak said there is an "urgent need " to topple Syrian President Assad's regime.
"It's criminal behavior on a global scale, what he's doing to his own people, using jet fighters and helicopters and artillery and tanks, killing his own people. The whole world is watching," he said.
Barak was blunt about Iran's nuclear program, and said that while sanctions are working, he doesn't think they will be enough to stop the country from building a nuclear bomb or continuing to menace the region. While not explicitly calling for military intervention, the Israeli minister expressed doubt that there will be any other option.
"In regard to Iran, the kind of physical attack option is an option. It should be there. It should remain on the table, never be removed," said Barak.
"Of course, we would love to see some heavenly intervention that will stop it, to wake up some morning and learn that they gave up on their nuclear intentions or probably that the Arab Spring has been translated into Farsian, emerge in the cities of Tehran, Mashad and Isfahan. But you cannot build a strategy based on these wishes or prayers," he said.
Panetta  called the current relationship between the U.S and Israel "the strongest in history"  based on the assistance America is providing, the highlight of which, he said, is the Iron Dome. Panetta marveled at how effective the system was during Israel's recent conflict with Gaza, intercepting more than 400 rockets.
"Its success is a statement to the ingenuity of the Israeli people and to the commitment of the United States to Israel's security. Today, I assured minister that our strong commitment to Iron Dome will continue into the future," he said.
At times, the press conference seemed more like a retirement ceremony or a chat between old friends. Secretary Panetta hugged his Israeli counterpart at the start of the conference and reflected on the "decades" of friendship the men have shared. He also awarded the retiring minister with the Pentagon's highest civilian honor, the Distinguished Public Service Award.
"Minister Barak is a battle-hardened warrior. And like so many great military leaders, he is fundamentally a man of peace, because he's seen war firsthand. He recognizes that we must take every possible step to try to avoid war," said Panetta. "And as he prepares to close this chapter in his career, I'm delighted to be able to recognize his immense contributions by bestowing on him the Department of Defense's highest civilian honor, the Distinguished Public Service Award.  Ehud, thank you for your friendship, for your dedication to the shared dream of a better, and safer and more secure future for Israel and for the United States. "
The men also exchanged gifts. Minister Barak presented Secretary Panetta with a tiny Iron Dome model as a thank-you present.
"It doesn't explode. It cannot shoot missiles, don't worry," Barak said, laughing.  "It's just to give you a small memento of our appreciation for your support."
Panetta returned the favor with his own gift – a signed and framed photograph of the two men taken during his visit to the Iron Dome sight last August.
"I want to give you one more memento," said Panetta chuckling as he handed it over. "This was at the Iron Dome site, and I wanted you to have that memento … representing our friendship," he said.
Not missing a beat, his old friend  joked, "Yours is much more handsome."
By abc NEWS
The Iran Project is not responsible for the content of quoted articles.