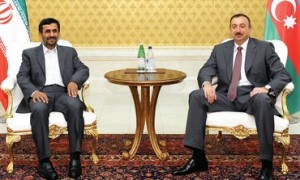 Iran is persisting in a strategy of courting deeper ties with Azerbaijan, as growing military, intelligence and commercial ties between its northern neighbor and Israel continue to be a source of deep concern to Tehran.
In Iran's latest overture to Baku, its ambassador to Azerbaijan offered on Thursday to establish a joint Iranian-Azeri Chamber of Commerce, with the aim of deepening relations between the two countries, Azeri news agency Trend reported.
The Iranian Embassy in Baku said that Mohsen Pak Ayeen had told the head of Azerbaijan's Chamber of Commerce that Iran also wants to develop private sector initiatives in both countries.
In recent weeks, Iran has made several gestures to Baku, including an offer to act as a mediator to help Azerbaijan settle its 20-year conflict in Nagorno-Karabakh and a proposal to create a new customs checkpoint on the Iranian- Azeri border to facilitate bilateral trade.
Notably, Iran's Foreign Ministry spokesman Ramin Mehmanparast went on record last month at his weekly Tehran press conference to say that ties between Azerbaijan and Iran were "good and extensive," "based on common ground," and urged both countries to develop them further.
Yet while Tehran has made sure to disseminate the message, including via reports in its Persian, Arabic and English state media, that its relations with Baku are warm, political, religious and cultural relations between the two countries remain deeply strained.
After Azerbaijan gained independence from the former USSR in 1991, Tehran watched with dismay as the predominantly Shi'ite Muslim country declared itself a secular state based on the rule of law and as it actively sought ties with the West.
Religious tensions between the two states soared in May when Baku hosted the Eurovision Song Contest, which Iran insisted included a "gay parade" and slammed as undermining Islamic values.
However, while Tehran has criticized Baku's religious policies, it has also gone to some length to publicly stress the two countries share an Islamic heritage, even blaming disagreements on deliberate plots by Israel and the US.
This month, Iran's Azerbaijan ambassador Pak Ayeen accused "enemies" of trying to "sow discord" between Tehran and Baku, saying that relations between the two countries were "historical" and rooted in shared religious beliefs.
Tehran's ongoing attempts to overtly court its neighbor also represent part of a strategy to counter Western and particularly Israeli influence in the region. Iran is worried that Baku appears to be closer to Jerusalem than to Tehran.
It is not a coincidence that Iran's latest offer of a joint chamber of commerce comes just weeks after Israel announced plans for a similar venture, which it said would help Azerbaijan expand its hitech industry and its medical expertise.
Israel has said that it and secular Azerbaijan share a similar worldview. Both see Iran and the spread of political Islam as an existential security threat.
A leaked US diplomatic cable from 2009 described Azerbaijan's relations with Israel as "discreet but close" and famously quoted Azerbaijan's president, Ilham Aliyev, as saying his bilateral relations with the Jewish state were "like an iceberg, nine-tenths of it is below the surface."
Azerbaijan is certainly Israel's strongest Muslim trade partner, supplying a sixth of Israel's oil.
Foreign Minister Avigdor Liberman visited Baku in April to discuss bilateral cooperation.
Although Azerbaijan has downplayed its relations with Israel to avoid increasing tensions with Iran, Tehran has grown increasingly concerned not least because of reports of growing Israeli military cooperation with Azerbaijan.
In February, Iran's Foreign Ministry summoned the Azeri ambassador to Tehran, Javanshir Akhundov, to a meeting with its deputy foreign minister for Asia and Pacific affairs Abbas Araghchi, asking him to explain reports of a $1.5 billion arms deal with Israel Aerospace Industries. Akhundov was warned that Israel must not be allowed to use Azerbaijan for "terrorist acts," Iran's state media reported.
The arms deal reportedly included Israel's Green Pine missile defense radar and Gabriel-5 anti-ship missiles: in May, Azerbaijan conducted military exercises in the Caspian Sea, indicating it is concerned about littoral security, perhaps in the wake of an incident in 2000 in which Iran claimed Baku was violating its territorial waters.
Azerbaijan has also said it is building 60 Israeli-designed Aerostar and Orbiter 2M UAVs, as part of a joint venture between the Azeri Defense Ministry and Israel's Aeronautics Defense Systems. Azerbaijan's defense industry minister Yavar Jamalov said Baku was also considering buying missile- armed UAVs.
Iran's concerns about Israel's ties with Azerbaijan also come after reports in September that the former Soviet republic has considered how Azeri bases and intelligence could serve in a possible strike against Iran's nuclear facilities. Officials in both countries have dismissed the reports as fiction.
Iran, however, believes Azerbaijan is covertly colluding with Israel. In February, Tehran openly accused Baku of collaborating with Israel over the assassination of Iranian nuclear scientist Mostafa Ahmadi- Roshan in January.
While Iran seeks to mitigate its concerns about Azerbaijan by forging deeper bilateral ties, Tehran continues to pose a serious threat to its neighbor's stability.
Since Azerbaijan's independence from the USSR, Iran has attempted to subvert its secular regime via its Qods Force and proxies Hezbollah and Azeri pro-Iranian Shi'ite parties.
Tehran also increasingly uses Azerbaijan as a staging ground for its shadow war against Israeli, Jewish and Western targets.
Iran's porous 618-km. border with Azerbaijan has made it relatively easy for Tehran to infiltrate terror operatives and weapons into the country.
In 2012 alone, three Iranian terror plots against Israeli and Western targets have been uncovered on Azeri soil, carried out by either Iran's Lebanese proxy Hezbollah or by local sympathizers.
In January, Azerbaijan announced that three Azeri terrorists supervised by the Iranian intelligence services had planned to attack domestic Jewish targets.
According to a new report by the Meir Amit Intelligence and Terrorism Information Center (MAITIC) the main target was likely Baku's Or Avner school and two Chabad representatives.
The three terrorists received weapons – including handguns and a 7.62 caliber Dragonov sniper rifle refitted with a silencer – ammunition and explosives from Iran.
Unrelated to the January plot, last month a Baku court convicted 22 Azeri operatives of an IRGC sponsored terror group of conspiracy to commit terror acts against Jewish and American targets in Azerbaijan.
The Azeri terror agents were handled by an IRGC operative named Hamid and a Hezbollah operative named Hajj Abbas, MAITIC said.
Azerbaijan has also accused Iran's Revolutionary Guards Corps extraterritorial Qods Force unit of plotting terror attacks in Baku during the Eurovision Song Contest in May.
The Iran Project is not responsible for the content of quoted articles.