By The Washington Post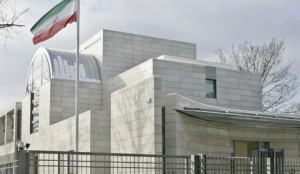 BERLIN — Police say a group of assailants pelted the Iranian Embassy in Berlin with stones and paint and pulled down an Iranian flag — prompting Germany's foreign minister to express regret to his counterpart in Tehran.
Berlin police said about 30 were involved in the incident on Wednesday afternoon. The assailants didn't enter the building and authorities were able to detain 10 of them. There was no immediate information on their possible motives.
German Foreign Minister Guido Westerwelle condemned the incident. His office said he spoke by telephone Wednesday evening with Iranian counterpart Ali Akbar Salehi, voicing his regret and offering assurances that the embassy would be protected.
Germany, along with the five permanent members of the U.N. Security Council, is leading efforts to address concerns over Iran's nuclear program.
The Iran Project is not responsible for the content of quoted articles.