By Military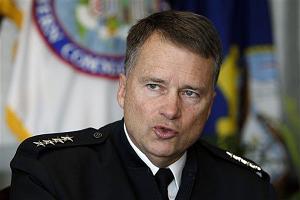 Iran will pose the greatest national security threat in President Obama's second term despite the administration's push to shift military resources to the Pacific, the second in command at the Pentagon said Tuesday.
"I don't off-the-cuff see any greater challenge than Iran," Adm. James "Sandy" Winnefeld, vice chairman of the Joint Chiefs of Staff, said in remarks to the Atlantic Council think tank on the topic of "Perspectives on National Security Challenges in the 21st Century."
Winnefeld rattled off a list of national security interests, ranging from threats to the global economic system and terrorism to a potential for striking the U.S., and said that for all of them, "you find Iran touches (them) one way or the other."
The U.S. will have to deal with the threat posed by Iran's uranium enrichment program in the context of the "new national security imperative of deficit reduction" and a new era of limited resources for the military in contrast to the open-wallet policy of Congress and the White House for the Defense Department following 9/11, Winnefeld said.
The U.S. will now have to pick and choose among threats that merit a military response, Winnefeld said.
"When you have unlimited resources, you can get involved in anything, you can buy anything you need," Winnefeld said. "Now we're in a different place."
Winnefeld echoed Defense Secretary Leon Panetta in noting that the Pentagon was already committed to cutting $487 billion in spending over the next 10 years while also facing the threat of another $500 billion in cuts if Congress fails to reach agreement on debt reduction, taxes and spending by Jan. 2.
"We're looking through a glass darkly" in trying to shape the military to budgetary constraints, Winnefeld said.
Obama's strategic guidance to the military was to "put more emphasis on the Pacific" and "less emphasis on long-term stability operations" such as Iraq and Afghanistan, Winnefeld said.
Paraphrasing Obama, Winnefeld said the guidance was "to give me fewer (Operation) Iraqi Freedoms and more Desert Storms," a reference to the seven-month first Gulf war in 1990-91.
While dealing with threats from the Mideast, the U.S. would stay committed to the "Pacific pivot" and was seeking more military-to-military contacts with China to avoid misunderstandings over Beijing's attempts to spread influence in the region, Winnefeld said.
As a former Top Gun instructor, F-14 Tomcat pilot, and fleet commander, Winnefeld took special note of China's first aircraft carrier landing and takeoff last week. China's Xinhua news agency on Nov. 25 published photos of a J-15 fighter jet, modeled on Russia's Su-33 warplane, landing aboard the Liaoning, a converted Soviet-era ship that China bought from Ukraine.
Winnefeld joked that "I want to talk to that pilot," to see if he had as much fun landing the jet as Winnefeld said he did in numerous carrier landings.
"I congratulate them for it," Winnefeld said of the Chinese carrier landing, but quickly added that "there's a lot more to operating an aircraft carrier effectively than just landing a jet."
The Iran Project is not responsible for the content of quoted articles.