By The Daily Star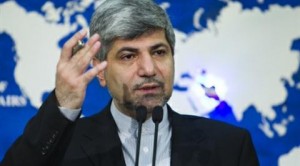 TEHRAN: Iranian airspace was violated eight times by archfoe the United States in October, Iran's foreign ministry spokesman said, adding that an official protest had been lodged with the United Nations.
"Any country violating our territory will face a serious reaction from Iran," Ramin Mehmanparast warned in a statement quoted by the media on Wednesday.
"In the month of October we witnessed eight cases of airspace violations by the American fleet (US Navy) and we have told the U.N. … of course we have announced our serious objection to the US," said Mehmanparast, without elaborating on the nature of the violations.
"We have written two separate letters to the (Security Council) and to the secretary general of the UN regarding the US violations, asking them to notify the US… to respect our sovereignty," he added.
He said that the latest incident, the only one to have been made public so far, had taken place on November 1, when a US drone was attacked by two Iranian fighters over the Gulf.
Tehran has said its planes opened fire while the drone was on a reconnaissance mission over the main oil terminal on the Iranian island of Kharg.
Washington insists the drone was in international airspace eight miles (13 kilometres) beyond the Iranian territorial boundaries. It said the drone was not damaged.
Iran's envoy to the UN Mohammad Khazaee, quoted by the government newspaper Iran Daily said that US drones had violated Iranian airspace seven times in October, flying over the southern city of Bushehr where Iran's nuclear power plant is located and Kharg island where the oil terminal is located.
Khazaee said Tehran had warned in its protest letter against the "adverse consequences of any provocative and dangerous acts for which the United States government would be held responsible."
The Iran Project is not responsible for the content of quoted articles.