By Trend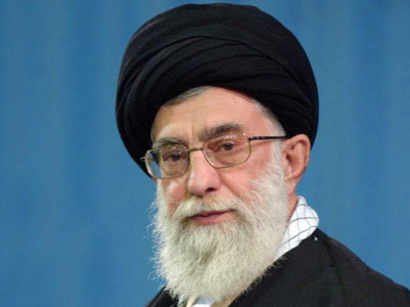 Supreme Leader of the Islamic Revolution Ayatollah Seyyed Ali Khamenei said on Tuesday that regional and global developments indicate that the Islamic Republic of Iran has the upper hands in dealing with such developments, IRNA reported.
The Islamic Republic of Iran pursues its lofty aspirations and has conquered peaks of success and development to this effect, the Supreme Leader said.
Ayatollah Khamenei made the remarks in a meeting with Navy commander Admiral Habibollah Sayari and a group of navy personnel in Tehran on Tuesday.
Iran's significant success and progress in various fields account for the hue and cry orchestrated by the enemies against the country, Ayatollah Khamenei noted
"By comparing the Western [governments'] Middle East policy and the Islamic Republic's Middle East policy, it can be clearly observed that the regional policy of the Islamic Republic has gotten close to its objectives," the Leader said.
Iran is more capable in attaining its lofty goals, said the Supreme Leader, adding that the country has successfully overcome all barriers with reliance on Almighty God, its endeavors, vigilance and high enthusiasm.
The Leader went on to note that Iran's achievements explain why the Islamic Republic is facing so much negative hype.
Ayatollah Khamenei described the coastal areas of Sea of Oman and the adjacent Makran region as "great national wealth" for Iran.
"…This vast and important region can create myriads capacities for the Islamic Republic."
The meeting was held on the occasion of Navy Day on November 25.
Prior to the Supreme Leader's remarks, Navy commander Admiral Habibollah Sayari briefed Ayatollah Khamenei on the navy's plans and programs as well as its strong presence in the international waters.
The Iran Project is not responsible for the content of quoted articles.