By Jerusalem Post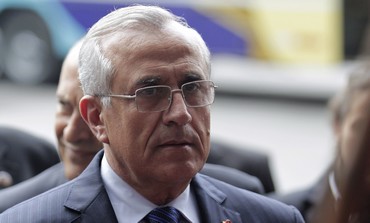 Sleiman: Tehran at fault for drone downed over Israel; Hezbollah threatens rocket fire on Israel "from Kiryat Shmona to Eilat."
Lebanese President Michel Sleiman has sent a letter of protest to his Iranian counterpart, Mahmoud Ahmadinejad, complaining about the recent Hezbollah drone launch into Israeli airspace, the Lebanese daily Al Mustaqbal reported on Sunday.
The report cited a high-level official who accompanied Sleiman on his visit to Rome over the weekend as saying that the president wrote to Ahmadinejad via Iran's Energy Minister Majid Namjoo during his recent visit to Lebanon.
Sleiman slammed Iran for failing to inform the Lebanese government about the drone operation, and said Tehran had disregarded all diplomatic norms in its dealings with Lebanon.
"This step is an utter disregard of the feelings of the Lebanese and their commitment to national sovereignty," Al Mustaqbal cited Sleiman as writing in his letter to Ahmadinejad. Iran's Lebanese proxy Hezbollah said it launched the Iranian-made drone, dubbed the "Ayoub," which Israel downed on October 6.
Iran's state-controlled media and news sites linked to the IRGC have reported extensively on the drone, claiming it had obtained images of top-secret Israeli sites.
However, a senior Israeli military official later said he did not believe the drone possessed a camera. "To the best of our knowledge, no," the official told Reuters.
The report of Sleiman's letter came after a visit by Iran's powerful Parliament Speaker Ali Larijani to Beirut on Saturday, following a short visit to Damascus.
During his Beirut visit, Larijani leveled criticism at some Arab countries for sending arms to Syrian rebels fighting against Tehran's ally, Bashar Assad.
"Sides sending arms to fuel internal fighting in Syria aim at dealing a blow to defiance and resistance against Israel," Larijani said. Alluding to Hezbollah, Iran's parliament speaker also lauded Lebanon's "resistance" against Israel, saying that it and Hamas were "strategic forces."
The Iran Project is not responsible for the content of quoted articles.