By Middle East Online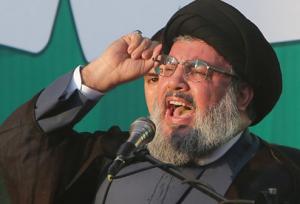 Hezbollah chief warns thousands of rockets will hit Israel if it attacks Lebanon, reiterating support for Iran, Palestinian resistance.
BEIRUT – "Thousands of rockets" will hit Israel if it attacks Lebanon, the chief of the powerful Shiite movement Hezbollah said on Sunday, reiterating support for Iran and the Palestinian resistance.
Hassan Nasrallah, in a speech broadcast on Hezbollah's Al-Manar television and over stadium screens, addressed tens of thousands of supporters who massed in the southern suburbs of Beirut to mark the Shiite commemoration of Ashura.
The recent conflict in and around the Gaza Strip, which killed 166 Palestinians and six Israelis, was "a great victory for the resistance," Nasrallah said.
"Israel was shaken by a handful of Fajr 5 missiles. How would it bear the thousands of rockets that would hit Tel Aviv and beyond if it attacked Lebanon," he challenged.
"That which protects Gaza, after God, is the will of the resistance, its people, its weapons and its rockets," said the leader of Lebanon's most powerful military force.
While Gaza militants are constrained by their geography, he stressed that "the battle with us runs through occupied Palestine, from the Lebanese to the Jordanian border to the Red Sea, from Kiryat Shmona to Eilat (Israel's northernmost and southernmost localities)."
"The time when Israel could terrorise us has expired," he said.
Israel launched a devastating attack on Lebanon in 2006 after Hezbollah fighters captured four soldiers in a cross-border raid. During the ensuing war, Hezbollah fired more than 4,000 rockets into northern Israel.
More than 1,200 people in Lebanon, mostly civilians, died in the conflict, as well as 160 Israelis, mostly soldiers.
Meanwhile, Nasrallah fiercely defended his Shiite backer Iran: "Day after day, it is confirmed that Iran is an ally of Arabs and Muslims… and this was confirmed during the recent confrontation in Gaza and before that in Lebanon."
"There are Arab and Islamic countries working to offer Israel a friend and Iran an enemy," he said, in an apparent reference to Gulf countries.
"But Israel does not help its friends in the Arab and Muslim world."
According to Pentagon officials, Hezbollah has 50,000 missiles, including some capable of reaching Tel Aviv.
The Iran Project is not responsible for the content of quoted articles.