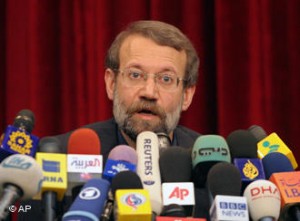 By Zee News
Damascus: Iran's Parliament Speaker Ali Larijani arrived in the Syrian capital of Damascus on Friday for a brief visit to meet with Syrian President Bashar al-Assad and other officials, sources told Xinhua.
Received Friday morning by his Syrian counterpart Jihad al- Laham, Larijani is set to meet Assad and other Syrian top officials.
Even though the aim of the visit was not immediately known, it apparently came on the heels of a conference that Iran hosted last week, which grouped some 200 opposition figures from inside Syria.
The conference in Tehran called for a cease-fire and an end to armed conflicts in the crisis-ridden country. It also opposed any foreign interference in Syria's political affairs.
Iran has emerged as a staunch ally to the Syrian government during the 20-month-old crisis. And unlike the United States and other international players, Iran seemed to support the peaceful and political solution to Syrian crisis, according to Iranian officials.
The Iran Project is not responsible for the content of quoted articles.