By AFP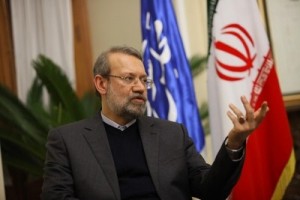 TEHRAN — Iran has supplied military aid to the Islamist group Hamas in Gaza locked in a conflict with Israel during which it has fired missiles at Tel Aviv for the first time, the parliament speaker said Wednesday.
"We are proud to defend the people of Palestine and Hamas … and that our assistance to them has been both financial and military," Ali Larijani said without elaborating, in remarks reported by parliament's website, ICANA.ir.
Iran has never made a secret of its support for Israel's foes Hamas and the Islamic Jihad in the Gaza Strip but generally eschews mention of sending military aid.
The Jewish state has accused Iran of supplying Hamas with its Fajr 5 missile, used to target Tel Aviv since an Israeli offensive on Gaza was launched on November 14.
Iran's Revolutionary Guards chief General Mohammad Ali Jafari said on Wednesday that Tehran was only responsible for having shared the missile's "technology."
Jafari said: "Iran provides technical assistance to all Muslims who fight against world arrogance," a term used by Iranian officials to describe the West and Israel, the ISNA news agency reported.
The Fajr 5 missiles launched at Tel Aviv "have not been delivered from Iran, but their technology has," Jafari said, adding that the missiles were being "rapidly produced" in Gaza.
The Fajr 5 rocket can hit targets up to 75 kilometres (46 miles) away, a far greater range than the home-produced Qassam rockets used in the past by Palestinian militants in Gaza to target Israel.
A key backer of Hamas, Iran has stepped up calls for Gazans to be "armed to defend" themselves and urged the Muslim world to retaliate against Israel for its bombardment of the Palestinian territory that has cost around 135 lives.
Iran's supreme leader Ayatollah Ali Khamenei on Wednesday upped the stakes by criticising "governments of Islamic, and particularly Arab, countries in the region" for failing to deliver an appropriate response to the Gaza crisis.
"They should help the oppressed people of Gaza and also exert efforts to break (Israel's) blockade of the territory," Khamenei said. "Instead, they only utter words, and some have even not verbally condemned the Zionists."
Iran has condemned Israel's air strikes on Gaza as "organised terrorism," calling on international bodies to try its arch-foe for "war crimes."
The Iran Project is not responsible for the content of quoted articles.